Maine Artists plan residency on Iceland-bound container ship
Maine Artists plan residency on Iceland-bound container ship
Wednesday, January 27th 2016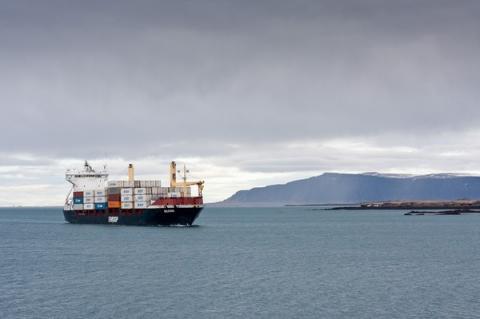 Two midcoast artists plan to travel from Maine to Iceland on a container ship to create and gather content for an installation scheduled for the Artic Assembly in Portland, Maine, next fall.
Jonathan Laurence and Anneli Skaar, who have formed a partnership called TIMBER + ICE, plan to depart on Eimskip's container ship Selfoss on February 5, for a nine day crossing to Reykjavik, Iceland from Portland, Maine.
Laurence and Skaar were a part of the Maine delegation to the 2015 Arctic Circle Conference this past October in Iceland, led by the Maine International Trade Center.
Laurence, a multi-media artist, is the creative director for the Center for Maine Contemporary Art in Rockland, Maine. Skaar is a Norwegian-American artist, graphic designer, and writer in Rockland. Their collaboration, TIMBER + ICE, was inspired by Laurence's lifelong interest with the structural potential of shipping containers as exhibition space and by Skaar's fascination with Arctic.
TIMBER + ICE's mission is to be a creative liaison for organizations seeking to enhance their involvement in the relationship between Maine and the Artic countries, including Iceland, Norway, Finland, Sweden, Russia, Canada, and Greenland.
The Icelandic shipping company Eimskip launched a feeder service in 2013 in Portland, which has revitalized that city's role as a national transportation hub and U.S. "doorway" to the Arctic. Eimskip provides direct shipping connections between North America, North Europe and Asia via the Port of Halifax, Nova Scotia. In addition to research and content development, Laurence and Skaar each plan to donate a piece of art created onboard to Eimskip headquarters in Reykjavik as symbolic "payment" for the passage.
TIMBER + ICE will create an art installation in Portland to coincide with the U.S. State Department's Arctic Assembly October 4-6, 2016. About 250 delegates are expected to attend the assembly, including scientists, business leaders and senior government officials from eight Arctic nations.
Supported by the recently formed Maine North Atlantic Development Office, the TIMBER + ICE installation will utilize shipping containers as exhibition space, and will connect Icelandic and Maine artists in order to highlight Artic opportunities and challenges.
Readers can follow TIMBER + ICE's progress on Selfoss online on Instagram at timber_and_ice, or on the Facebook page for Timber + Ice. For more information, contact hello@timberandice.com or see www.timberandice.com