Blast from the past
Blast from the past
Wednesday, March 25th 2020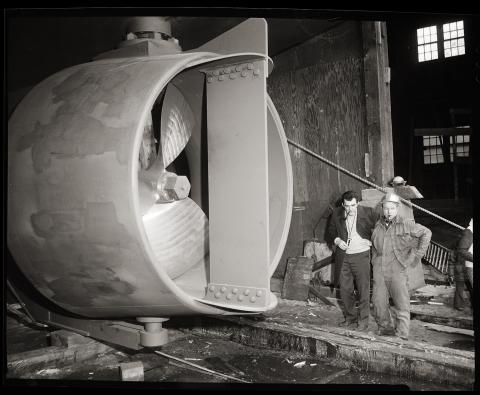 Araho, a 120-foot foot fishing trawler was built at Gamage Shipbuilders in South Bristol, Maine, and launched in 1979. This photo depicts Araho's patented "Kort" directional steering nozzle, an invention of the 1930s that radically increased propeller efficiency below about 10 knots. These are found today on most tugboats and fishing vessels. The photo was taken by Red Boutilier, whose work, in large part, documented the modernization of commercial fishing. Modern fishing is accomplished mainly through towing large nets at slow speeds, and this huge propeller could be its symbol. In one photograph, Red captured the coming industrialization of the fishery. The men near the propeller provide scale. One, in coveralls, is clearly part of the yard crew, while the other looks like one of the O'Haras, who still run a multinational fishing business from a base in Rockland, Maine. In the mid-1990s the Araho was converted into a scalloper and still fishes today, according to the O'Hara Corp. websight.
Born to a family of Nova Scotia fishing captains, Red Boutilier sailed aboard fishing and coasting schooners in the 1930s. After graduating from Dartmouth in 1938, and a stint teaching, then working at Bath Iron Works during World War II, he became a journalist and photographer, with horse racing as a specialty.
Moving to Maine sometime around 1960, he became a freelance reporter and recorder of the Maine maritime scene, landing his stories and photos in newspapers, magazines and advertisements. He tried never to miss a launch or a chance to sell his work. He was friends with boat builders from Bath to Camden and often recorded a project from the keel up. His vintage 4 x5 Speed Graphics press camera was his signature tool, with which he produced some 25,000 negatives; these, together with his stories, are in the collection of the Penbsoct Marine Museum in Searsport.
This photo was included in 2019 when the museum mounted an exhibit of 20 significant photos from its extensive archives. The you see more images from the museum's collection at