Alden honored for grassroots fishery work
Alden honored for grassroots fishery work
Friday, January 20th 2017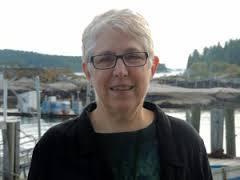 Robin Alden, the founder and executive director of Penobscot East, has been named a Hero of the Seas by the Peter Benchley Ocean Awards. The award recognizes Alden's career working at the grassroots, engaging fishermen's knowledge and participation to build sustainable, healthy coastal fisheries and fishing communities.
"This is a great time for this award," she said. "Fisheries are at a turning point because climate change is forcing fishery regulators to face the fact that the ocean changes all the time."
She continued: "To sustain fishing communities forever, our mission, requires an approach where fishermen are on the front line not just of catching product but also of contributing to wise ways to manage fisheries."
The international Peter Benchley Ocean Awards are the preeminent ocean awards and acknowledge outstanding achievement across many sectors of society leading to the protection of the ocean, coasts and the communities that depend on them. They are co-founded by Wendy Benchley and David Helvarg, and named in honor of Peter Benchley, author of Jaws.
One of ten categories, the Hero of the Seas Award is given to "a marine grassroots activist who has made a major and long-term commitment to improving the quality of our seas and the communities that depend on them."
For twenty years Alden was publisher and editor of Commercial Fisheries News, a regional fishing trade newspaper that she founded in 1973. She was co-founder of the Maine Fishermen's Forum, and Maine Commissioner of Marine Resources from 1995 to 1997 before co-founding Penobscot East in 2003. She has also been a founding partner of Downeast Fisheries Partnership.
Penobscot east announced last winter that Robin will leave her post as Executive Director of Penobscot East Resource Center in late 2017.