Maine Marine Patrol gets a wide new ride
Maine Marine Patrol gets a wide new ride
Wednesday, April 24th 2019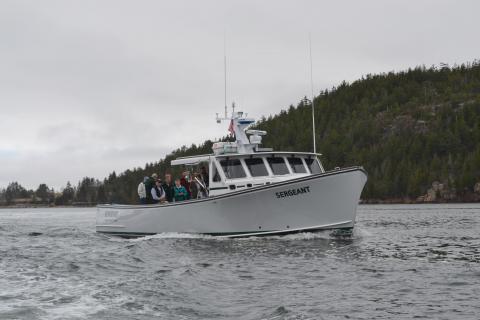 The latest addition to the Maine Marine Patrol fleet has been christened and is now officially underway. The Sergeant, a 46-foot Wesmac Super Wide will be based in Southwest Harbor and provide Marine Patrol a much-needed platform for off-shore details.
"As more lobster fishing activity occurs off-shore, we needed a boat that we could use to safely get to and from gear that is as far as 50-60 miles from shore," said Marine Patrol Sergeant Troy Dow.
The name Sergeantis a nod to Stanley "Cappy" Sargent, a commercial fisherman from Milbridge who was well known and liked by industry, and who collaborated on many projects with DMR science and policy staff.
The Sergeant replaces the Challenge, a 46-foot lobster-style vessel that was sold to support the purchase of the newer vessel.
Built by the Surry-based Wesmac Custom Boats, Sergeant is equipped with an 803 horsepower Caterpillar diesel engine, a hydraulic lobster trap hauler and a cradle for a smaller rigid hull inflatable boat. With a beam of 17 feet 1 inch, it is 3 feet wider than the standard 46-footer. "This is a stable platform with plenty of power that will allow us to work in the rough seas we often encounter off-shore," said Sergeant Dow.
The christening took place in Southwest Harbor with Cappy's wife Tina breaking the ceremonial bottle across the bow. Friends and family including Justin Richard, Bill Sargent, Denise Sargent, Whitney Sargent, Joan Height, Tina Sargent, Willy Sargent, and Mike Sargent were on-board for the maiden voyage up Somes Sound.
Also on-hand were Wesmac Custom Boats owners Linda Greenlaw Wessel and Steve Wessel. "It was an honor to have Tina, Linda and Steve here for the christening," said Department of Marine Resources Commissioner Patrick Keliher. "The Sergeant not only honors a special person to DMR and Maine's fishing community, it reflects the hard work and dedication to excellence of Wesmac Custom Boats."