Calling all Dogs! Put Your Best Paw Forward!
Calling all Dogs! Put Your Best Paw Forward!
Tuesday, May 22nd 2018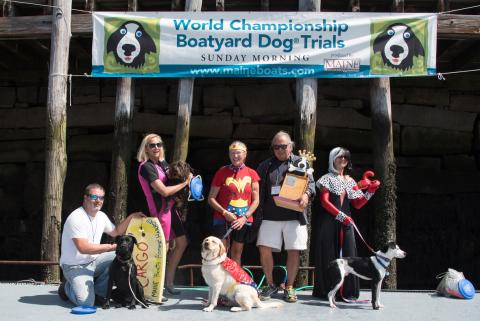 The anticipation is building for the 16th Annual World Championship Boatyard Dog® Trials. Canines and their adoring people are busy writing application letters, posing for photographs, tailoring costumes, and honing talents for the trials, which will be held Sunday, August 12, at 10:30 a.m., as part of the Maine Boat & Home Show, August 10-12, on the waterfront in Rockland, Maine.
You are invited to join the fun: Any well-behaved dog is eligible to apply; preference will be given to dogs that work in a boatyard, crew on a boat, or direct operations of any kind on the waterfront (or think they do).
Ask yourself: Does your dog's tail wag faster when s/he dreams of cold ocean water? Does the applause of the crowd entice you both to strut your stuff? Does the idea of getting your woof on make you smile? If so, you're a "paw-in" to compete in the World Championship Boatyard Dog Trials. Dogs (and their handlers) who are chosen for the quirky competition will navigate an obstacle course on a tippy dock, clamber in and out of a dinghy, fetch objects from the water, and participate in a "freestyle" event of their own creation (the zanier the better).
Either dog or owner must end the segment competely soaked.
It's easy to cast a paw into the ring for a chance to act foolish before an adoring crowd. To do so, just e-mail us a letter of interest, a flattering high-resolution photograph, and daytime contact information.
Extra points will be given for humor; this is NOT a serious competition. Submissions are due by June 15, 2018, to byd@maineboats.com. Finalists will be notified by June 29.
We ask that all dog lovers whose pets are not chosen to compete let them remain in the comfort of home, as pets not competing in the trials are not allowed on the show grounds for liability reasons (with the exception of qualified guide dogs).