Many Winners at Annual Maine Boat & Home Show
Many Winners at Annual Maine Boat & Home Show
Thursday, August 16th 2018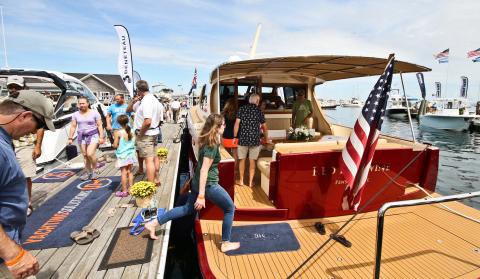 Fine boats and bespoke furniture were admired (and purchased), live music was enjoyed while delicious Maine-made food was being consumed, and a yellow Lab successfully defended her title as World Champion Boatyard Dog®. All this added zest to an event that featured 60 boats in the water and about 40 more on land: power and sail, young and old, fiberglass and wood.
"The vibe on show grounds was wonderful," said John K. Hanson, Jr., publisher of Maine Boats, Homes & Harbors magazine, which organizes the event. "Where else can you attend a show that ranges from million-dollar yachts to restored canoes, and has a 'glamping' tent, a tiny house, and soft pretzels? The array of boats showcased the profound depth of talent that Maine boatbuilders bring to the table, and the other finely crafted wares on hand, fine furniture, jewelry, fiber arts, and painting, photography were equally diverse. I don't think you can find an event quite like it anywhere."
In Harbor Park, outdoor sculpture displays helped enhance the scene. Around the three large exhibit tents filled with wares, the midcoast chapter of Habitat for Humanity constructed a tiny house on site, next to a canvas wall tent set up for "glamping" in style. Exhibitors of canoe racks, electric bicycles, scooters, docks for fresh and salt water use, furniture for use inside the home and out on the deck, and tools both cutting edge and antique were on hand.
Inside the tents, fine goods from wearable fiber art to jewelry to custom bags were on display. Yacht brokers, real estate and insurance agents, and financial advisors were on hand for consultation. Nonprofit organizations offered information on coastal opportunities and challenges. Tent J was home to a dozen fine artists, sculptors, and furniture makers. In the Working the Coast: Charting the Future tent, sponsored by Journey's End Marina, large engines were displayed alongside sleek electronics and the latest in marine gear and technology.
Owls Head Transportation Museum had a dedicated tent in which to display two gleaming antique launches, and in the Yachting Solutions Tent, show-goers could discuss boat and engine options.
All weekend, visitors learned about the big joys of small boats at the second annual Small Boat Love-In in Buoy Park. The Love-In is a gathering of privately owned craft under 22 feet and drew boats from as far away as Lubec and Cape Cod.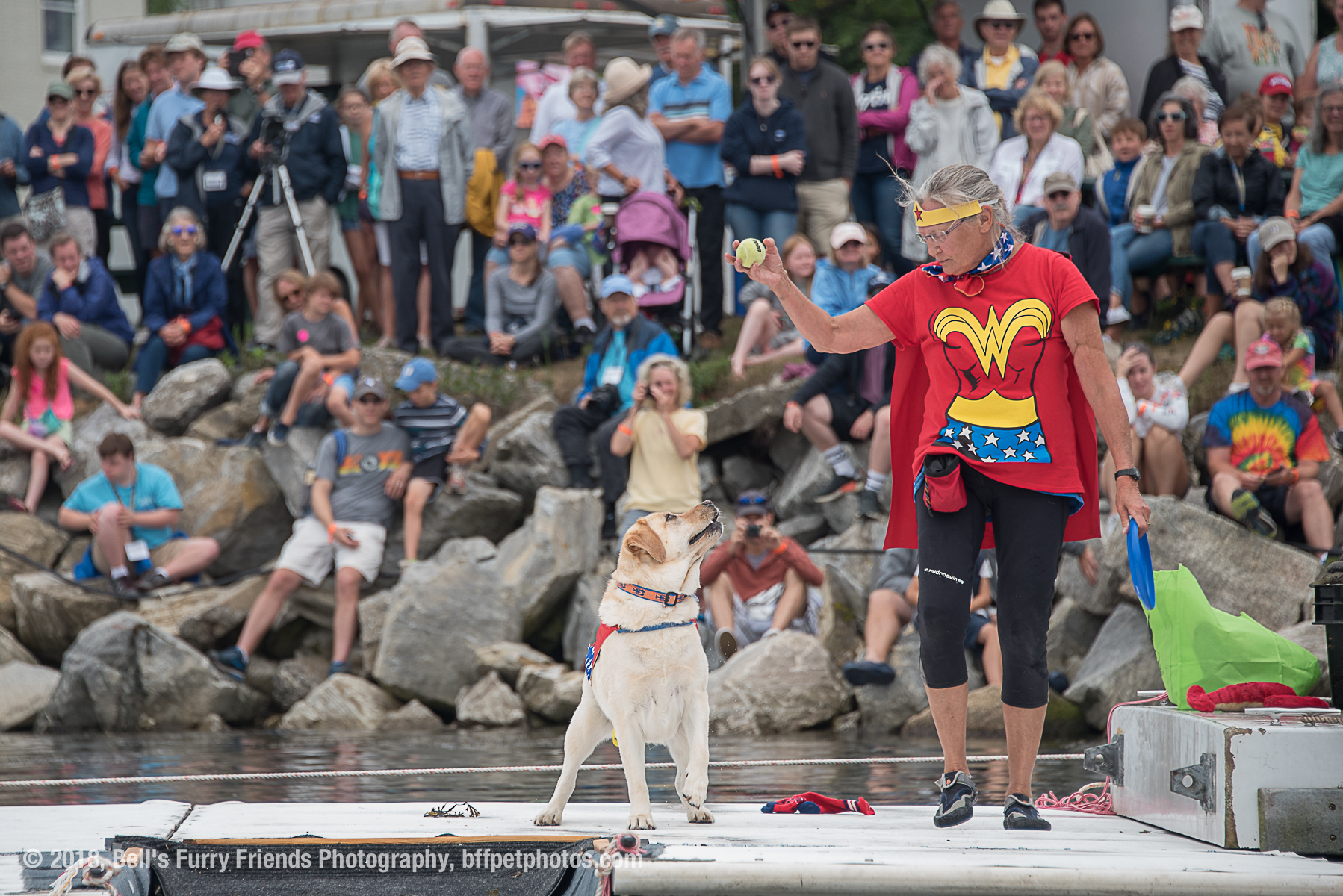 On Sunday morning, crowds gathered early to watch a field of six teams compete for barking rights as World Champion Boatyard Dog®. The pups chased Frisbees and chewed on stuffed lobsters, and either went swimming or made their people do it for them. When the fur had settled, the reigning champion, Zola the Wonder Dog, had come out as the paws-down favorite. Zola won the coveted perpetual Canine Crown trophy and will be the featured Boatyard Dog in the November issue of Maine Boats, Homes & Harbors magazine. She also earned a photo shoot with sponsor and event photographer Debra Bell of Bell's Furry Friends Photography of Hermon. As is always the way at the trials, every dog was a winner. Each competitor received a gift bag filled with delights from trials sponsors Loyal Biscuit and Water Bark Wellness.
16th Annual MAINE BOAT & HOME Show, August 10-12, 2018, Harbor & Buoy Parks, Rockland: Held annually on the second weekend in August on the waterfront in Rockland, the show was founded in 2003 by Maine Boats, Homes & Harbors magazine. The event attracts thousands of discerning attendees from all over the country and world. The three-day event is also Maine's only in-the-water boat show. For more information, visit maineboats.com/boatshow or call 800-565-4951.