Mini Venetian Limousine Tender Under Construction at Hodgdon
Mini Venetian Limousine Tender Under Construction at Hodgdon
Monday, January 22nd 2018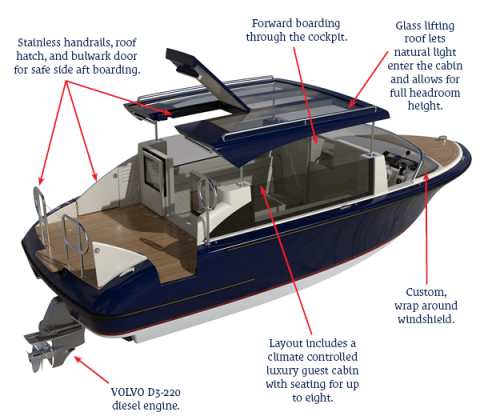 Hodgdon Tenders, the superyacht tender division of Hodgdon, is building a mini verion of its highly successful Venetian limousine tender. The 6.5 meter vessel (21'4") currently is the smallest member of the Venetian line, which ranges from 6.5 to 12 meters.
Designed by Michael Peters Yacht Design of Sarasota, Florida, the 6.5 meter Mini Venetian Limousine Tender includes many of the features that can be seen in Hodgdon's larger tenders.
Incorporated into the design is a glass lifting roof, which allows natural light to enter the cabin, full headroom height, and 360-degree visibility. The luxury cabin with climate control allows comfortable seating for up to eight guests. The tender, which will be powered by a Volvo D3-220 diesel engine, can accommodate safe boarding from both the aft deck and forward cockpit.
"The Mini Venetian Limousine Tender provides the opportunity for Superyachts with limited garage space or room on deck to carry a luxury tender. We're excited to be able to offer a limousine at this size," said Audrey Hodgdon, Director of Sales & Marketing. "It will be an ideal complement to the quality and design of its Mothership."
Upon delivery, Hodgdon's dedicated Service and Support Team will re-commission the tender and provide crew training