Carpenter's Boat Shop names Alicia Witham new executive director
Carpenter's Boat Shop names Alicia Witham new executive director
Friday, April 2nd 2021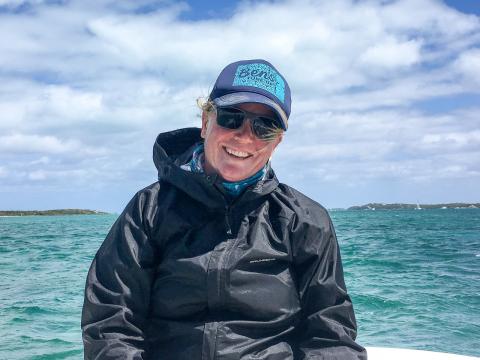 After a coast-to-coast search, The Carpenter's Boat Shop found its new executive director close to home. Alicia C. Witham, a professional boat captain, educator and longtime manager at the Hurricane Island Outward Bound School, has been named the new executive director of the boatbuilding apprentice shop in Pemaquid.
Ken Elowe, president of The Carpenter's Boat Shop Board of Directors, said Witham's "extensive maritime experience and leadership background working with Outward Bound will bring skills to the Boat Shop that will help us extend our programs to our community on the peninsula – in the traditions of the Boat Shop, but also with the vision of being even more effective and relevant in the future."
The Boat Shop, where faculty, staff and apprentices live in community on the campus on Old County Road, dedicates itself to "Building boats, nurturing lives, helping others."
A Maine native, Wtham was born and raised in Portland, Maine, and joined the staff of the Hurricane Island Outward Bound School in Rockland, where she alternated between there and the school's winter quarters in the Florida Keys for 13 years. She holds a U.S. Coast Guard 50-ton master's license and a diploma from the Landing School in Arundel, Maine, where she spent a year participating in construction of a 26-foot cold-molded sloop. 
"I feel very fortunate to have been able to spend my entire career thus far in the maritime industry," she said. I started out as an educator at the Hurricane Island Outward Bound School, and at times, I probably spent 200 days out of the year on a pulling boat for multiple seasons in a row." Pulling boats, the crux of the Outward Bound program, are 30-foot open sailing and rowing boats that she said "carry everything that a group of 10 to 12 individuals need for up to a week's time." Elowe noted that Outward Bound's programs help people discover their strengths, community and compassion and are a natural fit with the tenets of the Carpenter's Boat Shop.
After more than a dozen years working in the East, Witham moved to California, where she spent several years as an instructor and general manager at the Olympic Circle Sailing Club in Berkeley and later served as chief of operations at the Northwest Maritime Center in Port Townsend, Wash., before rejoining Outward Bound as an associate program director in Florida and the Bahamas in 2017. She returned to Maine in 2019 and now serves as director of adult programs and charters for SailMaine in Portland. 
Witham will succeed Sarah Highland, the shop's senior instructor, who served as interim director during the search. The Boat Shop was founded in 1979 by the Rev. Robert Ives and his late wife, Ruth. The Ives's younger daughter, Hannah Harter-Ives, chaired the search panel. Witham and her fiancée, Annie Fagan, plan to move to the director's house in early May with their dog, Hobie, a 6-year-old terrier-whippet mix.