Sea Tow Portland/Midcoast (Maine) Named "Rookie of the Year"
Sea Tow Portland/Midcoast (Maine) Named "Rookie of the Year"
Tuesday, January 17th 2017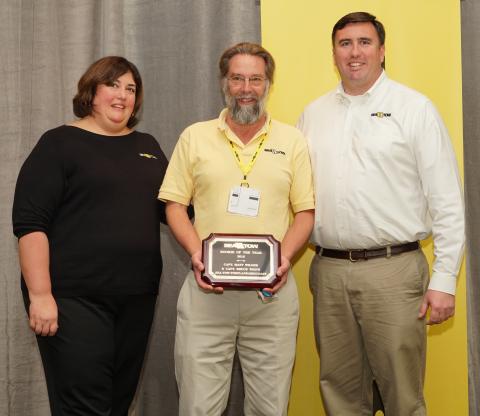 Sea Tow Services International has named Sea Tow Portland/Midcoast (Maine) its 2016 "Rookie of the Year." The award was presented at the Sea Tow Awards Luncheon on November 17 during the organization's 2016 annual meeting at the Wyndham Lake Buena Vista Resort in Orlando.
Maine's Sea Tow Portland/Midcoast uses four distinct yellow Sea Tow boats to provide on-water assistance to boaters in the Atlantic Ocean and inshore waters of Maine in the 45-mile stretch between Goat Island off Cape Porpoise in the south to Pemquid Point to the north.
Captains Matt Wilder and Bruce White are fixtures in the Boothbay Harbor area. Wilder was born in Boothbay Harbor and has been a maritime professional since he was 14, receiving his Coast Guard captain's license at 21. White took his first boat ride with his parents when he was just two weeks old and he has been on the water ever since. At age 14, he started his passenger-carrying career and obtained his captain's license at 19 years old. He currently holds a Coast Guard license for vessels up to 100 tons.
"Matt Wilder and Bruce White hit the ground running at Sea Tow Portland/Midcoast," said Sea Tow CEO Captain Joseph Frohnhoefer, III. "They have drawn on their business expertise and dedication to serving others to ensure that Sea Tow members and other boaters in the Portland area receive the highest level of service on the water."
Founded in 1983, Sea Tow Services International Inc. is the largest on-water assistance fleet for boaters consisting of nearly 100 franchise locations across the United States with additional locations in Europe, the U.S. Virgin Islands and Puerto Rico. Known for their "distinctive yellow boats", Sea Tow's network of dedicated Coast Guard licensed captains, crews, and support staff, stand by 24/7 to serve members and other boaters in need. Sea Tow also responds to emergency events, natural disasters, environmental response and oil spill cleanup.
Photo Caption: Rookie of the Year Award - Sea Tow Portland Midcoast – Captain Bruce White (center), Captain Joseph Frohnhoefer III - Chief Executive Officer (right), Kristen Frohnhoefer – President (left).