Ship of state
Ship of state
Thursday, September 1st 2022
Michael Cantor, managing partner of Equator Capital Group, which owns the former U.S. presidential yacht Sequoia, sent us this photo showing former Soviet President Mikhail Gorbachev, who died Tuesday, Aug. 30, and his daughter Irina Virganskaya in Washington, D.C., in 2001 aboard the Sequoia with the yacht's captain Tony Wells. According to Captain Wells, "When Gorby came up to the wheelhouse, he grasped the steering wheel and declared, "Now, at last, I am in charge of America's Ship of State."  
The 104-foot Sequoia has been on the hard in Belfast since 2019 while project manager Todd French of the French & Webb boatyard and Cantor assess what is needed for a museum-quality rebuild of the National Historic Landmark. That work has included using laser technology to make a 3D model of the boat because the original plans have not been found, and sourcing the appropriate wood—including longleaf pine and white oak. The photos included here show the vessel as it arrived in Belfast in October 2019 on a barge.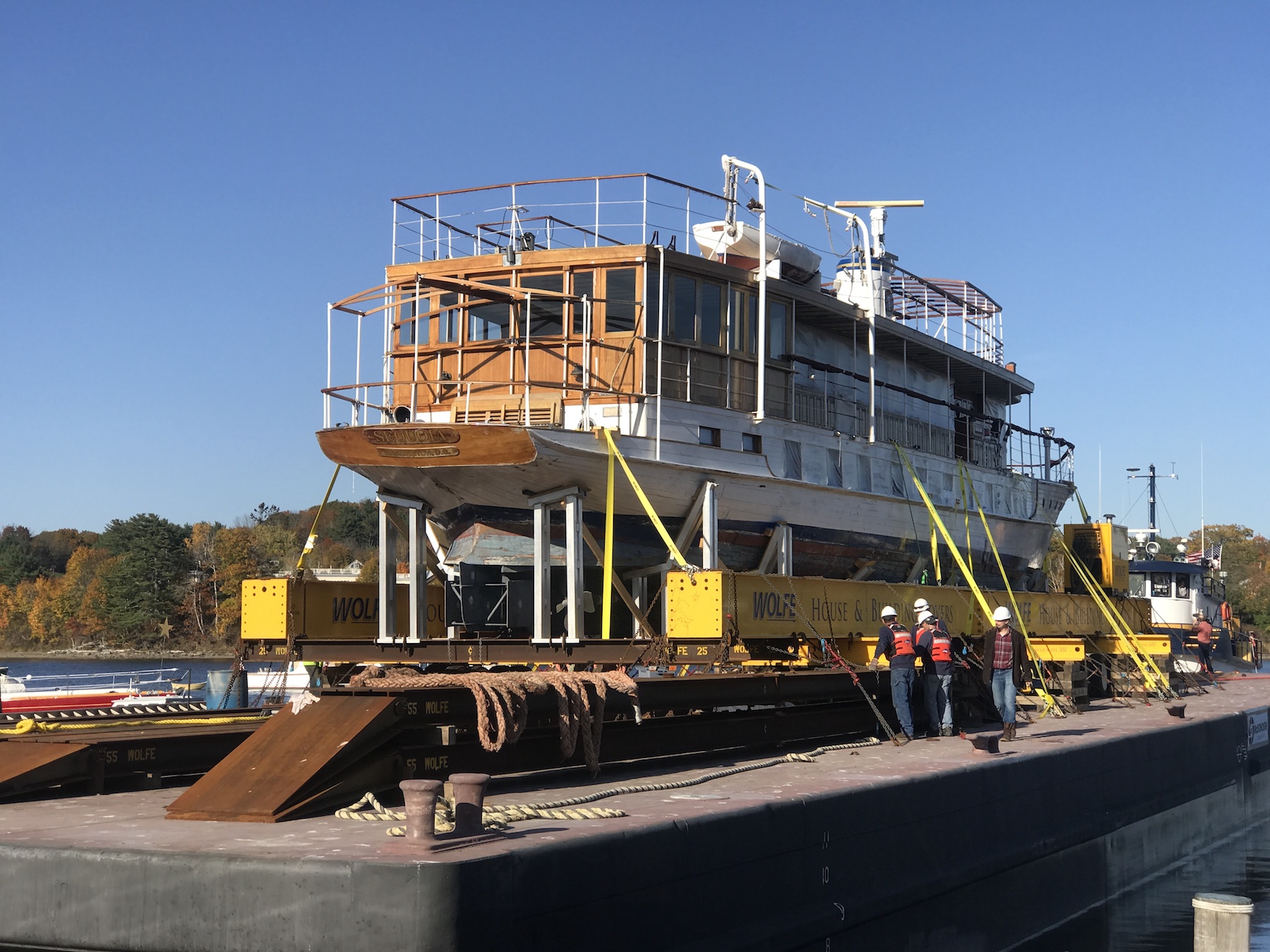 Designed by John Trumpy and built by the John H. Mathis & Co. Shipyard in Camden, New Jersey of long-leaf yellow pine, mahogany and teak, the Sequoia was launched in October 1925. Her first owner was Emily Roebling Cadwallader and her husband. The yacht was sold to the U.S. Bureau of Navigation in 1931, which used it as a decoy in the Chesapeake and Delaware Bays to attract bootleggers. President Herbert Hoover brought the yacht into presidential service later that year.
Sequoia served every US president from Hoover through Gerald Ford. President John Kennedy celebrated his 46thand final birthday aboard the Sequoia, accompanied by First Lady Jacqueline Kennedy, friends and two orchestras. President Roosevelt hosted the British Prime Minister on the Sequoia to discuss the Depression and ways to avoid war with Hitler's Germany. President Nixon played "God Bless America" on the Sequoia's piano after deciding to resign over Watergate. And, while aboard Sequoia, President Lyndon Johnson pressured members of Congress to pass landmark civil rights legislation and plotted his next moves in Vietnam. President Jimmy Carter ordered the vessel sold at auction in 1977. 
"Once Sequoia is back in service, our intention is to base her in Washington, D.C. She will cruise locally and along the East Coast, as a floating venue to teach American presidential history and to promote conservation and ocean conservation causes," Cantor said.
He has tracked down many historic photographs of Sequoia, such as the one of Gorbachev, and archival information as part of his research on the vessel.