Brad Betts chosen as artist for Maine Boat & Home Show poster
Brad Betts chosen as artist for Maine Boat & Home Show poster
Wednesday, May 17th 2023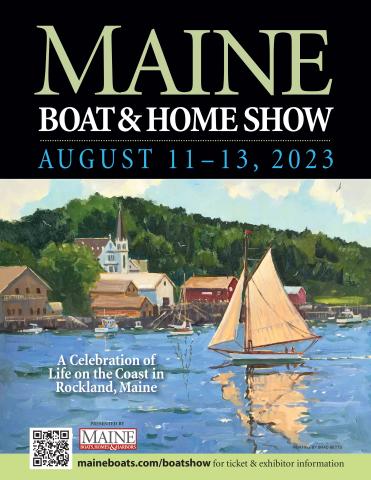 The producers of the 2023 Maine Boat & Home Show have unveiled the new poster design for the annual event, to be held on the Rockland waterfront August 11-13. The poster will feature a detail from a painting by Maine artist Brad Betts, who is known for his light-filled images featuring boats and historic scenes.
Produced by Maine Boats, Homes & Harbors magazine, the Maine Boat & Home Show will take place this year from Aug. 11-13 on the waterfront in Rockland, Maine. The annual boat and home show shines a spotlight on boats, marine products, art, furniture, and other fine hand-made crafts, so it's appropriate that the poster for the show, like the items on display, is a special work of art, said MBH&H Publisher Ted Ruegg.
Held annually on the second weekend in August on the waterfront in Rockland, the Maine Boat & Home Show attracts thousands of discerning attendees from all over the country and world. The three-day event is also Maine's only in-the-water boat show. As always, the show will feature boats in the water and boats on land, plus music, art, food, furniture, and fun. The show was founded in 2003 by Maine Boats, Homes & Harbors magazine.

Betts and his wife, Danielle, own Down East Gallery in Edgecomb, where Betts displays his work, as well as work by other Maine artists in a renovated 1906 farmhouse and barn. His paintings showcase sailboats on sunlit water and bucolic harbor scenes. The image chosen for the boat show poster is a view of a gaff-rigged daysailer in Boothbay Harbor that was painted plein air during Boothbay's Windjammer Days.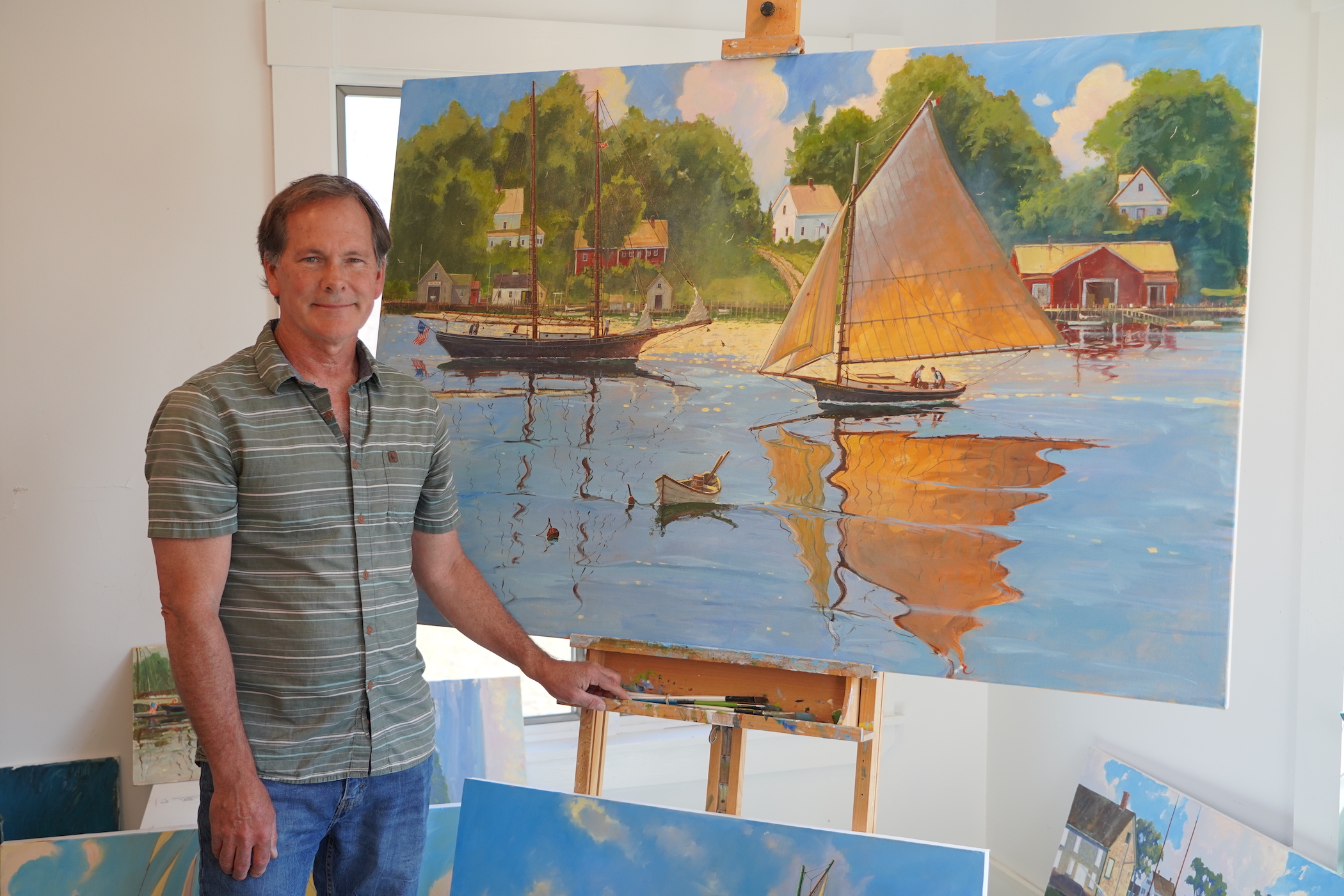 Caption: Brad Betts stands in front of one his large canvases at his gallery in Edgecomb.

Raised in Sarasota, Florida, Betts was introduced to Maine when his family moved to Jonesport—his parents now live down the street in East Boothbay. He went to the University of Maine at Orono, where he graduated with a degree in marketing, but more importantly, where he met Danielle, an engineering major who now is president at Knickerbocker Group.

Betts, who worked in food distribution after college for major companies including Coca-Cola and Keebler Cookies before becoming a professional artist, is a self-taught painter. His mentors, he said, include well-known marine artists Don Demers, Christopher Blossom, and the late John Stobart.

"I'm inspired by history" said Betts standing in front of a large canvas showcasing a historic waterfront scene. The canvas was inspired by old photos of the Camden waterfront, he said, but his real focus was the boats and the light in their sails and on the water.

He particularly likes including sailboats and water in his work. "Sailboats show off the light in a way other boats can't," he explained. "The curvature and the way the light hits the sails. There is drama with sailboats—on a rough day, the way the hull sinks into the waves and the froth at the bow. And then they can also project great calm."

While he was still in college, Betts's parents, who recognized their son's interest in art, bought him a plein air painting set. But he didn't start using it until a visit to the Asticou Azalea Garden in Northeast Harbor with Danielle who urged him to spend more time painting. Still, art remained a hobby until Danielle persuaded him to stay home to paint, and care for the couple's two young sons, Ben and Sam, while she pursued her career as an engineer. The plein air set came in handy in those days, Betts said, as he could set it up quickly when the boys napped, and move easily from room to room in the house while watching his sons. Those boys are now adults. Ben is a musician living on the west coast and Sam is a sculptor who works mostly with wood.

The Betts family moved to New Gloucester, Maine, in 2000, but Betts felt disconnected as a marine artist and wanted to be closer to the water. Introduced to Boothbay during a plein air painting expedition with Demers, Betts bought land on Ocean Point. He and Danielle built a 430 square foot house there in 2007, where they lived for two years with their two young boys, a dog, a cat, and a parrot while building a bigger house next door. He opened his first gallery there on Ocean Point, but soon realized he needed more room to showcase his art.

Betts and Danielle bought the farmhouse in Edgecomb that now houses the gallery in 2016 and opened to the public in 2017. The couple make the barn available for events. And they are branching out into other ventures; they've planted over 400 grape vines on their land and are making wine, and have just purchased a coffee roaster to roast their own beans.

Maine Boat & Home Show producers chose Betts as the poster artist because his images convey a strong sense of place as well as the joy and beauty of boats and the water. "The result is a wonderfully inviting scene that conveys the beauty of life on the coast," Ruegg said.

Previous show posters were designed by Colin Page of Camden, Anneli Skaar of Camden, and Clayton Thompson, an illustrator and furniture maker.

BUY TICKETS HERE 
For more information and to purchase tickets, visit maineboats.com/boatshow or call 800-565-4951