Maine Maritime Museum's new show: "SeaChange: Darkness and Light in the Gulf of Maine"
Maine Maritime Museum's new show: "SeaChange: Darkness and Light in the Gulf of Maine"
Friday, January 27th 2023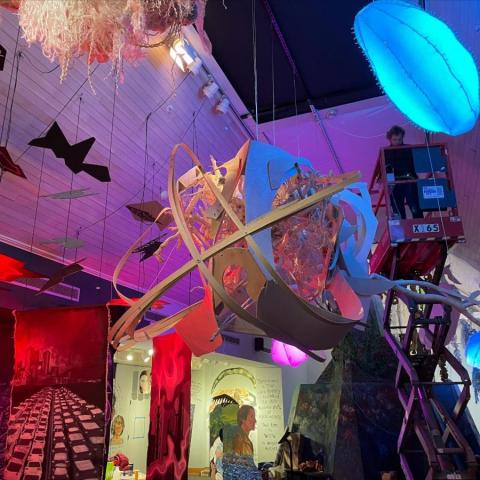 The Maine Maritime Museum in Bath has put together a new year-long exhibit entitled "SeaChange: Darkness and Light in the Gulf of Maine." In partnership with Gulf of Maine EcoArts, the exhibit, which opens to the public Feb. 3, blends art with natural science, immersing visitors in the diverse ecosystem of Cashes Ledge, a remote underwater mountain range in the Gulf of Maine. The ledge is recreated through many different mediums including painting, sculpture and video projection.
"With the SeaChange exhibit, we want to show what is happening under the waves in the Gulf of Maine, and focus on Cashes Ledge as a metaphor for the worldwide 30 by 30 initiative to protect 30% of Earth's ocean and land area by 2030. By bringing awareness of changes in biodiversity due to human impact we hope visitors will become involved in helping to permanently preserve Cashes Ledge," said Anna Dibble, founding director of Gulf of Maine EcoArts and the leader of this project.
The exhibit is designed to be interactive and immersive. The SeaChange EcoLab offers visitors opportunities for hands-on learning about current marine science and allows them to discover industry initiatives that are innovating solutions to protect ocean biodiversity and support healthy fisheries. The exhibit has been designed to inspire environmental stewardship through participation and collaboration.