Just Launched: Lindsay D
A restoration by Pendleton Yacht Yard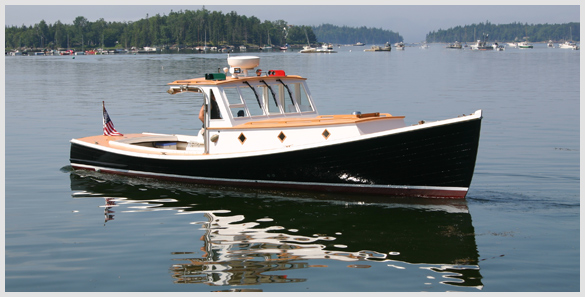 Restored Gower
Lindsay D
Click here to view the restoration image gallery.
Launch Details:
| | |
| --- | --- |
| Boat Name: | Lindsay D |
| Builder: | 1953, Harold Gower, Beals Island |
| Rebuilder: | 2008, Pendleton Yacht Yard, Islesboro |
| Specs: | LOA 35', Beam 10', Draft 2'6" |
| Power: | 220-hp MerCruiser 6-cylinder, gasoline |
| Maximum Speed: | 20 knots |
| Cruising Speed: | 14 knots |
Particulars:
Few boats have had a life as lucky as has the
Lindsay D
. Born of a pedigree generations old, the Gower-built beauty represents the pinnacle of wooden lobsterboat construction. A working boat, its lines were never analyzed by marketing directors or agonized over by naval architects. Its intrinsic beauty is the result of common sense: it's easier to lift a lobster trap onto the deck of a boat with a low freeboard, the great sweep of the sheer makes for a high and seaworthy bow, a narrow beam and long, open, after deck provide an easily driven hull with plenty of room for gear. The advent of fiberglass coupled with the introduction of lighter weight but powerful diesel engines began to change the look of lobsterboats over time. As lobster fishermen were able to move farther offshore, the need to carry more gear increased. Hydraulic pot haulers and wire traps became the norm, and a new generation of wider, flatter boats was born. The final decline in wooden lobsterboats started in the early 1980s, as they were largely iron fastened. Iron rusts, and as it does, it causes the surrounding wood to rot. This is especially true of iron in oak, which is acidic, and was the primary wood for boat frames in New England. Many wooden boats were literally fished until they sank. Others had a less noble end: they were cut up or burned. Some went to novice "fixer-uppers," whose chainsaw-and-glue carpentry or application of fiberglass sheathing did little to prolong their life. The lucky few were given knowledgeable care and are still in service today. Luck is fickle, however. The
Lindsay D
's fortune surpasses luck. In the spring of 2002, the half-century-old
Lindsay D
(then named the
Annie M
) was not yet on its last legs, but it was certainly limping. It was bought by a nine-year-old girl named—what else?—Lindsay Durkee, who lived on the island of Islesboro in Penobscot Bay. With help from her father, Lindsay cleaned up her new boat. A week of scrubbing followed by fresh paint had it looking remarkably respectable. Lindsay then fished the boat with her father for three years, until such time that the battle with deterioration became a losing one; the boat was almost literally held together by a thick coat of paint, threaded rod, and turnbuckles. Late in the fall of 2004, Lindsay's beloved wooden Gower lobsterboat was put away for the last time. Recognizing that the boat was one of the last of its kind, Lindsay's father actively sought an owner who would preserve the boat and give it a new life. Mark Clayton, service manager at Pendleton Yacht Yard on Islesboro, stepped up to the plate. He purchased the boat, but as he had no immediate plans for restoration, it was laid up in the back of the boatyard. Salvation came when a wealthy Islesboro summer resident began poking around Pendleton Yacht Yard and discovered the
Lindsay D
. He bought the boat and asked PYY, no strangers to wooden boat restorations and rebuilding projects, to plan a total rebuild. An interesting request by the new owner was that the yard would allow his seven-year-old son to help with the rebuild during the summer. When the
Lindsay D
finally got to the shop floor it was stunning how bad its condition was. The hull was twisted and out of shape, and the transom drooped like a wilting rose petal on a hot day. The keel was mostly sound but the iron fastenings had already had their way with the planks and frames. It was obvious that a total rebuild would be necessary—decks, house, planks, and frames—everything. The first step was to block, jack, and drop sections of the hull until it had its original shape. This being done, the decks were removed and the boat was given a solid cleaning. Instead of cutting down to the keel and building what would essentially be a new boat, wood was removed and replaced piece by piece. At no time during the two-year restoration did the
Lindsay D
ever not look like a boat. Wood that could be salvaged was reused; wood that was too far gone was replaced in a fashion true to the original. At some point every plank, frame, and stick of wood was removed and replaced. Now completed and awaiting another summer of use, this shiny "new" Jonesport-style lobsterboat gracefully tugs at its mooring line. A utilitarian boat lacking a yacht's varnish and teak, it is fitted out as it should be with a simple bronze steering wheel on the forward bulkhead and a pot hauler by the rail. And that is how it should be, as the new owner plans to fish with his son (using a recreational license), who is now about the age that young Lindsay was when she first began hauling traps with her father.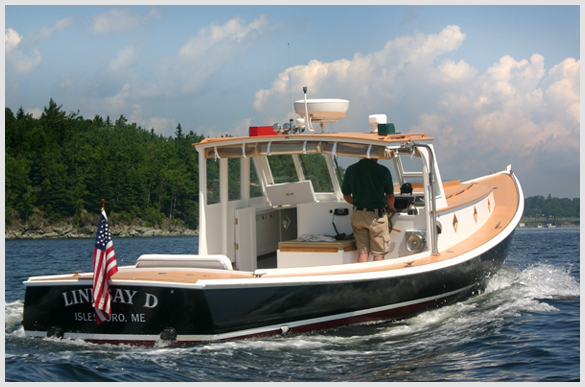 Restored Gower
Lindsay D
on Penobscot Bay.
Click here to view the launching image gallery.
Image Gallery: The Restoration
image gallery
Image Gallery: Re-Built & Re-Launched, 2008
image gallery
Click here
to learn more about Pendleton Yacht Yard
Information and specifications supplied by the builder. Every effort has been made to ensure accuracy. However, Maine Boats, Homes & Harbors accepts no liability in the event of any errors of fact or omission.