Just Launched: Lindsey E
Sargent's Custom Boats, Calvin Beal 36
By Brian Robbins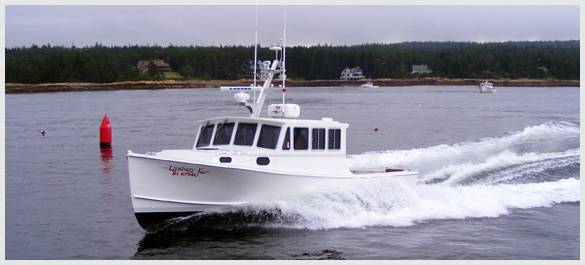 Launch Details:
Model:

Calvin Beal 36

Specs:

LOA 36', Beam 13'9", Draft 4'

Builder:

Sargent's Custom Boats, Milbridge, ME

Launched date:

August 2008

Launched site:

Winter Harbor, Maine
Particulars:
Up until 2007, projects at Sargent's Custom Boats have been evenly split between commercial fishing and pleasure vessels. "When we count up what we've built since 2000, it's pretty much 50/50," said shop owner Joe Sargent. "But these days, our inquiries are almost 100 percent pleasure." The change in the market doesn't worry Sargent, an alumni of the Hinckley Company. Between he and his father Montelle, the kinds of custom layouts and fancy woodworking that his current clientele are looking for are no problem. "I'll put it to you this way," Sargent smiled: "None of the yacht folks have been disappointed with what they got for their money."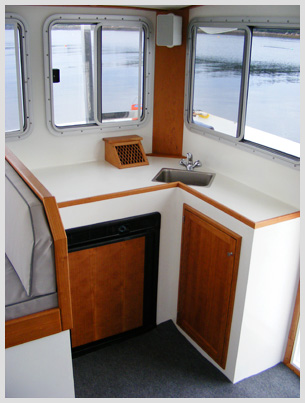 It was one of those contented customers that inspired
Lindsey E
's owner Mike Ernst to talk to Sargent about having a new boat built. "A friend of mine was really happy with the work that Joe and Montelle had done for him. He knew I was looking for a boat that was built just for me … he said 'Call Joe.'" Once the two connected, the process got under way pretty quickly, according to Sargent: "I'd talked to Mike twice on the phone and he told me he was coming up. I figured he just wanted to check us out, then go back home and decide what he was going to do. But before Mike left the shop, the hull and top and the engine were all on order." Based on a 36' Calvin Beal, Jr., hull, the
Lindsey E
. is equipped to do a little lobstering and diving, but make no mistake about it: the boat's primary reason is to "just get away," according to Ernst. The Sargents father and son ordinarily design and build their own wheelhouses, but in this case, a molded top from the hull builder was used – with a modification. "You might not realize it," offered Joe, "but we actually raised the wheelhouse four inches. If you pay attention to how you cut out your windows, you can keep things from looking out of proportion." The well-appointed 36-footer hits a top speed of 21 knots courtesy of a 480-HP Yanmar diesel. Fo'c'sle features include a V-berth, head, and expansive storage space as well as a separate locker housing the wiring panels and hydraulics. Up in the wheelhouse, Ernst will skipper his new 36 from a custom bench seat, while a wrap-around settee provides plenty of room for passengers. Aft of the captain's seat is a galley layout – and more storage.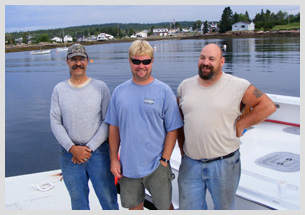 "Oh, Lord," laughed Joe. "If he fills all those cupboards and lockers and cubbyholes up, that's going to be one pile of stuff!" There's no shortage of fuel capacity, either, with a total of 470 gallons under the deck, split between two tanks. A second steering station with a stainless steel trap hauler is located aft of the wheelhouse on the starboard side. Ernst wasn't positive what the name of his boat was going to be until his daughter Lindsey was born 4 months ago. "The timing was good – we had a name before the boat was completed," he said. "Aww, that wouldn't have been a problem," said Joe Sargent. "We would've just taken longer to finish the boat." Mike Ernst shot him a look: "No, you wouldn't have." And then they both laughed.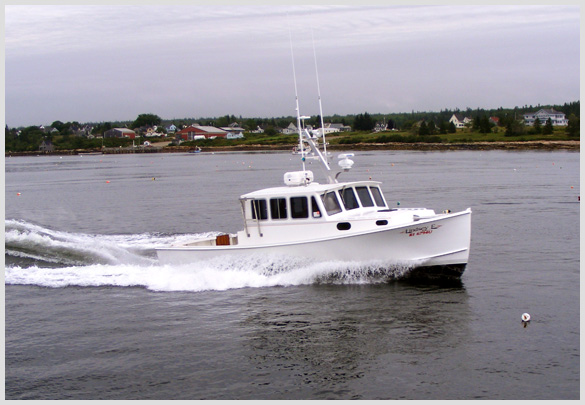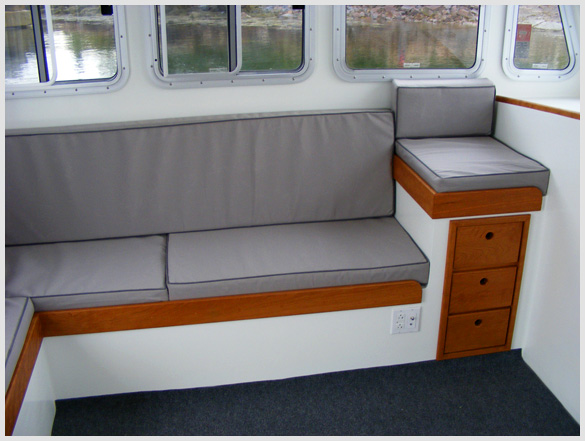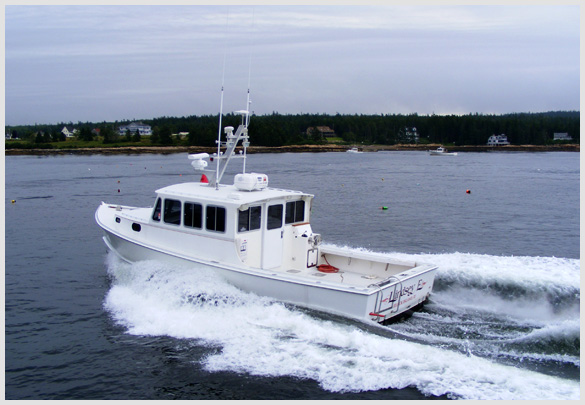 Information and specifications supplied by the builder. Every effort has been made to ensure accuracy. However, Maine Boats, Homes & Harbors accepts no liability in the event of any errors of fact or omission.
Share this article:
2023 Maine Boat & Home Show

Join Us for the Maine Boat & Home Show!
Art, Artisans, Food, Fun & Boats, Boats, Boats
August 11 - 13, 2023 | On the waterfront, Rockland, Maine
Click here to pre-order your tickets.
Show is produced by Maine Boats, Homes & Harbors magazine.