Just Launched: Morris M29
New Year, New Boat, New Class
By John K. Hanson, Jr.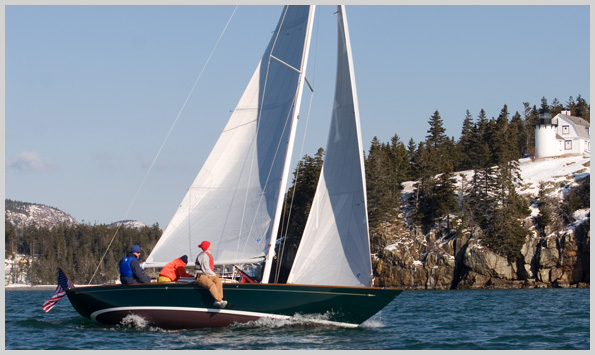 What a day for a daysail: frostbiting the Morris Yachts M29. Photos by Jamie Bloomquist
Launch Details:
Builder:

Morris Yachts

Boat Model:

M29

Designer:

Sparkman & Stephens

Principal Dimensions:

LOA: 28'11", LWL: 20'10", Beam: 7'4", Draft, Std: 4'6"

Displacement: 5,230 lbs, Bridge Clearance: 42'2", Fuel: 8 gals

Standard Power:

Yanmar 14hp Saildrive diesel engine

Launched site:

Northeast Harbor, Maine
Particulars:
The late January morning was cold and still, about 10 degrees Fahrenheit. It wasn't quite as cold as it had been earlier in the week, but cold enough. Still, our plan for the day was to drive to Northeast Harbor and sail with Cuyler Morris and the crew of Morris Yachts on Hull #1of their brand new Morris M29. It would have had to be a much colder day for us to say no to that kind of invitation. I picked up Jamie up at dawn. Even though the day was still, he had packed his survival suit, which surprised me. But hot coffee in hand, we set off for Northeast Harbor. It was a beautiful January morning ride down the coast, with views of the sun rising over Islesboro.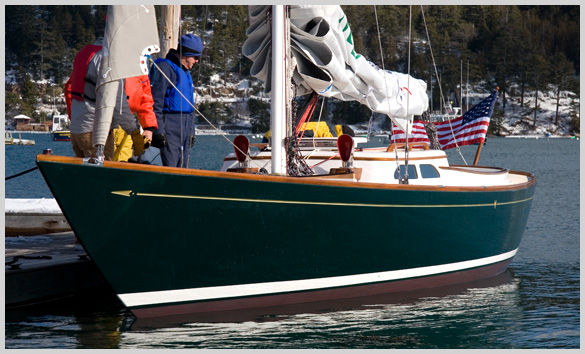 The trailerable M29 is designed to be easy to get under way, even short-handed.
When we got to the Morris yard, the new boat was in the shop on its custom Triad trailer. The mast was folded down from the tabernacle, and, as is always the case with a new boat, a few guys were working on some minor adjustments. The shop itself was cavernous. While the new boat is 29 feet overall, it looked almost small sitting on its trailer. Perhaps it was the narrow fin of the keel and the modern, fast-looking shape of the bottom that contributed to this feeling. Perhaps it was because this really isn't a big boat, just a beautifully shaped daysailer. Giving some scale and historical perspective to the scene were two Hurricane Katrina-battered Luders 16s that were in the shop for restoration. It struck me that the Luders 16 is a slightly smaller and 60 years older variation on the same theme as the Morris M29.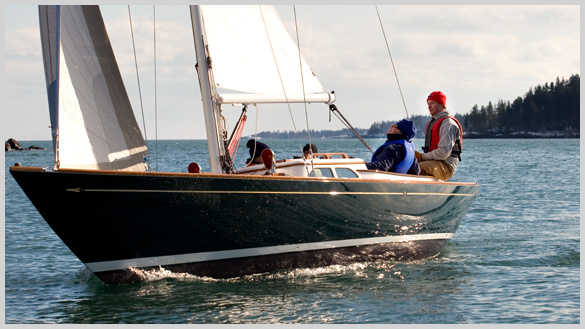 Even four big guys in hefty winter gear found the yacht a joy to sail....
The whole M-Series family of daysailers, of which the M29 is one, was designed by Sparkman & Stephens. They come in lengths to the M52, and share family traits of beauty and quality of construction. Most of all, their design is based on the same philosophy: sailing is to be fun; fun is in the beauty; fun is in the handling; fun is in the sailing. As I looked up at the M29 from the shop floor, I could see that all the family traits were in place. With features like a narrow beam, a deck-stepped carbon-fiber mast in its tabernacle, and a total weight (with trailer) of 6,875 pounds, the M29 can be towed by a large pickup truck or SUV There is no need for a hydraulic trailer. This was proven as the crew backed the yard truck into position, hitched up the boat's trailer, then backed the boat to the Travelift. Into the ice-filled harbor the boat went. The 75-pound mast went up, the sails were bent on, and we were ready to sail. That is, we were ready just as soon as the yard's workboat had broken enough ice for us to get out to the open waters of Northeast Harbor. Think of Northeast Harbor in August—it's a very busy place. Not so on the morning of our sail. The only other activity was a lobsterboat pushing a dump-truck-laden barge out to one of the islands and another solitary lobsterman working his traps. We must have looked as odd to them as the dump trucks afloat looked to us.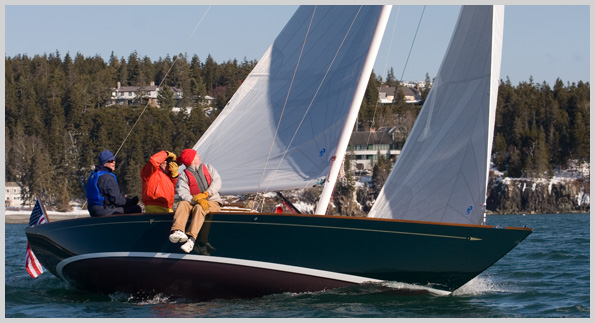 ...yet the boat is small enough to take advantage of tiller steering's immediate response.
The only place more beautiful for sailing than around Mount Desert in the summer may be sailing around Mount Desert in the winter with the famous mountain backdrop covered in snow. Still, that beauty paled compared with the great joy of sailing this boat. What a rush. First of all, it was downright easy to get under way. The jib is on a roller furler that is mounted flush with the deck, putting the jib's foot nicely down at deck level. The self-tacking system worked wonderfully, with one gross trim sheet and a smaller fine trim sheet, and NO winches to mess with.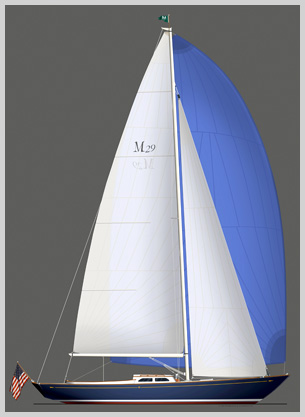 Click on the image above to open
a larger view in a new window.
Once under way, we found that even with four large fellows on board, we were never under each other's feet. The boat probably will never again have so much beef on board as it did with us, but the cockpit was comfortable and all that weight didn't seem to bother the boat at all. We trimmed in and the boat just flew. The helm was so light and responsive that we completely forgot about the poor photographers who were trying to follow us in a small inflatable. We left them in the dust, so to speak. They had a much harder day then we did, and Jamie's dry suit turned out to be a welcome crewmember. It was bright and sunny, the wind was blowing just about 12 knots, but it was cold enough to give the wind a good bit of density, and cold enough that Jamie had to put the camera batteries under his suit to warm them. As we sailed Cuyler Morris talked about what the company wanted to achieve with this boat. They hope that this boat will keep the love of sailing going for those that might have gotten past the big-boat bug. Morris also hopes that a boat of this size and beauty will energize a whole new generation of racing sailors, as a venerable fleet of similarly sized Dragons has done in Europe. There, fleets of 30 or more gather in some of the world's finest harbors to sail competitively but without the gymnastics required of sport boats. A boat with the size and speed and beauty of the M29 just might be the new racing class of this era. For my next sail, I'd like to trade in my insulated overalls and neoprene boots for a t-shirt, shorts and sandals, but that's about all I'd change.
Click here for more about the Morris M29 (turn your speakers down first!)
Image Gallery:
image gallery
Information and specifications supplied by the builder. Every effort has been made to ensure accuracy. However, Maine Boats, Homes & Harbors accepts no liability in the event of any errors of fact or omission.
Share this article:
2023 Maine Boat & Home Show

Join Us for the Maine Boat & Home Show!
Art, Artisans, Food, Fun & Boats, Boats, Boats
August 11 - 13, 2023 | On the waterfront, Rockland, Maine
Click here to pre-order your tickets.
Show is produced by Maine Boats, Homes & Harbors magazine.