Gunkholing with Gizmo: Fort Point, Stockton Springs
Gunkholing with Gizmo: Fort Point, Stockton Springs
By Ben Ellison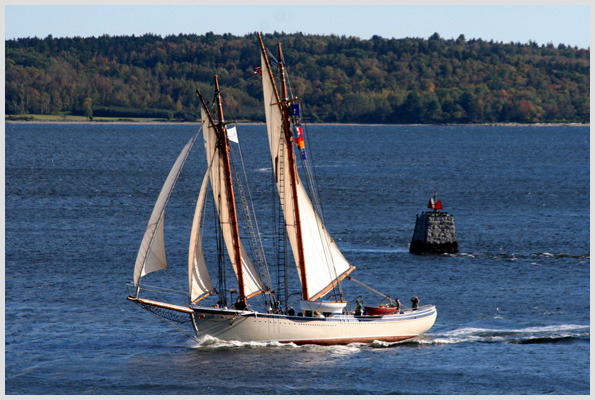 This area offers fine sailing and anchorages to the cruising yacht.
Click here for more photos
.
Photos by Ben Ellison
A detour well worth the making, by land or by sea.
Fort Point is located at the tip of Cape Jellison, where the river and the bay both called Penobscot join. What a fortuitous spot it is. The history of human activity here predates even Maine's own indigenous Penobscot Nation, and includes a Victorian-era resort, a Colonial fort, critical aids to navigation, and prodigious numbers of salmon once hauled from the swirling confluence off the Point's sandy tip (1). It's ironic then that this well-positioned peninsula, now a 154-acre state park and historic site, is no longer a focal point of the midcoast. Cruising yachts tend to more southerly routes, largely ignoring the fine anchorage in Fort Point Cove and the park's 200'-long guest pier (2). Most Route One tourists also drive right past the modestly marked one mile side trip that begins just east of Stockton Springs (3). I suggest that you make a Fort Point detour, if not for a sojourn into Maine history then at least for a picnic. There's no physical evidence of the earliest people's fishing camps, not even salmon, but it's easy to imagine the beauty and bounty that must have been. There are distinct earthen remains of the fort moat and ramparts dug by Governor Pownall of Massachusetts and his 400 men in the spring of 1759, determined as they were to control French access to the river and push back their Penobscot allies. Accompanying the expedition was 63-year-old General Samuel Waldo—yes, he of Waldo County and Waldoboro fame—who "dropped down of an apoplexy, and ... expired" here. A small monument commemorates the event, which may have caused some jubilation in Waldoboro (or so I gathered from Steve Cartwright's intriguing piece about Waldoboro in
MBH&H
, Issue 102). Fully present and well cared for at the park are the rare pyramidal bell tower with its 1,200-pound fog signal, built in 1890, and the functioning 1857 lighthouse. They make it easy to conjure up a cove full of lumber schooners waiting for the flood tide before working their way up to Bangor. There are some interpretive panels that illustrate the grand four-story hotel that went up in 1872, featuring running water, gas lights, a bowling alley, and two dance pavilions. Picture a steamer full of excited swells up from Boston rounding close by Fort Point, thus avoiding the ledge of the same name. If you're as lucky as I was when I did this trip, you might see an actual Maine windjammer on the same track, bone in her teeth, bound for Bucksport (4). Which, incidentally, is another worthy cruising destination (
see the Gunkholing with Gizmo: Bucksport article by clicking here
). You might also visit half-mile-long Sandy Point Beach (5). Its 100 acres of river shore were recently preserved courtesy of the Land for Maine's Future program and are purportedly getting hiking trails. One way or another, there's much to enjoy here, at the powerful place where the mighty Penobscot River meets the bay.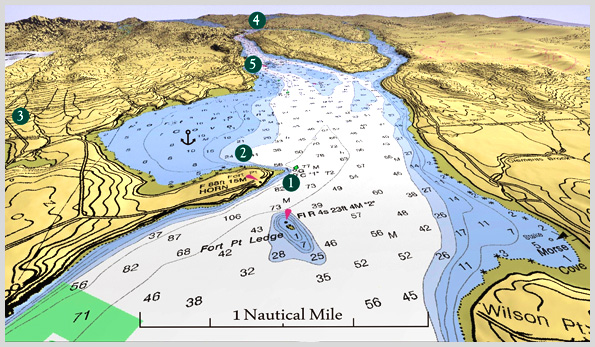 Charlet Key:
1)
Fort Point State Park
2) Fort Point Cove and the park's 200'-long guest pier 3) The town of Stockton Springs 4) Bucksport 5) Half-mile-long
Sandy Point Beach
Photo Gallery: Fort Point, Stockton Springs

Chart: Based on 1:40,000 NOAA chart #13309, 3D by MemoryMap, adaptation by Ben Elllison. E-mail Ben (
gizmo@benetech.net
) about restaurants, parks, and the like that he can visit aboard the M/V
Gizmo
.
Click here
to travel with Ben Ellison and
Gizmo
on other
coastal adventures
on the Maine coast.
[where: 04981]
Share this article:
2023 Maine Boat & Home Show

Join Us for the Maine Boat & Home Show!
Art, Artisans, Food, Fun & Boats, Boats, Boats
August 11 - 13, 2023 | On the waterfront, Rockland, Maine
Click here to pre-order your tickets.
Show is produced by Maine Boats, Homes & Harbors magazine.