Adventures - Gizmo - Bucksport
Gunkholing with Gizmo: Bucksport
By Ben Ellison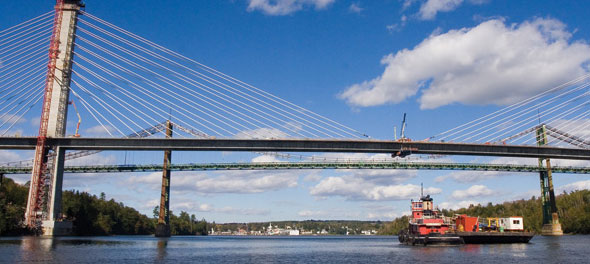 As a guy who knows all too well the difficulties of community harbor improvement projects, I stand in awe of Bucksport. The mile-long waterfront walk that now wends from the "lower" bridge to the remarkably tidy International Paper Mill is fabulous. Antique street lamps, a gazebo, fine landscaping, historical plaques, peaceful benches, cut-throughs to Main Street attractions -- it's all there, though so far enjoyed mostly by locals. Of course that's going to change now that the new "upper" bridge has opened and is poised to become a major tourist attraction. The official title of the new bridge, the Penobscot Narrows Bridge and Observatory, is the result of some almost comic inter-regional infighting, but an awkward name is not going stop Maine from taking huge, and justifiable, pride in this marvel (
www.waldohancockbridge.com
). It's the state's first modern cable-stay bridge, but its faux-granite pylons are modeled on the Washington Monument, whose own granite came from hereabouts. And topping the 420-foot-tall west tower is the nation's very first bridge observatory, accessible from Fort Knox, which is itself a massive granite marvel. The best way to take in all this grandeur is by boat, cruising up the Penobscot River to Bucksport, which is now unquestionably a destination harbor. The Public Landing (1) offers one hour tie-ups at a 260-foot-long, deepwater dock. The time limit is extendable by permission from the amiable harbormaster, Michael Ormsby (207-469-6616), who also rents moorings. Next door (2) is Port Harbor Marine's full-service Bucksport Marina (207-469-5902), and there's yet another public dock (3) especially dedicated to hand-carried small craft, and to fishing. The only marine facility that begs improvement is the launching ramp (4), which lacks floats and has a tricky cross current. A stroll along Main Street reveals numerous dining choices, starting with The View sports bar* (5), including venerable MacLeod's (207-469-3963), and ending at Ming's Garden (6) (207-469-5930), which we tried (tasty!). Also noteworthy downtown are the Alamo Theater, run with passion by Northeast Historic Film; Bookstacks, offering you-know-what, plus a WiFi hot spot and -- with typical Bucksport modesty -- a "pretty good cup of coffee" and the Historical Society Museum. See
www.bucksportchamber.org
for details on all these, and more.
Update (June 2012) - The View Sports bar is no longer in business.
Credits: Article photos and chart enhancement by Ben Ellison. E-mail Ben (gizmo@benetech.net) about restaurants, parks, and the like that he can visit aboard M/V Gizmo.
Click here
to travel with Ben Ellison and
Gizmo
on other
coastal adventures
on the Maine coast.
Share this article:
2023 Maine Boat & Home Show

Join Us for the Maine Boat & Home Show!
Art, Artisans, Food, Fun & Boats, Boats, Boats
August 11 - 13, 2023 | On the waterfront, Rockland, Maine
Click here to pre-order your tickets.
Show is produced by Maine Boats, Homes & Harbors magazine.