View from the Porch - Issue 111
Issue 111
By Peter Bass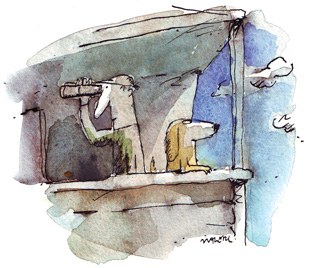 Illustration by Caroline Magerl.
The high season is upon us. To continue our "Maine Summer as Kentucky Derby" metaphor from last time, we are now in the third turn and there is enough track left that we needn't panic quite yet. The game is still on.
The short race that is summer in Maine has thundered down the backstretch but is far from over. The winners and losers are not yet decided, so pull up a rocker and let's see what has occupied our discussions on the Porch in the early season.
Marching On
In an effort to continue our imitation of real reporting, we would like to follow up on our (un)coverage of the March of the Topless Females in the last issue. It seems that the University of Maine at Farmington student who wanted to stage a similar event in Farmington to protest the double standard of gender toplessness has accomplished her goal, and a march took place at the end of April. It was covered (more or less) by Channel 8 and featured at least one topless male expressing solidarity, as well as the expected voyeurs with digi-cams in hand. Comments ranged from "disgusting" to "so what?" All the news accounts have noted that Maine law allows anyone to be topless. No word on whether the mammiferous marchers heeded my recommendation that the route begin at a former dairy and end at an ice cream stand. So where do the Porch regulars land on the continuum between "disgusting" and "so what?" I stand aside, in favor of courtesy, the lubricant of society. While many of the great progressions of our society, such as civil rights, would not have moved forward without confrontation, the magic of civility can be compelling in some situations. This may be one of them.
Alien Invaders
Sounds like a video game from the early days of Atari, or perhaps it is the hordes of summer rusticators we love to hate or hate to love, doesn't it? The chat on the Porch is about something else entirely: flora and fauna "from away" that threatens native species, some of which being those that we identify as part of the magic of Maine. According to an article in the
Bangor Daily News
, biologists with the Department of Inland Fisheries and Game report that there have been 70 illegal introductions of non-native fish species since 2006. Over the years, the issue I remember most was the introduction of bass (no relation) to formerly pristine trout and salmon waters by misguided sportsmen. Currently there is great concern about the presence of northern pike in the Belgrade lakes. "Any fish that grows to 20 or 30 pounds and has a mouth like an alligator" could destroy traditional species, according to IF&G biologist Nels Kramer. But top predators like the pike are not necessarily the big problem: remember the diseases brought to the Americas by the Europeans? They decimated native populations who had no evolved resistance. This is the possibility that really gives the biologists the willies. The current nightmare on the national front is the silver carp, brought to the southeastern U.S. to control algae in catfish ponds. Everything worked fine until flooding set the silver carp free to be all that it could be. Unfortunately, it is now knocking on the door of the Great Lakes via the Illinois River. There are so many carp that they pose a collision hazard to boaters. This thanks to an idiosyncrasy of this fish: they are driven to leap from the water by the vibration of motors operated at low to moderate speeds. Several such collisions have resulted in serious injuries. But there is some good news for those sportsmen who like violence and alcohol. In Peoria, Illinois, they can hire a guide to take them bow (as in bow-and-arrow) fishing for the mighty carp from the stern of slow-moving bass boats. I refer you to brackettoutdoors.com to view this new extreme sport. Mr. Brackett's girlfriend received a broken jaw from a flying 15-pounder. Fortunately, she did not receive an arrow through the brain.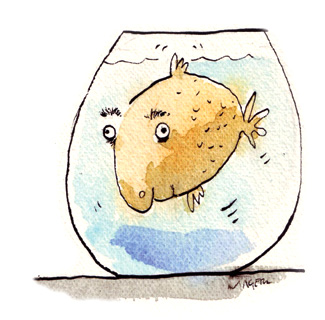 Illustration by Caroline Magerl.
Something for Nothing
When I was a schoolchild, I remember being greatly confused by the practice of the U.S. Department of Agriculture of paying farmers not to grow a particular crop. At that tender age, I believed that growing things was what farmers were supposed to do and that the USDA was there to help them. It is only now that I have learned that farmers grow gasoline additives at great taxpayer expense and that the government is usually more hindrance than help. It was therefore of great amusement to me that two wicked clever entrepreneurial lobstermen have taken the not-growing thing to a dizzying new height. Joe and Jared Bray of Matinicus have created Eco Lobster Catch, a fishing and marketing co-operative, one of whose more innovative products is the No Impact Trap. The No Impact Trap is a trap that some gullible squash-head has paid the Bray brothers NOT TO FISH! They will even send you the tag as proof that the trap isn't being fished. Now you don't even have to pretend to fish those tags to keep your quota, you can not fish them, freeing up more time to keep your firearms in top shape so you can frighten off the other fishermen who actually are fishing in your particular mob's turf. It is a beautiful thing. I can almost hear it in a Lewis Black monologue. If the article in the maineville.com service of Bangor Publishing had been dated April 1, I would have assumed that I had written it and not the two entrepreneurs themselves (the site allows the posting of one's own stories). Tell me it ain't so, Joe.
America's Cup Runneth Out
Now that our billionaire #$@%&!! beat their billionaire #$@%&!! in the
America
's Cup and the earth has returned to its axis, we can give thanks for a Great Moment in Philanthropy. Mr. Bertarelli, a.k.a. "Captain Loser," has decided to donate his Loser Sails and Loser T-Shirts to Haitian earthquake relief. I owe sailinganarchy.com for this one. Evidently the sails are supposed to be re-cut into tents and the unsold apparel distributed to the needy. Bravo. Giving a now-nearly-worthless commodity with a cost basis of millions to a charity might have an ulterior motive. I have found no follow-up articles showing actual tents in my Internet searches, but they very well may be out there. Perhaps the gesture by Mr. Bertarelli would have been more laudable had he made the sails into tents before shipping them to Haiti. My guess is they are on a pier somewhere taking up space needed by real supplies. Our great nation, which demonstrated the most remarkable ability to assemble the men and materials of war in WWII, seems to be stymied by bureaucratic inertia when it comes to dealing with hurricanes and oil spills. On the Porch we believe that the best philanthropy is local and unencumbered by national governments. If moved by international events we favor those groups with records of efficiency in delivering aid, such as the Red Cross.
The Sporting Life
We noted last time that there are a number of high schools and colleges that have embraced the angling contest as an appropriate team sport worthy of varsity letters. Is this right? Does poker belong on ESPN? No. Athletic sport involves sweat from physical activity, something we should encourage in the youth of America. There is something about fishing, which, while physical, doesn't rise to the level of interscholastic varsity athletics. It is a hobby, however strenuous it may be at times. A young man (or an old one), while holding the winning basket of bass, may exhibit the same symptoms of testosterone poisoning that victorious footballers exhibit, yet fishing is still a hobby. This is not to say that non-athletic student activities performed at a high level are not equally deserving of a school letter. I happen to believe that they are. As parents we should value high achievement in our children, whether actual sweat is involved or not, and require that our schools do the same. As I once asked a friend who was skiing in a borrowed high-school letter sweater, "What did you get your 'D' in?' "Mathematics," was his reply.
Over the bar
To northeastern cruising sailors of the mid-twentieth century, the indispensable reference was
A Cruising Guide to the New England Coast
by Roger F. Duncan and John P. Ware, the son and son-in-law of the authors of a privately produced guide first printed in 1936. So popular was the work of Duncan and Ware that the book simply became known as "Duncan and Ware." I remember sailing in the early 1960s with family friends and hearing the captain call for the Duncan and Ware to make a decision as to the night's anchorage. We note here the death of Mr. Duncan in May of this year at 93. I am sure that a detailed obituary will be available for a long time on the Internet, but a short one is this: Roger Duncan was a teacher, coach, author, and sailor of great regional note, and a resident of Boothbay Harbor. At the age of perhaps 12, I watched Mr. Duncan sail his Friendship sloop
Eastward
through what I believed to be an impassable, unmarked passage into Newagen Harbor from the east. I later added the navigation of this passage to my own set of maritime parlor tricks, but never in such a vessel as his. I congratulated myself often for my piloting skills when I ran the same passage in a runabout with the engine half-tilted.
A Cruising Guide to the New England Coast
is still updated and published by the next generations and available at cruisingguidetonewenglandcoast.com. It belongs on every cruising vessel in New England, and is handy ashore as well. Past editions can be found on the dusty bookshelves of cottages everywhere.
Quoddy Tides
One of my roommates in college had deep roots in Eastport. His grandfather was the longtime editor of the Eastport newspaper, and was in his 90s when we visited him while we were still students. One of the Eastport sights he showed us was a part of town known as Sodom, once the housing for Depression-era workers on the Quoddy hydroelectric project. The allure of those Quoddy tides, like the allure of the Biblical city after which Sodom the subdivision was named, has attracted yet another tidal entrepreneur. The principal of Halcyon Marine Hydroelectric, Ramez Atiya, presented a project proposal to the Eastport City Council to develop a demonstration project to test his technology and promised to provide cheap electricity and a long-term revenue stream to the city. So what's the catch? According to the pitch man, there is no catch. Mr. Atiya's technology is some thing or some structure he claims is a patented device called a "tidal wing." I am pretty good at searching the Internet but can find no graphic representation of Mr. Atiya's device, which is not the case of the other tidal power proposals presented so far, several of which we have discussed on the Porch. I cannot even find a web page for the company, which is odd in this day and age. Does the expression "blue smoke and mirrors" apply here? Back to my roommate's grandfather; his name was Roscoe C. Emery. My own grandfather, Fred R. Lord, also a newspaperman from Augusta, told me that the editors in the state often waited for Emery to stake out a position on a statewide issue. His stance would define the conservative edge of the spectrum, and the rest of Maine's papers could then fall in line appropriately.
Tidbits, the Porch's Lightning Round
Have you noticed that the major news shows often have a feature called something like "Around the World in 60 Seconds," or the "Lightning Round," in which a number of pieces of superficial news are noted in an equally superficial way? In this spirit we introduce "Tidbits," our humble attempt at being even less pertinent and more incomplete than the rest of this column, however difficult that may seem. These were gleaned from Maine's newspapers: Yarmouth, Cape Elizabeth, Bangor, and Greenville made
Newsweek
's list of America's best high schools. The latter two were named to the list last year as well. The Portland Harbor Museum has merged with Bath's Maine Maritime Museum and will have several displays in such places as the Portland Public Library and the University of Southern Maine. The Feds have left the potato off the list of vegetables that qualify for the Women, Infants, and Children (WIC) program. Men, however, are free to eat all the potatoes they want in any form. Chinese businessmen are visiting Maine lobster and blueberry operations, however difficult they might find them to pronounce. When you read this, Cianbro will have swapped out three 80-ton thrusters in an oil drilling ship while at anchor in Penobscot Bay off Rockland by removing and replacing them from the outside using cranes and divers. Wow! For the next issue, I hope to report on our next Conrad-esque odyssey, this time up the Damariscotta River to the head of tide for lunch. If time allows we will make a similar quest on the Penobscot, but we may need to stage the attempt from a little farther east than Boothbay. In the meantime there are plenty of Irish pennants and dangling fenders to chronicle from the Porch. Make sure you look shipshape as you pass. Feet up, binoculars at the ready.

Long-time
MBH&H
Contributing Editor, freelance writer, and raconteur Peter Bass is an owner of Maine Cottage Furniture.
Click here to read other articles by Peter Bass »
A Fond Farewell:
It is with sadness that we report that artist and illustrator Caroline Magerl will no longer be drawing for us on a regular basis. For more than a decade, her acerbically witty watercolors have enlivened this column, its predecessor ("In the Lee of the Boathouse" by Peter Spectre), and
www.maineboats.com
. She lives in Australia, where she plans to focus more on her fine art and children's books. Stop by if you are in the neighborhood, or keep up with her progress via
www.cmagerl.com.au
. To submit your comments... newsy tidbits, photos, illustrations, clippings, rants, and raves for possible use in this column, use the form below. Or mail to "View From the Porch," P.O. Box 758, Camden, ME 04843 or fax to 207-236-0811. Items may be edited for length and clarity; materials become the property of Maine Boats, Homes & Harbors, Inc.
Share this article:
2023 Maine Boat & Home Show

Join Us for the Maine Boat & Home Show!
Art, Artisans, Food, Fun & Boats, Boats, Boats
August 11 - 13, 2023 | On the waterfront, Rockland, Maine
Click here to pre-order your tickets.
Show is produced by Maine Boats, Homes & Harbors magazine.