Bernice
Restoration turns a racer into a speedy family yacht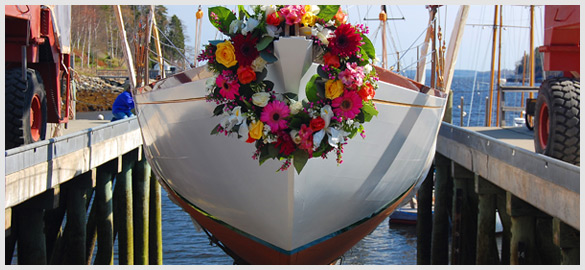 Bernice
, the 90-year-old, Owen-designed P-class racer re-launched in May at Rockport Marine.
Click the image above or scroll down for more images. Photo by Ry Hills
Launch Details:
| | |
| --- | --- |
| Boat Name: | Bernice |
| Specs: | LOA: 53'4", Waterline Length: 36'6", Beam: 10'6", Draft: 7'6" |
| Restoration by : | Rockport Marine |
| Contact: | 1 Main Street |
| | Rockport, ME, 04856 |
| | Phone: 207-236-9651 |
| | Website: www.rockportmarine.com |
| Launch Date: | May 2, 2008 |
| Launch Site: | Rockport, Maine |
Particulars:
On Friday afternoon, May 2, 2008, a crowd gathered to watch as the 90-year-old, George Owen-designed P-class racer
Bernice
went back in the water after a total refit at Rockport Marine in Rockport. In addition to being a gorgeous vessel,
Bernice
is notable in that this is believed to be the last remaining Owen-designed P-class boat in existence.

Bernice
, Rockport Marine.
Photo by Jamie Bloomquist
When
Bernice
arrived in Rockport for restoration, after spending much of her life in the fresh waters of the Great Lakes, the boat was in need of major work. All but four pairs of frames were replaced, and much of the planking as well. The boat is double-planked: outer layer is mahogany and the original inner planks are of cypress; any new planks are in western red cedar. To support the boat during this extensive rebuild, Rockport Marine created a support system that was bolted into the shop's walls and ceiling. As a racer,
Bernice
had a very spare interior, but Brendan Riordan, Rockport Marine's designer, created a new arrangement plan to accommodate a family of four on weekend cruises and utilize the space available as fully as possible. There's a master cabin aft, two berths amidships, and two pipe berths in the forepeak. The small galley has pressurized hot and cold water and refrigeration. A diesel heater was installed as well. Interior finish is mahogany stained a warm color and finished with ten coats of satin-finish varnish. A new main boom was part of the rebuild; new sails are by Nat Wilson and the rigging was completed by Tom Ward.
Image Gallery:
image gallery
Information and specifications supplied by the builder. Every effort has been made to ensure accuracy. However, Maine Boats, Homes & Harbors accepts no liability in the event of any errors of fact or omission.