Letters - Issue 108
Issue 108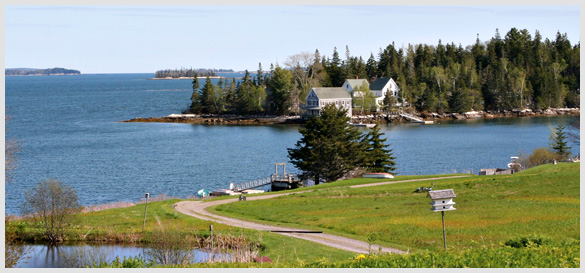 The north end of Hog Island seen from the Todd Audubon Sanctuary on the mainland.
Photo by Ben Ellison from
Gunkholing with Gizmo, Issue 106.
A Hog Island Visit
My wife and I visit Hog Island in Muscongus Bay every summer and have been doing so for many years. (See
"Gunkholing With Gizmo," MBH&H 106
.) We were quite surprised this past summer when we arrived to find the island bereft of humans. We did enjoy our walk around the island with a lunch stop at the beach on the west side. We ran into a caretaker on the dock, and he informed us that the Audubon camp on the island would probably not be open in the future, at least not for the foreseeable future. We sure hope they find the money to reopen this terrific facility, but if not, we hope the trails can be maintained for visitors. Hog is a jewel.
Armand Bouchard
via maineboats.com
The Ice Museum
I have summered just down the road from the Thompson Ice Harvesting Museum in South Bristol, and am now on the board of the Ice House Preservation Corp. You did a great job with the article on the museum (see "Mr. Thompson's Frozen Asset,"
MBH&H
107, Winter 2010). I am taking six of my grandchildren to South Bristol next February for the ice cutting. Your story should generate many more participants.
Joseph H. Guttentag
Washington, D.C. and South Bristol, Maine
Is There a Reason?
The unusual reverse transom on the diesel/electric/solar boat in "Off the Drawing Board,"
MBH&H
107, Winter 2010, caught my eye. I remember seeing a number of transoms like this in my father's
MotorBoating
magazines from the 1920s. And they were a feature of the U.S.
America
's Cup competitors in the 1970s. Is there any particular reason for these odd transoms? (I remember hearing that when one
America
's Cup defender was being built, someone asked the builder why the reverse transom. The builder said that it was designed that way so the force of falling raindrops on the transom would increase the speed of the boat!)
Bob Fraser
Lincolnville, Maine
Quality of Life (I)
I read Peter Bass's comments, Cruisin' in Rockland (
MBH&H
104, May 2009), with great interest. We live in Rockland, and I fear that the arrival of the large cruise ships, which burp out 2,500 passengers at a time, will in time destroy the unique quality of our downtown, to say nothing of the quality of life for residents. I am interested in joining together with other residents from the area who are concerned about the impact cruise ships will have on our town and the surrounding area. Now is the time to present the facts before cruise ships have pushed their way into Rockland. We have a great deal to offer and a bright future. In time, our beautiful harbor, unique location, and caring community will ensure our financial success. I hope that we do not sell out the town and our bright future in order to gain a quick economic fix.
Sally Wylie
Rockland, Maine
Quality of Life (II)
A recent column by Roger Cohen in the
New York Times
, "What Makes Cities Live," reminded me of the Vineyard and of Maine. Cohen wrote about New York's tatty but alive garment district, more alive than the tourist-gentrified show streets and theme restaurants in the "nice" neighborhoods. I loved the Vineyard, once, because it was a bit removed, offshore and stalled in an earlier time, more authentically maritime than Marion or some other gentrified shelf for the rich. In Maine, I remember that Muscongus Bay's intricate little backwaters and nearly linear coves were always refuges for old boats, old ways, honest water life, and the not-unpleasant smell of sun-drying fish gurry (if you're not too near the bait barrel). The archipelago of Penobscot is too complex to gentrify entirely, and is stubbornly unconnectable to I-95. I suppose there is a legion of us, those who insist that there are real people, real jobs, real places, and—always—real boats the rich haven't embalmed. And every one of us would subscribe to a ferry that would take us back and forth between today and the pre-war, pre-Interstate coast.
Jan Adkins
Novato, California
Quality of Life (III)
I appreciated all the references to Boothbay Harbor in the last issue of
Maine Boats, Homes
, & Harbors (Winter 2010, Issue 107). Last year was our first time to the Boothbay Harbor area. It was as I had expected and even more. Absolutely gorgeous! The people were fantastic and the town even more so. The scenery was breathtaking. On our way out of town, we ate breakfast at a little restaurant on the outskirts. A customer came in and asked if he could have an egg sandwich with a piece of cheese and mayo on the bottom. The owner/waitress showed him the sandwich with the cheese on top and mayo on the bottom with a piece of toast underneath and asked him how that was. He replied it looked fine, but politely asked if he could get a piece of toast on top to complete the sandwich. The owner/waitress said, "Well, yeah, it isn't done yet." She just wanted his approval on what she had accomplished so far. That's the people of Maine. No need to get excited.
Mike and Cindie Szekely
Wapakoneta, Ohio
Open Invitations
Two letters in the Winter Issue caught my attention. First there was Scott Stewart's about his Bluenose sloop accompanied by Ann Montgomery's wonderful photo of my old Rozinante. I would like to pass on to Scott that he is invited to join me on my "temporary" Bluenose when he is in the Camden area. Then there was Alice Lane Johnson's letter, "Hornblower's Influence," that brought back memories of meeting her and Carl Lane during a long ago teenage summer. Having read Carl's books on sailing and seamanship it was special to be invited to join the Lanes for an afternoon cruise to a pre-Outward Bound Hurricane Island. As I recall, their powerboat was named
Garkbo
, and I was told this was the Tibetan god of fire, thunder, and confusion. I could Google that to check my memory but it seemed such an appropriate name for an internal-combustion-powered vessel I don't want to spoil the memory. Alice is invited for a sail too.
Penn Brown
Epping, New Hampshire and Lincolnville, Maine
A Postcard Clue?
You asked for information regarding the postcard in your last issue ("A Postcard in Time," Issue 107, Winter 2010). It reminded me of an illustration of the Kennebec River passing Phippsburg in Robert P. Tristram Coffin's book
Kennebec: Cradle of Americans
(1937). The book was illustrated by Maitland de Gogorza, of whom I have been able to learn precious little, to my regret. Both the postcard and the illustration remind us of how many treasure spots are here in Maine for those willing to wander off the Interstate and to gunkhole along our waterways.
Don Ryan
Falmouth, Maine