Gunkholing with Gizmo: Hog Island
Gunkholing with Gizmo: Hog Island, Muscongus Bay
By Ben Ellison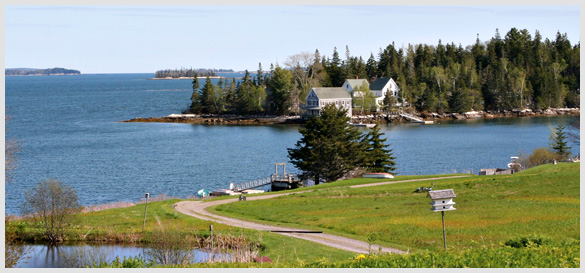 The north end of Hog Island seen from the Todd Audubon Sanctuary on the mainland.
Click here for more photos
.
Photos by Ben Ellison
Hog Island Audubon Camp (1), based at the northern tip of this 330-acre isle in Muscongus Bay, has been the summer respite of school children, educators, and birders of all stripes since 1936. Renowned naturalist and early camp instructor Roger Tory Peterson called it "a magical place," and if you visit the pastoral facilities and wander the miles of shore and woodland trails—which you should—it's easy to see what he meant. What's harder to comprehend is how the economic tsunami of 2008 broke on these tranquil shores. Last fall, the Maine Audubon Society announced that the residential camp and the visitor's center on the 30-acre mainland portion (2) of the Hog Island Center would not operate during the summer of 2009, and was quite frank about the financial issues. See maineaudubon.org/hogisland for more information. But don't fret about it being turned into mansions or public access being lost. Most of it is forever protected as the Todd Audubon Sanctuary. The Audubon Society is using this break to cogitate about the best and most self-sustaining way to fit this property into its conservation mission. Meanwhile, for visitors on foot, the sanctuary remains open 365 days a year; we visited on a balmy one in the early spring of 2009, and were so glad we did. While the island would not be staffed this summer, the floats were in, and can be used to park a tender or small boat. It was slightly eerie to wander alone among so many well-summered buildings, but the elaborately accessorized osprey perch just south of the "Bosun's Locker" (many camp landmarks are named) was fully occupied and a good reminder of the camp's focus. 150 species of birds have been identified on Hog Island, some of which, like the osprey, nest here. Another nice surprise was learning that the Audubon website's mention of a "perimeter trail" is a significant understatement. In reality there are four loop hikes possible from the camp; they range from one-half to three miles in length. All pass idyllic Long Cove (3), which has apparently served many as a high-tide swim spot. There are numerous side trails to view points or interesting habitats, and hardy hikers are rewarded with the lush fern fields at the south end (4). One option is to begin your exploration from the fair-weather anchorage off Sand Cove (5). Alternative anchorages are the bottom end of Greenland Cove (6) or outside the fishing boats moored in Keene Narrows (7). Anyone who anchors close to the island or mainland docks must be exceedingly careful of the underwater cables there (8). One thing Maine Audubon clearly doesn't need is another Hog Island Center maintenance issue. Now's the time for us to appreciate this historic environmental facility, then send the society our suggestions and best wishes (there's a form online), perhaps along with something more tangible.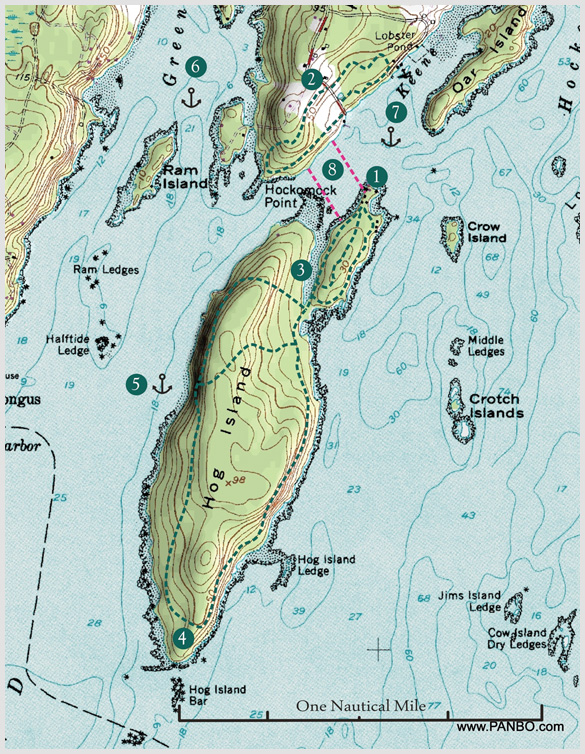 Charlet Key:
1) Hog Island Audubon Camp 2) Hog Island Center 3) Long Cove 4) Hog Island South End 5) Sand Cove 6) Greenland Cove 7) Keene Narrows 8) Underwater cables

Chart: Based on the 1:24,000 Louds Island topo map, 3D by Memory Map. E-mail Ben (
gizmo@benetech.net
) about restaurants, parks, and the like that he can visit aboard the M/V
Gizmo
.
Click here
to travel with Ben Ellison and
Gizmo
on other
coastal adventures
on the Maine coast.
Share this article:
2023 Maine Boat & Home Show

Join Us for the Maine Boat & Home Show!
Art, Artisans, Food, Fun & Boats, Boats, Boats
August 11 - 13, 2023 | On the waterfront, Rockland, Maine
Click here to pre-order your tickets.
Show is produced by Maine Boats, Homes & Harbors magazine.