Wesmac Custom Boats: Otter
A new ferry comes to Isle au Haut
By Stephen Rappaport
July is the busy time on Isle au Haut, when the tiny downeast community enjoys, or at least tolerates, an influx both of summer folk with seasonal homes and day-trippers who come to explore the island's share of Acadia National Park.
This past year, the last day of July was busier than usual, as just about the entire island population gathered at the town dock to greet and celebrate the arrival of the new ferry. The boat, named Otter, and the party—there was live music and plenty to eat and drink—marked the climax of more than five years of planning and effort by Isle au Haut Boat Services, island residents, a flock of generous benefactors, and Wesmac Custom Boats.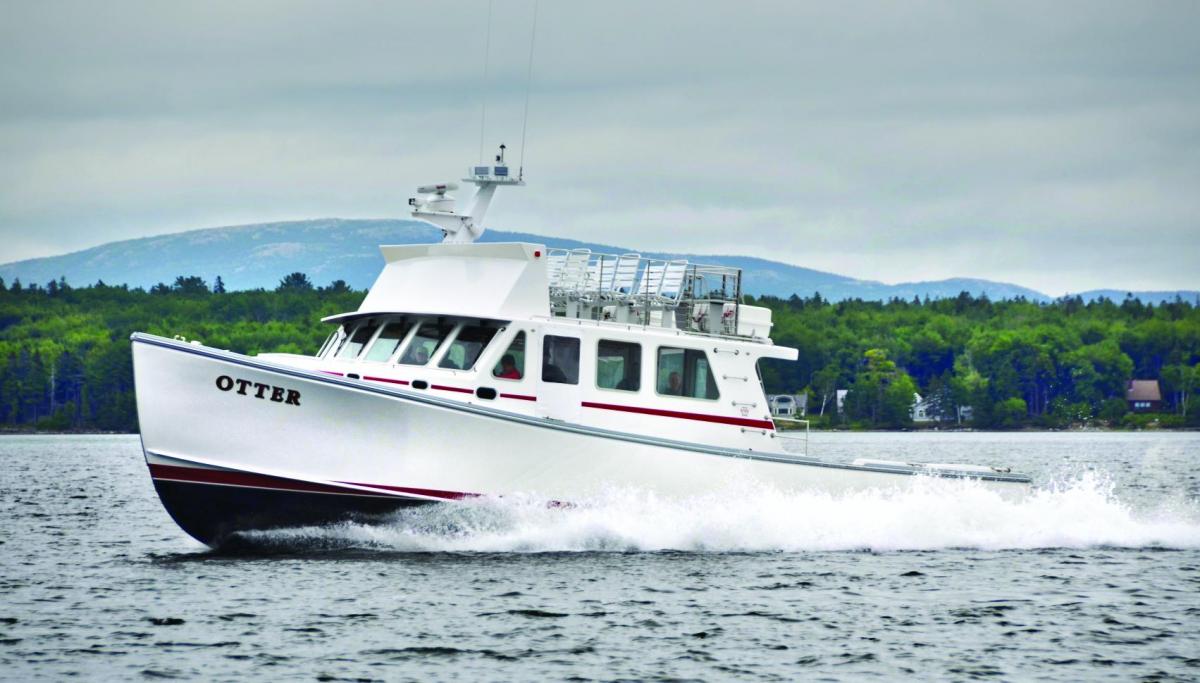 Otter, the newest ferry on the Isle au Haut-Stonington run, is a substantial upgrade over the 50-year-old wooden boat it replaced. Photo by Stephen Rappaport
Located a half-dozen miles offshore, Isle au Haut can't be reached by bridge, and the Maine State Ferry Service does not serve the island. For many year-round residents, a 45-minute ride on the boats of the private, not-for-profit Isle au Haut Boat Services is the only regular way to get on and off island. Groceries, mail, propane fuel, students bound for Deer Isle-Stonington High School, people visiting the doctor or the hospital, all depend on the company's boats: the aging Mink and, now, Otter.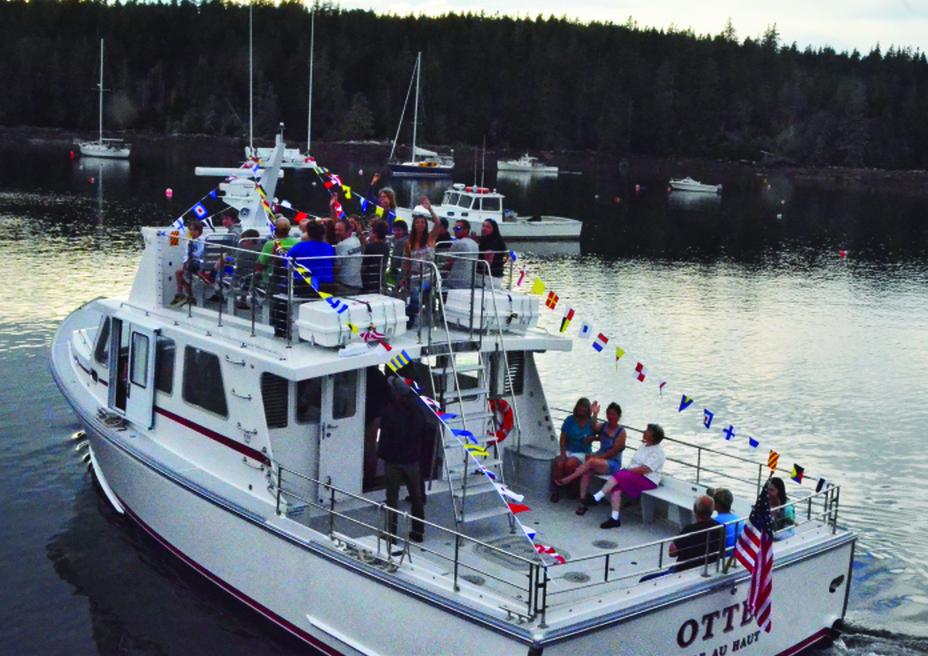 The new ferry's arrival at the island was cause for a major celebration. Photo by Stephen Rappaport The new ferry is a substantial upgrade over Miss Lizzie, the 50-year-old wooden boat it replaced, and even over Mink, the other boat on the run. Otter is twice as fast as Mink, important in an emergency, though it will usually make the trip at the same 10-knot speed to conserve fuel. The new boat is also more maneuverable, a benefit in the eel rut that serves Isle au Haut as a harbor.
On the appointed afternoon, Captain Garrett Aldrich—with his father, George, the now-retired, longtime ferry skipper and company manager, close at hand—carefully backed Otter from its "mainland" berth in Stonington at the tip of Deer Isle on the official maiden voyage to Isle au Haut. Filled with well-wishers, current and former boat company staff, and a handful of other celebrants, Otter arrived on schedule at a packed town dock. The cheering throng waited to inspect the new boat, toast her with champagne and, most importantly, enjoy free joyrides past the scenic Robinson Point lighthouse into Isle au Haut Thorofare.
Built by Wesmac Custom Boats in Surry, the ferry cost north of $800,000. It was funded almost entirely by private donations. Lead gifts came from the Friends of Acadia and the Maine Coast Heritage Trust; other substantial contributions came from members of the Isle au Haut Boat Services board—summer and year-round residents mostly—people with "connections" to the island, and Wesmac. More than 40 supporters contributed to the cost of building Otter, from an island with a year-round population of about 70.
Wesmac has been busy since it delivered Otter. In late summer, the yard launched True Ride, a 46-foot cruiser with a cypress and teak interior, headed to Maryland's Eastern Shore. Other projects under way, with deliveries scheduled throughout 2017, include a 38-foot cruiser; a super-wide 46-footer and a 54-foot scallop dragger, both headed for New Jersey; and Backstabber, a 54-foot sportfisherman.
---
Stephen Rappaport is the Waterfront Editor at The Ellsworth American, has lived in Maine for 30 years, and is a lifelong sailor.
Otter
LOA  46'9"
LWL  44'
Beam  17'1"
Draft  4'11"
Displ.  35,000 lbs. estimated
Power  C-18 Caterpillar, 803 hp 
    @ 2,100 RPM
BUILDER: 
Wesmac Custom Boats, Inc.
Surry, ME
207-667-4822
Share this article:
Digital Edition Available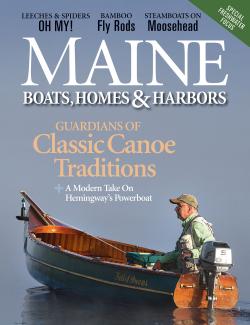 Can't get to the store to buy your magazine? We deliver the stories of Maine's coast right to your inbox. Sign up here for a digital edition.