Pilgrim provides passage to good times
By Seth Thayer
Photos courtesy Seth Thayer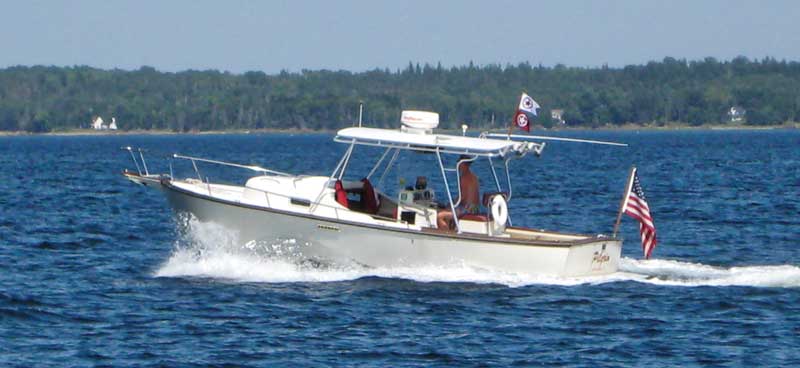 Pilgrim, a Boca Grande 26' pre-restoration, flying the private signals of the author and his father.
"Hi, let's take the boat out later, it's supposed to be a beautiful night," Greg's text read. "A couple of friends are going out, too. We will meet them at Turtle Head."
After a weekend of rain and a stiff neck from working on a 1,000-piece puzzle while watching the drizzle outside, the message lifted my spirits. A night on the water rafting up with friends: grilling, laughing, watching the sunset, and pointing out beautiful cloud configurations was just what I needed. The boat, Pilgrim, is a 1988 Boca Grande 26' center-console fishing boat with a tuna tower hefty enough for this 6'6" gargantuan guy to swing from without breaking or bending anything.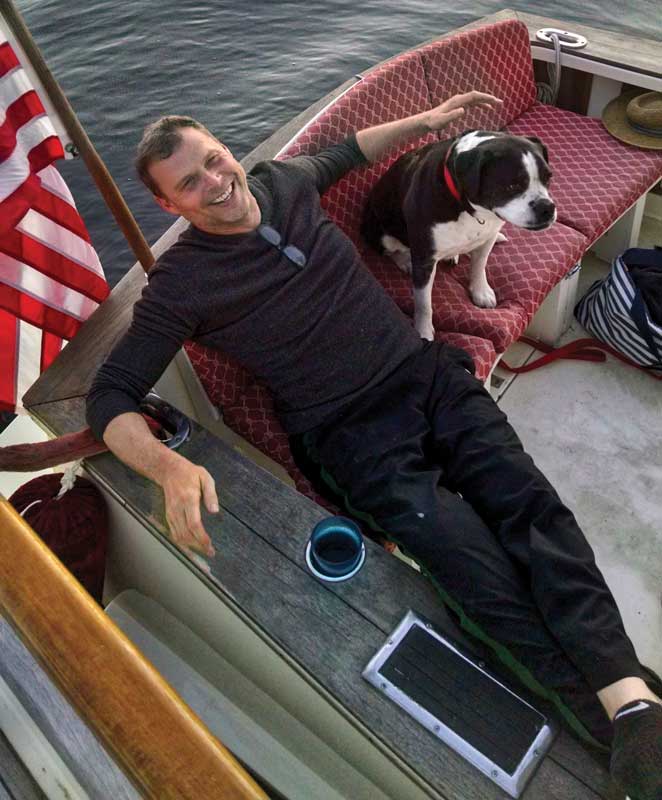 Greg Tinder, the author's husband, and Miss Mae the bulldog enjoying the new seating arrangement Greg built for the stern. The boat was my dad's. A sailor through and through, he had grown weary of hauling sails and just wanted something to get him out on the water. We found the hull design at a boat show in Tampa, Florida in 1989. My dad found a used one for sale about a decade later, after he had donated his previous Pilgrim, a 36' Bass Harbor Boat, to a local educational institution. Every boat my parents ever owned was named Pilgrim. The tradition started with an Olin Stephens Manhasset Bay One-Design that my grandfather purchased in the 1940s, which came with the name.
After my dad got sick, the Boca Grande sat unused on the dock in the mangroves down in Florida until one day in 2007 I received a message from my mom: "Pilgrim should be arriving in Maine the day after tomorrow. I got sick and tired of seeing it just sit there." My husband Greg and I hastily arranged to meet the driver at the old Northport Marine. When the guy pulled into the lot towing the boat, my heart sank. Pilgrim was a wreck. During the ride, one of the cross supports on the trailer broke and the boat shifted on its bunks, forcing the transducer up into the hull, and creating a big hole. In addition, the teak was dry and cracked, the bulkhead on the cuddy cabin had rotted and was filled with lovebug eggs, the swim platform was rusting off, and so on. We even found some stowaways! A mangrove rat and her babies had made the trip north, cozy in their nest among a bunch of chewed line. The boat looked like hell, and I wondered how much of my paycheck would have to go into fixing her up.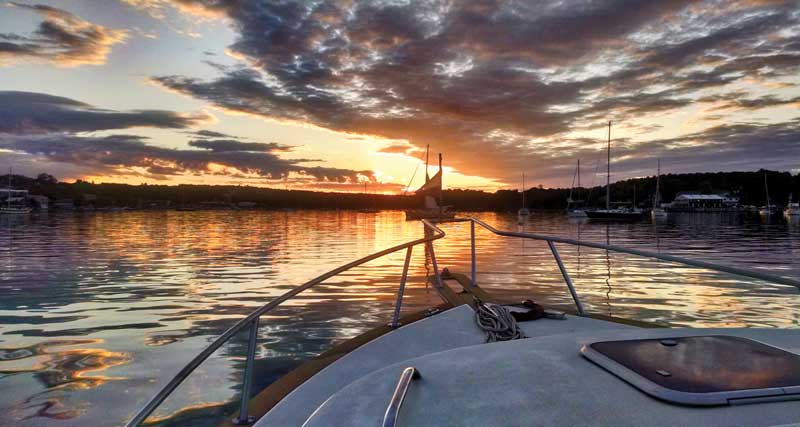 Entering Belfast Harbor after an evening of enjoying the waters of Penobscot Bay.
Fast-forward 14 years. Pilgrim looks splendid. Over those years we have replaced the engine and the teak, had her fiberglass restored, added seating, repaired the bulkhead, added new dials and gauges, reupholstered the cushions, and a score of other projects. Countless hours have been spent scrubbing, polishing, varnishing, and washing the ole girl from stem to stern. We have successfully transformed this Florida tarpon fishing boat into our own Maine picnic boat. She can comfortably accommodate six people for an afternoon putter around the bay or an evening dinner and swim while watching the sun set over Belfast.
We mark the passing days of boating season by what we can cook and serve for dinner while out enjoying the evening. In late June, we can cruise over to Islesboro and roast a chicken or bake a meatloaf on the grill with all the trimmings while swimming and laughing for hours before the sun goes down and the moon rises overhead. By the middle of October, we can leave the dock after work and just make it over to Bayside in time to have some cheese and crackers, watch the sun set and get our fill of leaf peeping while pulling on our fleece layers and heading back to the dock for the night.
"Have they taken you out on the boat yet?" our most recent guest's mother asked him when he called her to say he had arrived safely in Maine. She didn't ask about his flight, or whether he was having a good time with his sister and family, she just asked about Pilgrim.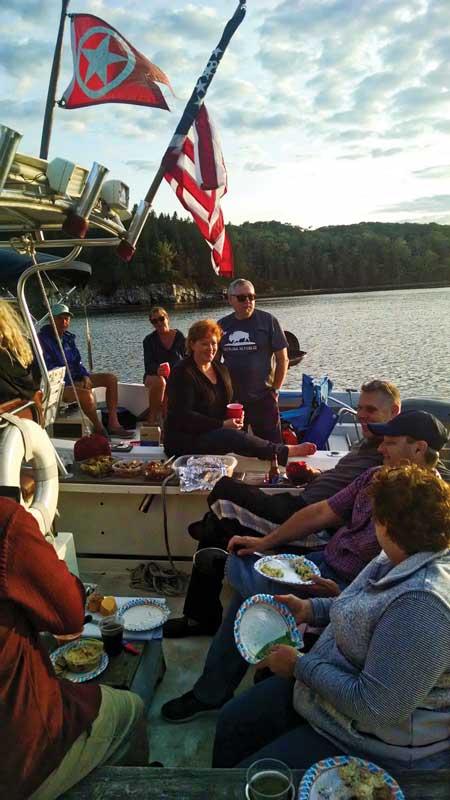 A pre-pandemic August birthday party raft-up with friends. We were sitting with him on the boat just outside Belfast Harbor; he told us that her outings on Pilgrim when she had come to Maine to visit her other child brought her infinite joy. I know the feeling. To say the stress just slips away once we are beyond the "no wake zone" is an understatement. Our shoulders visibly fall, our nostrils fill with that great Maine salt air, clearing away the traffic jam in our minds. We grin at each other, knowing we are among the luckiest people on the planet to have such an outlet.
While Pilgrim is not a speedy boat, she is beamy in a way that suits the winds and waters of Penobscot Bay. On calmer days we can make it to Eggemoggin Reach in 40 minutes at full tilt or take her out in the middle of the bay, shut the engine down and just float. Oftentimes we find ourselves surrounded by seals, porpoise, and a selection of coastal birds, some of whom, like a great blue heron  we saw this past summer, seemingly enjoy racing with us as we cruise along.
The boat is a refuge for us, for me. Pilgrim provided me with a coronavirus outlet these past two summers. While I hesitated to enter stores and restaurants, I felt safe enough to raft up with friends and enjoy each other's company while keeping a safe distance on our own boats a couple of times a week. While others stayed indoors, we were able to enjoy watching the clouds and the incredible reflective light on the water.
And Pilgrim is our summer house. Just like those who shutter their coastal cottages when the leaves start turning, I have that same melancholy feeling, knowing that
Pilgrim must be hauled out of the water and prepped for winter storage, until it's time for a new year of excursions.  
---
Seth Thayer is a private art advisor specializing in 18th and 19th century American art. He lives in the midcoast with his husband and two bulldogs. They have spent the last couple of decades renovating older properties in and around Belfast.
Share this article:
2023 Maine Boat & Home Show

Join Us for the Maine Boat & Home Show!
Art, Artisans, Food, Fun & Boats, Boats, Boats
August 11 - 13, 2023 | On the waterfront, Rockland, Maine
Click here to pre-order your tickets.
Show is produced by Maine Boats, Homes & Harbors magazine.