A Restored Nova Scotian Classic Sloop Sails to Maine
By Bill Horner
All photos courtesy the author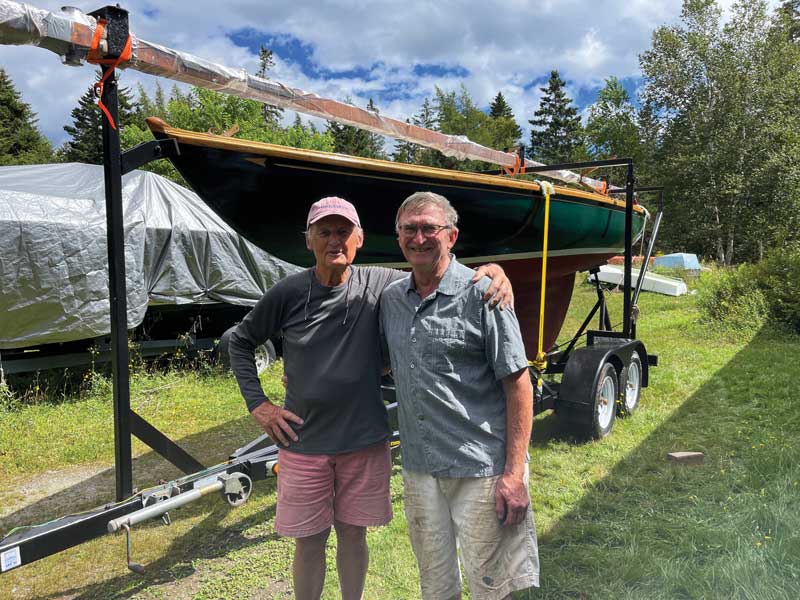 Bill Horner, left, and boatbuilder Matthew Durnford, stand in front of Horner's newly restored Bluenose 23 Teazer. Horner bought the boat and hired Durnford sight unseen, based on a telephone conversation.
Becoming 80 is an age that for most of us defines a threshold. If we have gotten this far without too much degeneration of the joints and other essential systems, if we are fortunate to have stability—a great wife, loving children and grandchildren, some money, and a good boat—it is reasonable and probably wise to look forward and contemplate one's horizon.
Certain things that we readily did earlier may not have to be repeated. I have no need to climb Katahdin again, for example. The wonderful memories of ascensions past, heavy backpacks and wood smoke are enough now. On the other hand, continuing to climb Mount Desert Island's less-challenging peaks is an essential element in preserving joint and lung flexibility. And longevity.
Winters where I live on Mt. Desert Island used to offer wonderful opportunities to get out in cold snow for cross country skiing and snowshoeing. Avoiding a fall on ice is now an important winter preoccupation. And the driveway always needs attention so our friends can come to our house for supper and actually get out afterwards.
Winter also brings early darkness and long quiet nights. Summer days become increasingly distant dreams, especially if one owns a boat and loves to sail. For some of us, winter is a chance to "See and hear and learn and understand; And write when there is something that you know; And not before; And not too damned much after," to quote Ernest Hemingway.
This past winter I saw and heard and learned and understood that in my functional time left, I needed a wooden sailboat, a beautiful wooden sailboat. Maynard Bray is partially responsible for this. During a recent conversation he suggested that I needed a historically relevant wooden sailboat.
With that confirmation of legitimacy, I set off on a clandestine (unknown to my wife) "learning experience" online and found for the first time the venerable and beautiful Bluenose 23. In, of course, Nova Scotia.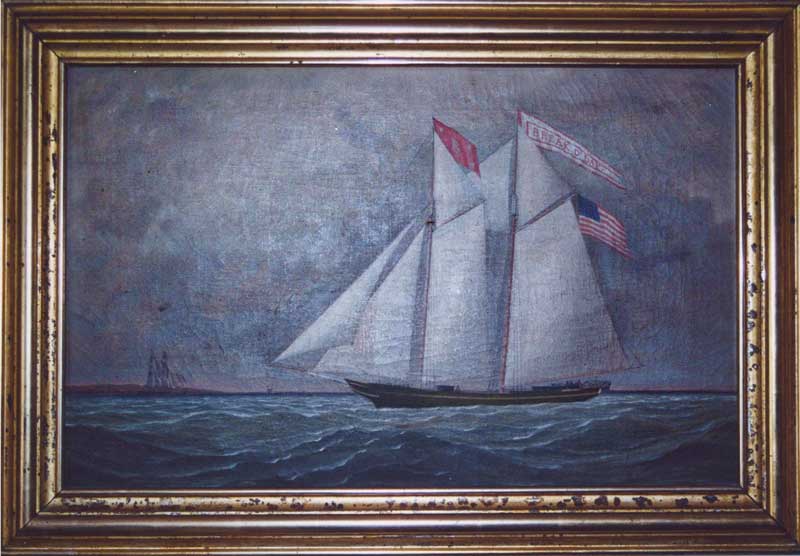 This 1859 oil painting in the author's collection shows the newly launched, Essex-built schooner Break O'Day. His great-great grandfather, Daniel Deasy, who emigrated to the United States from Ireland, via Halifax, was her captain.
The original Bluenose 23 was designed by one of maritime Canada's most accomplished naval architects, William J. Roue, in the mid-1940s, with production starting in 1946. The first 77 were built of wood, pine on oak frames. So popular were they that his first, B1, is displayed at the Maritime Museum of the Atlantic in Halifax. The Chester firm of Barkhouse Boatyard built the first twelve. In 1960, Roue gave permission to McVay Fiberglass Yachts of Mahone Bay for a fiberglass version and these constitute the great majority of Bluenose 23s in use today. Located primarily at the Chester Yacht Club, 19 still actively race there today, according to the club's website. One of Canada's most active sailing communities, Chester hosts the famous Chester Race Week.
Located at the mouth of the LaHave River, not far from Lunenburg, and down the coast from Chester, is Riverport, where Matthew Durnford and his wife Jane live.
A canoe and small boat builder in his retirement from the Royal Canadian Navy, Durnford repairs and restores boats, but he does not do "modern," and he has a reverence for wood. Scouring the internet for evidence of existing wooden Bluenoses, I somehow found Durnford. Sight unseen, I took an immediate liking to him, perhaps reinforced by his unassuming description of his lengthy experience in restoring these boats despite never having sailed one. That inspired enough that when he told me that he had an ongoing restoration project in his shop—Bluenose #15 called Teazer—I unhesitatingly accepted his price. Later, when I finally met him at the completion of the project, he asked why I trusted him sight unseen. I replied that something about our long-distance conversation told me that he was honest and loved his craft. That, he said, had made him want to do the best job he could.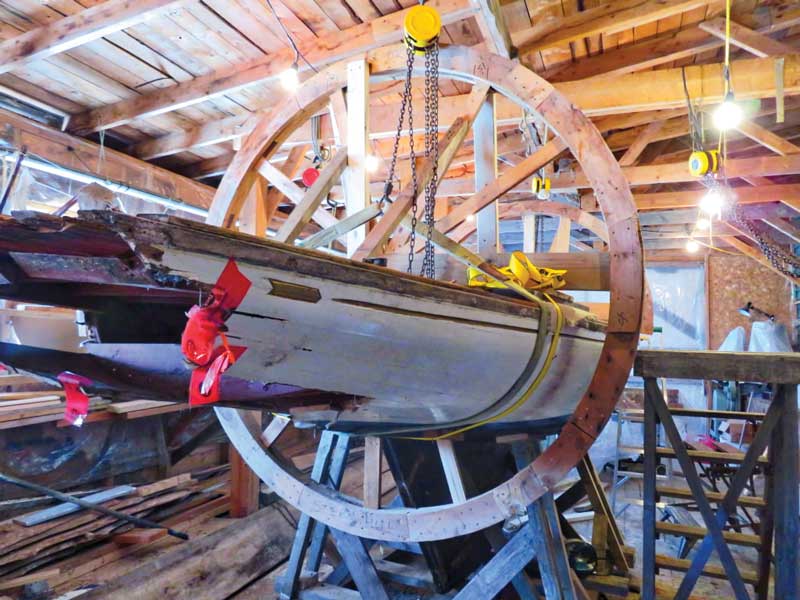 Teazer is shown pre-restoration in a device that enabled the builder to roll the hull. The boat's transom and after-deck had been heavily damaged by raccoons.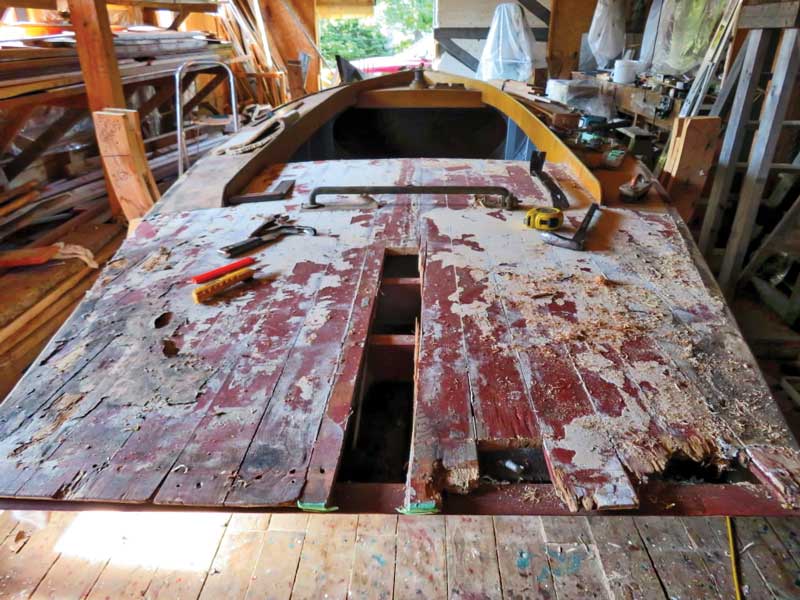 Durnford works mostly alone, with occasional help from neighbors and relatives, in a shop on one side of a barn at the back of his property. He is a master of improvisation. The transom was heavily damaged by a family of racoons, supplemented by a combination of dry and wet rot. The initial obvious damage was soon discovered to extend forward into the keel batten and garboards. Fortunately, the oak frames had remained intact, providing a solid base for the replaced transom. Lastly, the decking needed some serious restoration.
My wife, Cookie, and I took The Cat ferry from Bar Harbor to Yarmouth, Nova Scotia, on August 18. After an overnight stay we drove to Riverport via the "South Shore" route and were greeted by Matt and Jane Durnford. A transformed boat awaited us.
The color combination is the same as my original Herreshoff 12.5, Break O'Day, from Cape Cod Shipbuilding in Wareham, Massachusetts. Many of our grandchildren grew up sailing in that happy little boat. She was named in memory of a Gloucester schooner, the Break O'Day built in 1859, and captained by my great-great grandfather, Daniel Deasy. Today, she lives in a portrait on our living room wall.

One of the first Bluenose 23s restored by Durnford was this one, B49.
There is some wonderful historical symmetry here. Daniel Deasy, born in 1834, came from Ireland to Canada. His parents died when he was young and he emigrated from Halifax to Boston in 1849. There, at age 15, he became friends with a man only eight years older than he, a Capt. Solomon Pendleton of Winter Harbor, Maine. He learned seamanship and became a master mariner, sailing Break O' Day from the Bay of St. Lawrence to the Bay Islands of Honduras, all by the age of 25. Eventually, he settled down ashore in Prospect Harbor, Maine, at about age 40, married a local woman, had two children—one of whom studied the law and later became chief justice of the Maine Supreme Court—all the while running a general store and post office. His long and distinguished life ended in 1922.
I don't know what drew me to Nova Scotia, Teazer, and Matt Durnford. As I get older, I find it increasingly difficult to think that all our choices are entirely random. Connectedness seems to be all around, yet its explanation eludes us. The memory stored in DNA is vast. As I delve into the strange world of quantum physics in search of understanding, I find that matter (including me) is increasingly defined as information. And what is genetic memory or memory itself other than information?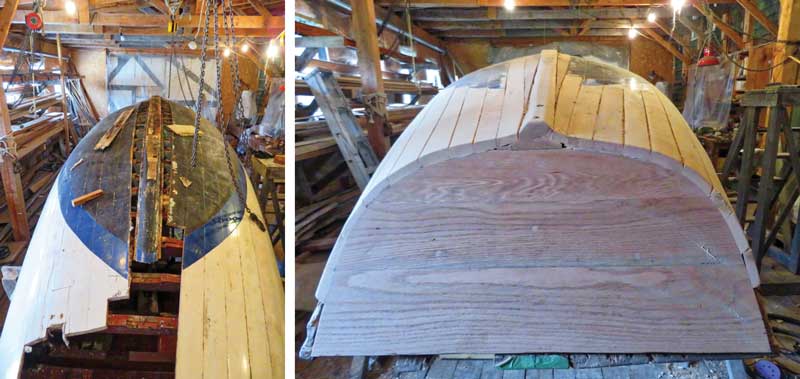 But what about the sense of commonality that you occasionally feel with people who have no genetic connection to you? Perhaps that is the basis for friendships, sometimes acquired unexpectedly with people from an unlikely corner of what you thought was your life experience.
In Matt Durnford I found a friend who also happened to be a craftsman who loves to resurrect a beautiful class of small wooden sailboats. And from that class there was one particular boat that he chose to bring back to life. And I was lucky enough to find both of them.
As I sail Teazer into whatever is left of my future, I will be thinking about these lines from D.H. Lawrence that so stirringly capture the tone and spirit: "Beautifully the sailing ship nodalizes the forces of sea and wind, converting them to her purpose. There is no violation, as in a steamship, only a winged centrality. It is this perfect adjusting of ourselves to the elements, the equipoise between them and us, which gives us a great part of our life-joy."  
---
Bill Horner grew up on MDI and practiced general surgery for 38 years. Since retiring in 2007, he has immersed himself in local and regional history, presided over the MDI Historical Society, and founded the History Trust.
Share this article:
2023 Maine Boat & Home Show

Join Us for the Maine Boat & Home Show!
Art, Artisans, Food, Fun & Boats, Boats, Boats
August 11 - 13, 2023 | On the waterfront, Rockland, Maine
Click here to pre-order your tickets.
Show is produced by Maine Boats, Homes & Harbors magazine.