Maine Course - The Anchor Inn
Maine food prepared the Maine way.
By Peter H. Spectre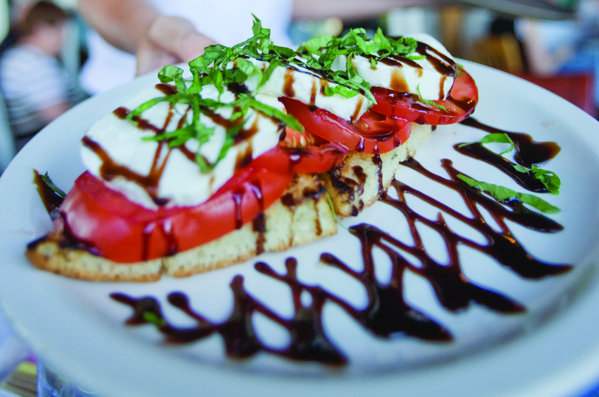 All photographs by Joe Devenney
There are two matters about the Anchor Inn, Round Pond, that should be addressed right at the top: (1) It is not an inn, and (2) it is not on a pond. The Anchor Inn is a restaurant, and Round Pond is a town, and while the name of the town suggests an inland location, it is actually on the coast, between Bremen and New Harbor on the western shore of Muscongus Bay. While nobody I have asked was able to put a finger on the precise derivation of the name, the consensus seems to be that the shape of the harbor—not surprisingly, it is round—suggests a pond. It is a beautiful harbor and a lovely town, far enough away from Route 1 down a winding secondary road that it is much what it has always been; which is to say, unspoiled. Overlooking the harbor, with a boatshop on one side and the public landing on the other, is the above-mentioned Anchor Inn. Eileen and I have dined there many times over the years. It is one of a handful of places we return to when we are looking for a locally inspired meal in a venue that does it justice. A common foody slogan these days is "eat local." Fast becoming a cliché, it is not necessarily a command to eat locally—that is, to eat in a local restaurant, not a chain—though it could be. Rather, it is a recommendation that we eat food that is local to the place where it is being served. I vote for that, and I vote for taking it a bit further: eat local food that is prepared in a manner traditional to the location where it is being served. To be blunt: When in Maine, eat Maine food prepared the Maine way.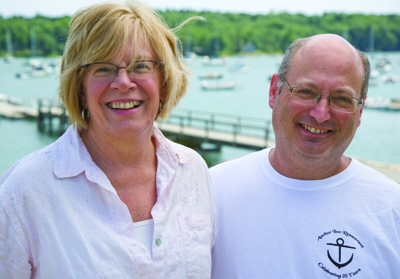 I realize that that is neither possible nor desirable all the time, but when it is, the Anchor Inn is as good as it gets. Stylistically plain, the restaurant has few of the trappings that tourist-oriented establishments love to throw around: no artfully draped fish nets, no nautical "artifacts" hung on the wall, no harpoons framing the doorway, no tablecloths decorated with lighthouses and pretty little sailboats. It is a summer restaurant that you know about because you live in the area, or spend your summers there, or you heard about it by word of mouth.
One of a handful of places we return to when we are looking for a locally inspired meal in a venue that does it justice.
"Locally inspired" is the perfect phrase to describe the Anchor Inn's menu. Seafood predominates, and generally the Gulf of Maine is the origin. The principal offerings include lobster, clams, crab, oysters, scallops, fish, and more, and the preparation of which is described in a manner that doesn't leave you scratching your head and asking your companion, "What do they mean by that?" In Maine, we all know what "broiled," "baked," "fried," and "boiled" mean, and when we see an entry for a dish like this at the top of the menu—"Broiled Seafood...tender haddock, gulf shrimp, mussels, sea scallops, lobster, and fresh fish"—we know we'll be eating local. (Well, almost local; I suspect that the gulf the shrimp is from might be a bit south of here.)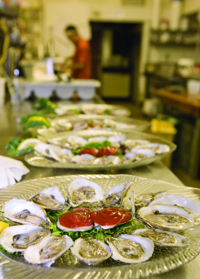 I won't bore you with a long list of everything on the menu, which includes plenty of non-seafood selections, but I will mention the Anchor Inn's chowder. I've never had theirs, but I have had the clam chowder at the River Grille in Damariscotta. If there's one thing I know, it's clam chowder—I was a clam digger in an earlier age, was I not?—and theirs is the best I have ever had in a restaurant. Since the same people who own the River Grille own the Anchor Inn, it is likely that the recipe is at least similar if not exactly the same. By the way, the hands-down best non-restaurant clam chowder I have ever had (Eileen's excepted, of course) comes from Jess's Market in the South End of Rockland. Ditto for their fish chowder. This is not an exaggeration; both are beyond spectacular.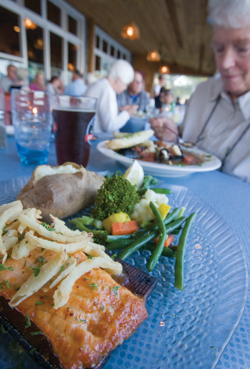 I chose the tempura, a plump shrimp perched atop a toothsome rice cake, which was was crisp on the outside and tender-chewy on the inside. It was served with two traditional accompaniments: ponzu, the Japanese soy-citrus sauce, and takuan, crisp yellow half moons of pickled daikon. Chaiken makes the takuan her own with a dash of spicy sambal oelek chili sauce and orange rind. To my mind, this simple dish achieved umami, a word that loosely translates to "pleasant, savory taste." On our latest visit to the Anchor Inn before they closed for the winter, I had Pemaquid oysters, "fresh shucked jumbo oysters, cornmeal coated, lightly fried, with Cajun dipping sauce" ($18.98), and they were delicious. Eileen had crab cakes, "a delicate blend of native crab and herbs lightly fried and served with our own remoulade sauce" ($17.91). She says she liked them a lot but was slightly disappointed that they weren't pan fried but rather had spent a short time in a deep fryer. We have had other offerings on the menu on past visits and have found them consistently excellent. For example, Eileen has had their Italian Seafood Stew, "flavorful broth loaded with fish, shrimp, scallops, and mussels." ($19.84), and I have had their fried clams, "fresh shucked," ($17.76), and we were both impressed. I don't know what Eileen will have the next time, but I'll be having their lobster stew, "made with fresh-picked lobster, cream, and our secret!" (catch price). We'll be going back because the Anchor Inn represents the essence of dining locally on the coast of Maine.

Peter H. Spectre is the author of many books and the creator of an annual desk calendar, The Mariner's Book of Days. FOR MORE INFORMATION: The Anchor Inn Restaurant Anchor Inn Road, Round Pond Harbor, ME 04564 207-529-5584 www.anchorinnrestaurant.com Open 7 days a week in season (check web site or call for dates). Lunch 11:30 a.m.-2:30 p.m. Dinner 5:00 p.m.-9:00 p.m.
Share this article:
Digital Edition Available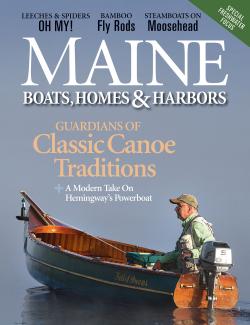 Can't get to the store to buy your magazine? We deliver the stories of Maine's coast right to your inbox. Sign up here for a digital edition.