O'Connor Racing: Wooden Hydroplane Built for Speed
By Ken Textor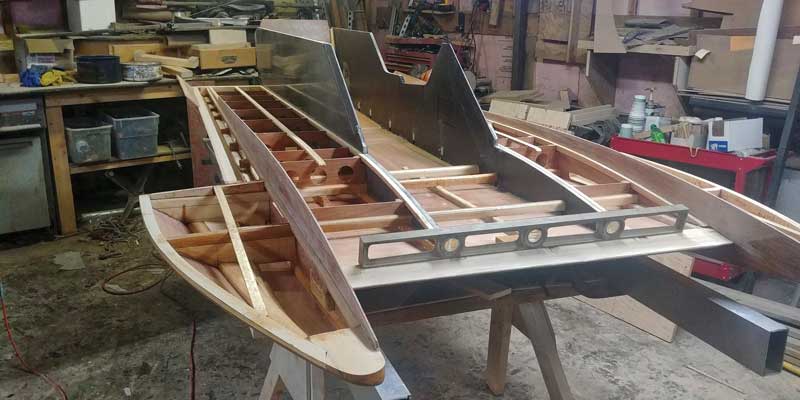 It takes Bob O'Connor about four weeks to build a hydroplane. The outer hull is made from okoume marine-grade plywood, and the inner supports are eastern white cedar, with holes cut in them to make the boat as light as possible and still maintain strength. The cutaway in the cockpit allows the driver to lean out on turns. Photo courtesy Bob O'Connor
Passionate is a word that only begins to describe Bob O'Connor's lifetime of devotion to building and understanding hydroplane boats. "You don't do this for the money," the energetic, Farmington-based boatbuilder said. "In fact, you're lucky if you break even on these things."
Now that O'Connor has taken over his well-known late father's hydroplane building business, he has his sights set on nothing less than seeing one of his creations win the world title of hydroplane racing. "My father's boats won third place twice," the 56-year-old woodworking aficionado said while bustling around his small, basement shop. "But he wasn't going to use modern materials in his boats. I do."
Actually, in the subculture of international hydroplane enthusiasts, the current construction methods of O'Connor Racing Hydroplanes might still be considered a little old-fashioned despite the recent addition of materials like Kevlar and carbon fibers.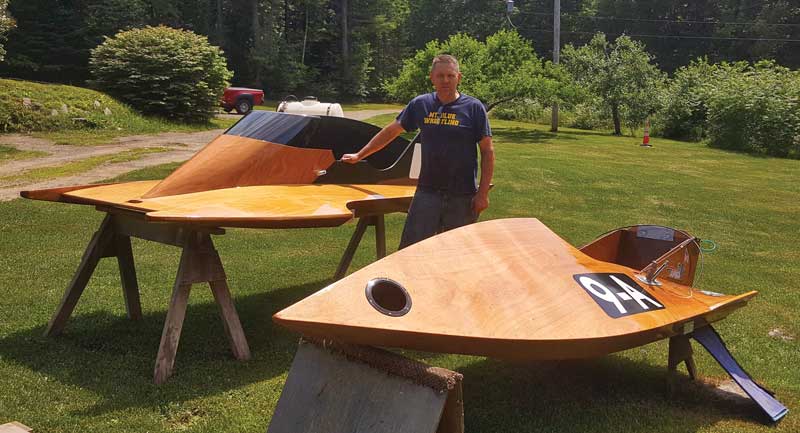 O'Connor poses with a couple of his creations. The one on the right is a runabout that he built for a junior race driver. The boat on the left was built for a client in California who wanted higher sides than usual. Photo courtesy Bob O'Connor
Hydroplane racing goes back a long time. The Gold Cup race was conducted on the Hudson River in 1904 with the winner's boat topping out at an average, straight-line speed of 23 miles per hour. Contestants in those days drove lightweight boats made of wood, which is what O'Connor still prefers—mostly. 
Wooden boats dominated racing for the next 30 years. The go-fast thinking then was simply to put more and more power in bigger and bigger planing boats. Winners like the 38-foot Miss America X, with four V-12 Packard engines jammed into her planked hull, hit speeds of more than 120 miles per hour in 1932.
In the late 1930s builders began to tinker with hull shapes.
An innovative boatyard in New Jersey radically redefined the planing boat's hull design. Instead of a relatively flat hull with one small V-shaped keel down the middle, Ventnor Boat Works designed a hull with two V-shaped, underside projections at the edges, much like a catamaran. Called "sponsons," these two outer edges provide additional lift to get more of the boat out of the water, as well as add stability when the boat goes into a turn. A lightweight Ventnor hydroplane won the 1939 Gold Cup, and racing has never been the same since. 
"Basically, these boats are just airplanes brought down to the water," O'Connor said of today's three-point hydroplane design. He said there is more aerodynamics to the design than hydrodynamics. The key is getting most of the seven- to eight-foot boat out of the water so the two sponsons just barely skim the surface while the prop of the outboard engine stays in the water, pushing boat and driver along—hence the three-point nomenclature. "It's definitely a balancing act out there," he said. "You have to get everything just right."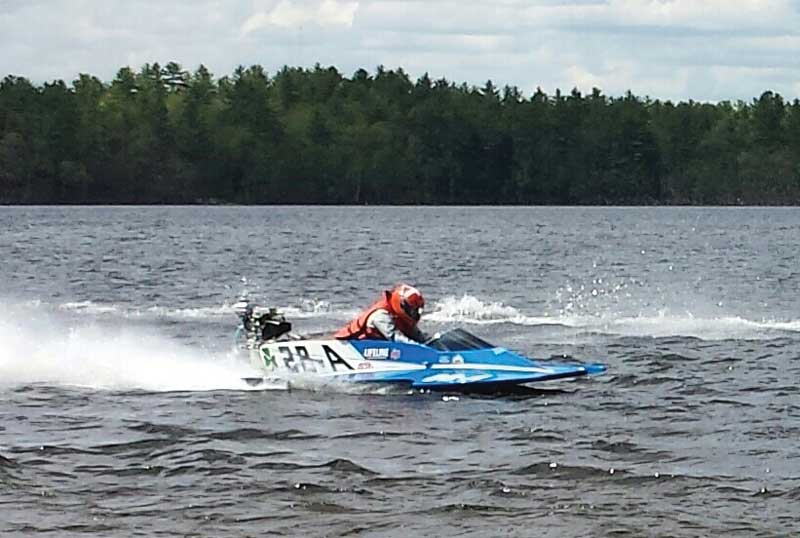 O'Connor is shown here racing in a boat built by his father. Photo courtesy Bob O'Connor
The balancing act in construction methods accelerated in the 1950s when new technologies made it possible to combine lightweight glass fibers with various hardening resins. But as a longtime furniture maker and home builder, Bob O'Connor Sr. wanted to stick with good old Maine white cedar for many parts of his hydroplanes, marrying them to thin plywoods and other woods, with weight reductions based mostly on design. That was the world into which Bob Jr. was born. 
"I've been working with wood ever since I can remember," O'Connor noted with pride. In addition to the boats, O'Connor has a full-time job as a foreman with the Farmington municipal waterworks department. During the school year, he also coaches wrestling at the local high school. All other free time (yes, he does find some), he devotes to working on, studying, thinking about, and designing hydroplane boats. He also has a very understanding wife.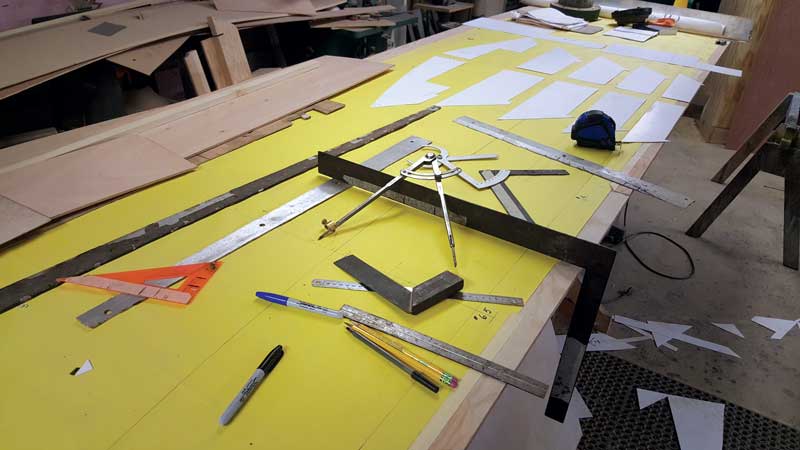 Above: O'Connor and his father before him were self-taught engineers and designers. Bob Jr. said he gets some of his ideas by taking apart boats that have wrecked and learning what might have gone wrong. When designing a boat, he builds the framework pattern out of paper first before transferring it onto wood. Below: Although O'Connor's hydroplanes are mostly made of wood, they also include Kevlar and carbon fiber components. This image shows vacuum bagging of foam core panels for the cockpit. Photos courtesy Bob O'Connor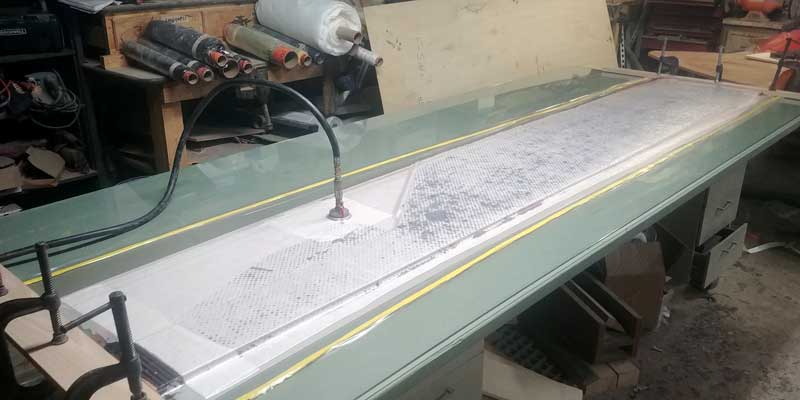 "Without question, Bob builds some of the safest and fastest hydroplanes in the world," said Bill Allen, a Massachusetts hydroplane racer who heads up America's most prestigious racing syndicate, U.S. A-Team. A ten-time national hydroplane champion, with four world speed records to his credit, Allen praised O'Connor's "old-fashioned" construction methods. "In Bob's boats, if something happens, the other boats are going to bounce off you, not go through you."
O'Connor said driver safety is one of his prime concerns, having been a hydroplane racing driver himself most of his life. With his active racing days over, he now sticks to building and testing boats. "It does beat you up out there," he said. "You're crouched down, tensed up, barely able to move at all."
Even slight driver movements in a hydroplane cockpit can send the vessel "kiting." That's when there's too much lift forward and the hydroplane becomes airborne, usually going straight up in the air and flipping over amid the other contestants. 
Remarkably, both O'Connor and his father before him are self-taught engineers and designers. While many competitors on the international racing circuits employ naval and aeronautical architects, along with certified engineers for creating and modifying their hydroplanes, Bob Jr. sticks with modifications suggested by customers like Allen, along with learning by deconstructing boats that are wrecked during the course of a race. "You can learn an awful lot about how to improve a design by finding out what went wrong," he said.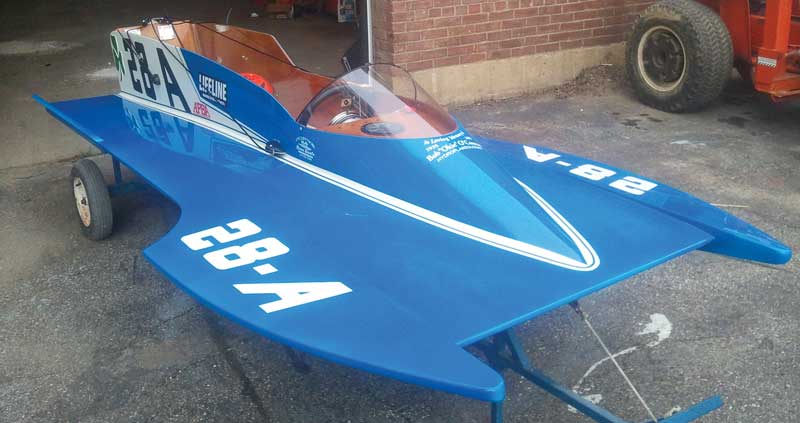 This is the last boat built by O'Connor's father, Bob O'Connor Sr. Bob Jr. raced it for a couple of years before retiring altogether from racing two years ago because his body couldn't take the stress anymore. Photo courtesy Bob O'Connor
Composite wood-based hydroplanes that include Kevlar, carbon fibers, and the like are also easier to modify than boats made solely of modern plastics, he noted. A wood boat can be modified and reworked to make subtle changes to gain an edge.
"That's what I like about Bob," said racer Allen, who has owned and raced no fewer than 10 O'Connor boats. "He's willing to work with you and make little changes to your specs, and usually comes up with good suggestions of his own." 
International Olympic Committee-sanctioned hydroplane races are held every year in Europe. Annually, the U.S. A-Team competes against heavily financed European and Asian teams in the OSY 400 class, which is considered the top competitive class among dozens of various hydro classes, both in the U.S. and abroad. 
Said O'Connor, "I'm going to keep building them until we win first place. Second place is no place at all." 
---
Ken Textor has been living on, working on, writing about, and cruising boats along the Maine coast since 1977. He lives in Arrowsic.
O'Connor Hydroplanes
Builder:
O'Connor Racing Hydroplanes
693 Holley Road, Farmington, ME
207-491-8144
---
Hydroplane No. 55-A: small, but very, very fast
By Polly Saltonstall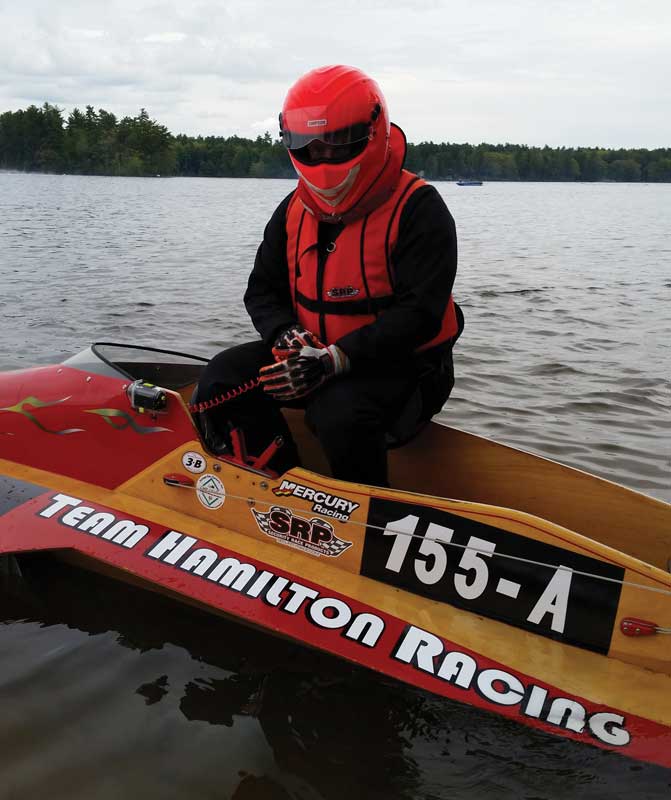 Jeff Hamilton gets ready to race in one of his older hydroplanes. Photo courtesy Jeff Hamilton Jeff Hamilton's nickname is "the Bipolar boater." That's because he has one slow boat, a sail-powered one, and his others are hydroplanes that go really fast. His newest is an O'Connor Racing Hydroplane that he has been wanting for years.
Launched last spring, the boat, which has no name—just a number like a stock car, 55-A— competed in its first race last May in Standish, Maine, on Watchic Lake.
Hamilton, who grew up in Rumford, learned about hydroplaning when his father took the family to races around the state in the 1960s and 1970s. When he was 12 Hamilton rebuilt a hydroplane for himself, and then built one from scratch with his brother when he was 14. Then came high school, college, and life. He left hydroplanes behind until 2014 when he was living in Wisconsin and could not get to Maine to sail his boat on Penobscot Bay. So he reacquainted himself with the speedy side of his character, bought a hydroplane, and took up racing in the Midwest region. He received the American Powerboat Association's stock outboard rookie of the year award in 2014.
When he moved back to Maine, to Rockport in 2015, and became the plant manager for DuPont in Rockland (formerly FMC), his hydroplane came with him, but he knew he wanted a new one.
Hamilton's younger brother also races hydroplanes and has two boats built by O'Connor. Hamilton put his name on the Farmington builder's waiting list and two years later got his boat: a C Stock Hydro. Powered by a Yamato 33-hp racing engine, the boat weighs just 100 pounds.
In addition to the speed, Hamilton likes the sport because of the people he meets at races.
"The racing community is like one giant family," he said, explaining that as many as 80 to 90 boats show up for these events. Hamilton planned to compete in six races over the summer, three of them in Maine.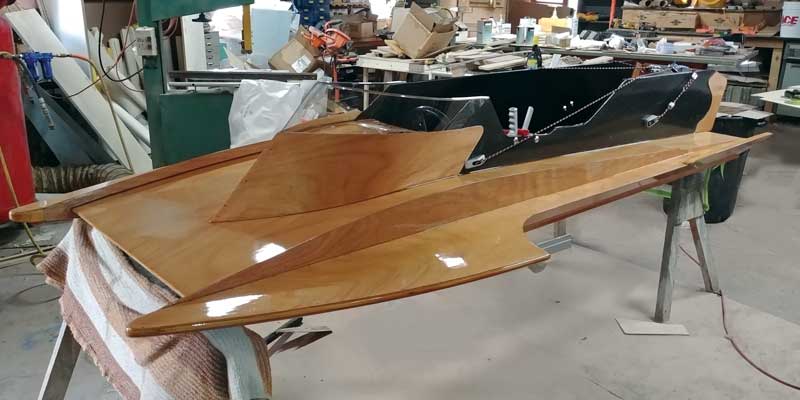 Hamilton's new hydroplane—the 55-A—is shown here in O'Connor's shop. Racers refer to the twin sponson points in the front of the boat as a "pickle fork." Photo courtesy Bob O'Connor
Hydroplanes are not much more than wedge-shaped flying saucers with cockpits. Hamilton's boat will go as fast as 65 mph, and races might last just three minutes. The driver kneels in the cockpit behind a narrow windshield. "With your head and your arms forward you hang on for dear life to the steering wheel and the throttle," he explained.
"Injuries are rare despite the speed. There is a high level of safety focus. The clothing and gear I wear costs more than my boat does."
And Hamilton's sailboat on Penobscot Bay? He still has a J46 named Meme Chum. It's considered a fast sailboat by many, but for Hamilton, it's where he goes when he's ready to slow down.                           
Share this article:
2023 Maine Boat & Home Show

Join Us for the Maine Boat & Home Show!
Art, Artisans, Food, Fun & Boats, Boats, Boats
August 11 - 13, 2023 | On the waterfront, Rockland, Maine
Click here to pre-order your tickets.
Show is produced by Maine Boats, Homes & Harbors magazine.