Boatyard Dog - Mollie - Issue 108
Mollie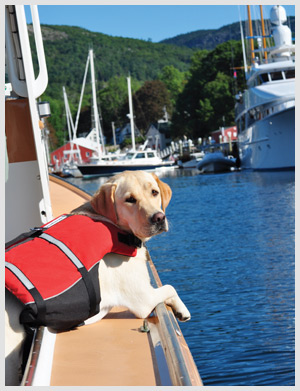 Here we have Mollie, properly attired
for a tour of Camden harbor.
Nobody needs to be reminded that Labrador retrievers are water dogs. So, too, are goldens, springers, cockers, and poodles (when they aren't hanging around the beauty salon). You want proof? Take a look at Mollie, an archetypal yellow Lab. Here she is in Camden Harbor, nattily attired and ready to log more hours under way at sea. Her first voyage came when she was only eight weeks old. Apparently, she'll go boating early in the spring and late into the fall when the rest of the family won't, and spends most of her time as lookout at the bowsprit. "Mollie is not, technically speaking, a Boatyard Dog," said her captain, Jeffrey Jordan of Hampden, "but she loves boating. Her favorite spots are on the aft deck, the cabin top, or sleeping on the warm engine cover." Which is not, technically speaking, totally accurate. Mollie is, after all, a dog of the water, and her favorite place is surely up to her neck in it.

We'd like to see your Boatyard Dog® (OK, OK, or cat). Send a clear photo and pertinent details to BYD, P.O. Box 566, Rockland, ME 04841 or contact us via email:
editor@maineboats.com
.