Six River Marine: Custom West Pointer
By Art Paine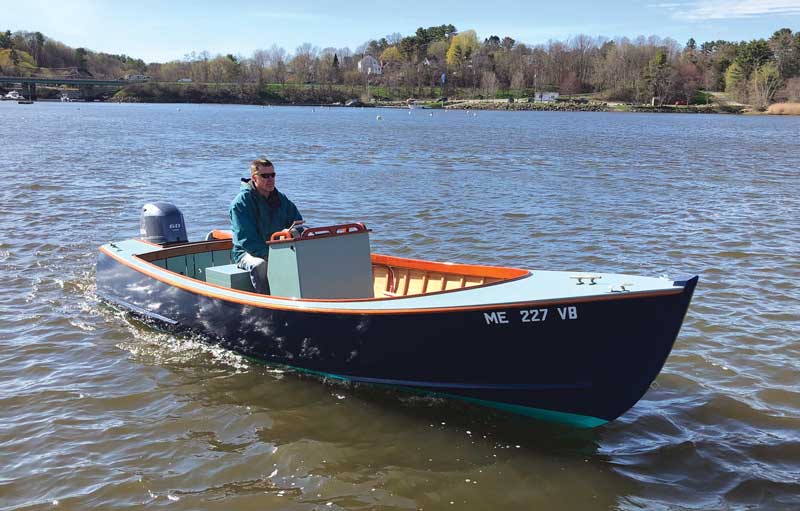 Six River Marine built this custom wooden West Pointer for a customer who wanted to use it on a lake. Photo courtesy Six River Marine
Six River Marine in North Yarmouth has specialized for several years in building 18-foot wooden center-console skiffs based on classic Maine utility boats from the early 1900s.
A client who admired the boats, which are known as West Pointers, wanted one to use on Thompson Lake, but he wanted a smaller version. Six River Marine's Chip Miller and Scott Conrad were totally up for the challenge.
"I told him that it wouldn't cost much more to come up with a smaller, more trailerable, miniature West Pointer," Miller explained.
The result is a pretty, 17'6" long, 6'2" wide strip-planked wooden launch.

A key part of the design process involves carving a half model and adjusting it. Photo by Art Paine
A key part of the design process was carving a half model that then was adjusted to suit the client's needs and wishes. The client wanted to keep the console, so that steering and maneuvering could be accomplished from the center of the boat. But he wanted a more trailer-friendly version of the 18-footer. In addition to being six inches shorter, this boat is narrower than the 18-foot model by a full 16 inches.
West Pointers are commonly built with a variety of different deck treatments—some wide open, others with narrow side decks—and a variety of cockpit edges. This vessel was intended to be an elegant little yacht, and the partners at Six River love to show off their capability to do intricate work. What came to pass was a boat with a narrow, bright, curved-around-front coaming that is probably the boat's crowning feature.
The custom design allowed for some tweaking of hull form to improve performance. West Pointers' bottoms are dead-flat below the transom, a form that could rattle one's teeth in the typical square waves of a windblown Maine lake. So Miller carved a little more "V" into the aft run on his half model.
Six River occasionally collaborates with Naval Architect Al Spalding. He faired the lines and authenticated the weight and trim.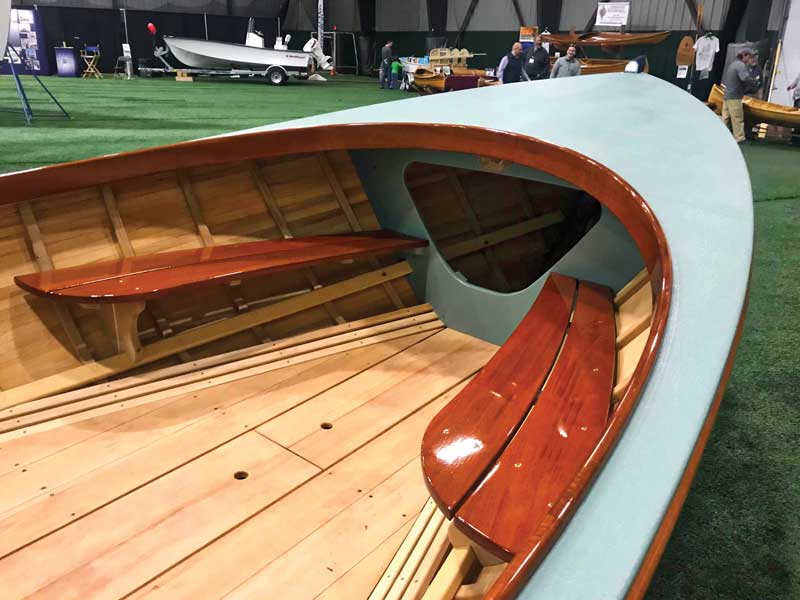 The elegant interior showcases the workmanship that went into the boat. Photo by Art Paine
What made the boat a star for me was the way the hull was built. This boat is beautifully strip-planked over steam-bent oak ribs. It's one thing to have a strikingly curvaceous hull, but normally appreciation of this is limited to passers-by. Here, the plentiful brown ribs stand out, literally and figuratively, from the blond oiled cedar. They define the shaping of the inner hull, and are a treat for the eyes. The strong sheer and high bow are enhanced by the shorter length. Another distinctive feature is the "hand-crafted" look. By that I mean the fine workmanship is evident but more than that it suggests an artistic eye that drives the hand that wields the saw and chisel. That's what the Six River yard is known for.
I cannot close this short discussion without kudos to the owner's wife, who agonized over the selection of custom-mixed paint colors from Kirby Paint in New Bedford, Massachusetts. The hull is striking dark blue, and the deck, console, and helm seat are a pale blue-green. 
---
Contributing Author Art Paine is a boat designer, fine artist, freelance writer, aesthete, and photographer who lives in Bernard, Maine.
Custom West Pointer
LOA:  17' 6"
Beam:  6' 2"
Power:  60-hp Yamaha 4-stroke outboard
Displ.  1,373 lbs.
Draft:  8" motor up
Builder:
Six River Marine
160 Royal Road, North Yarmouth, ME
207-846-6675
www.sixrivermarine.com
Share this article:
Digital Edition Available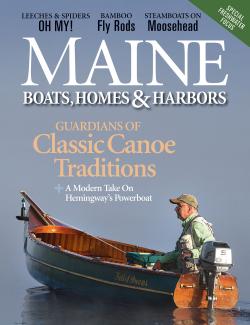 Can't get to the store to buy your magazine? We deliver the stories of Maine's coast right to your inbox. Sign up here for a digital edition.