Publisher's Diary - Cold Feet
Cold Feet, Yet No "Cold Feet"
By John K. Hanson, Jr.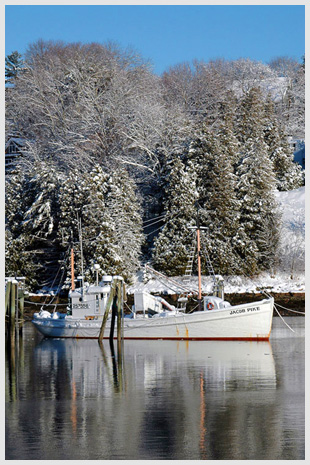 A snowcovered
Jacob Pike
at Rockport Marine.
Photo by Tom Kiley
The winter meeting of the trustees of the Penobscot Marine Museum in Searsport is usually physically cold, since the library meeting room is kept cool to keep costs down. This meeting is traditionally budget-setting time and has been known to be contentious. Among the big issues facing the museum this year are new buildings, new programs, and a really big new boat, the 83-foot sardine carrier, the
Jacob Pike.
Right before the turn of the year, a few members of the Penobscot Marine Museum board had met with Martha White and Taylor Allen of Rockport Marine for the formal signing over of the Pike to the museum. In keeping with the theme of cold Maine winters, the signing was held at the local hockey rink. This project had been moving ahead with great haste, at least in "museum-time," and I went to the trustees' meeting, in my wool socks, expecting some dissent. Instead, there was rousing agreement about how important the
Jacob Pike
-- one really large artifact, and one really large archetype -- is to the newly recharged mission of Penobscot Marine Museum. That mission is to "preserve, interpret and celebrate the maritime culture of the Penobscot Bay region and beyond through collections, education, and community engagement." What better symbol of the preservation of Maine's maritime culture is there than a hard-working-fish-boat-turned-exhibit? On Sunday, before the Super Bowl came on, son Jack and I went down to Rockport Marine to see the
Pike
, secure in its winter berth there, and to check on our stern-steering iceboat that was in the yard for a little work.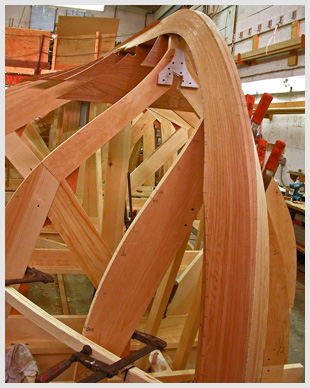 Ima Loa
, Rockport Marine.
Photo by Tom Kiley
Even on a Sunday in early February, Rockport Marine was hopping. In the first bay, Alastair was chain sawing huge foot-and-a-half-thick oak timbers for
Adventure
, a colonial-era ketch being built for the state of South Carolina. The yard is on an accelerated schedule for this project, so getting the really loud work out of the way on weekends would add to the harmony of the shop. In the next bay, almost ready to be moved to another shop for final finishing, was
Bernice
, a 90-year-old P-class that had originally been built by Hodgdon in East Boothbay. When Jack and I were there, one of many coats of varnish was being applied and young Jack learned to keep his hands in his pockets. In the next bay over was
Ima Loa
, a 32-foot pulling boat designed by Melbourne Smith for the owner of
Lynx
, the 76-foot Baltimore clipper-inspired schooner that Rockport Marine had built in 2001. The pulling boat will be used for training purposes and will be strip planked. Our iceboat, a 1927 Class D stern-steerer originally from the North Shrewsbury Ice Boating Club in Red Bank, New Jersey, and perhaps the youngest design represented on the shop floor, was still waiting for some work out of the machine shop. Not to worry, the ice was terrible anyway. One of the great benefits of living on the shores of Penobscot Bay is that there is no end to the projects being tackled with confidence regardless of size, age, complexity, or schedule. Here, "cold feet" is not an acceptable state of mind. Photo Gallery:
image gallery

Click here to read John's recent story, "Who Says It's a Short Season?" about winter laser sailing.
Click here to read more of John's articles
Share this article:
2023 Maine Boat & Home Show

Join Us for the Maine Boat & Home Show!
Art, Artisans, Food, Fun & Boats, Boats, Boats
August 11 - 13, 2023 | On the waterfront, Rockland, Maine
Click here to pre-order your tickets.
Show is produced by Maine Boats, Homes & Harbors magazine.