Esposito's Welding and Fabrication
Crafting trap blasters, rope cookers, and much more
By Laurie Schreiber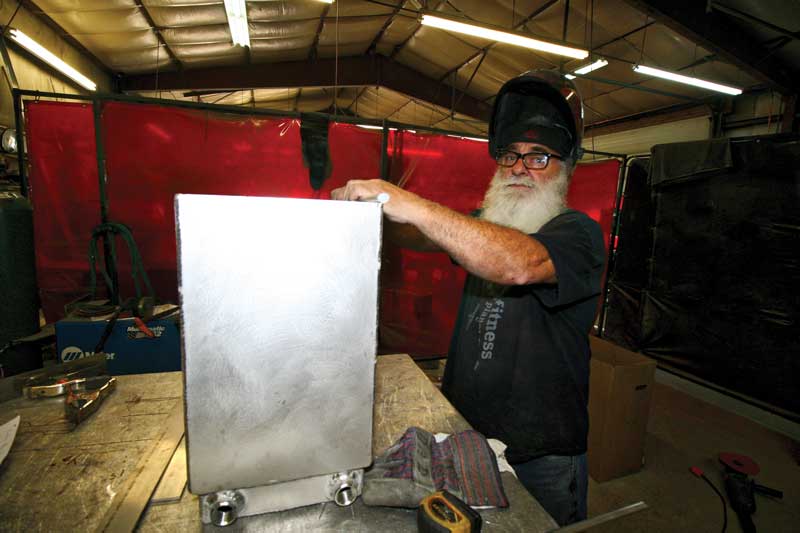 Vincent Esposito builds a rope cooker that's designed to clean lobster trap line. The device has proven popular with lobster fishermen. Photo by Laurie Schreiber
Have you ever wondered how fishermen keep their lobster traps clean? Apparently, a trap free of algae, barnacles, and other detritus is more effective at catching lobsters. A Surry-based business has built a niche business around this concept, creating and selling a special trap-cleaning device.
Actually, that's just one of many projects that can be found at Esposito's Welding and Fabrication at any given time.
During a recent visit, fabricators in protective helmets wielded fiery gas torches, transforming gleaming sheets of aluminum and steel into rugged structures designed to withstand the elements. Colin Barclay was working on a multi-part anodized aluminum tuna tower for a Wesmac 46. A stainless-steel hauling "patch" was being prepared for an SW Boatworks lobsterboat; these patches are designed to prevent damage to hulls and washrails when traps are pulled from the depths. Bob Seltzer was building an aerated lobster holding tank.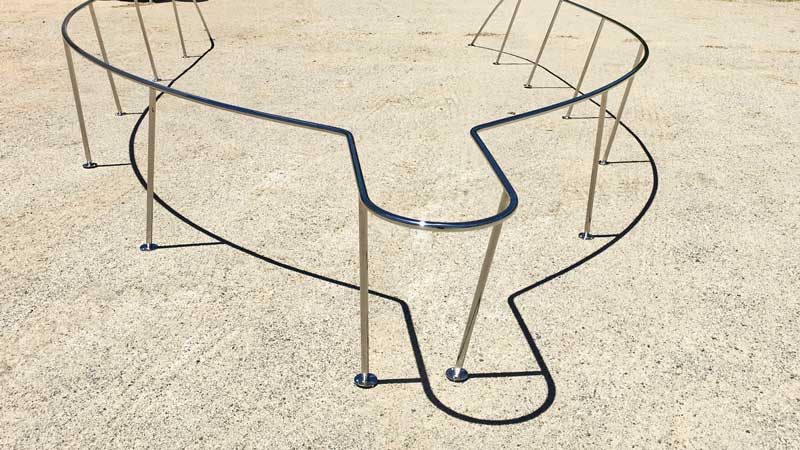 In a separate area, Vincent Esposito was building one of the shop's special "rope cookers." The device, designed by the Esposito shop for lobster fishermen, is a box filled with water that can be heated via the boat's engine. Trap rope is dunked into the cooker and organic matter is killed off.
Owned by Corey Esposito, the shop specializes in welding and fabrication using aluminum, steel, stainless steel, and brass or bronze. Much of the company's work is for the lobster and fishing industry. That includes  those lobster tanks and rope cookers. Then there's welding and repair for everything from fuel tanks to bait boxes, trap racks, radar masts, davits, rudders, and much more. A big project last year included an extensive refit of an aluminum landing craft for Dark Harbor Boat Yard. That involved removing the old sides, widening the boat 30 inches, and fabricating new sides, a crane base, and a ramp.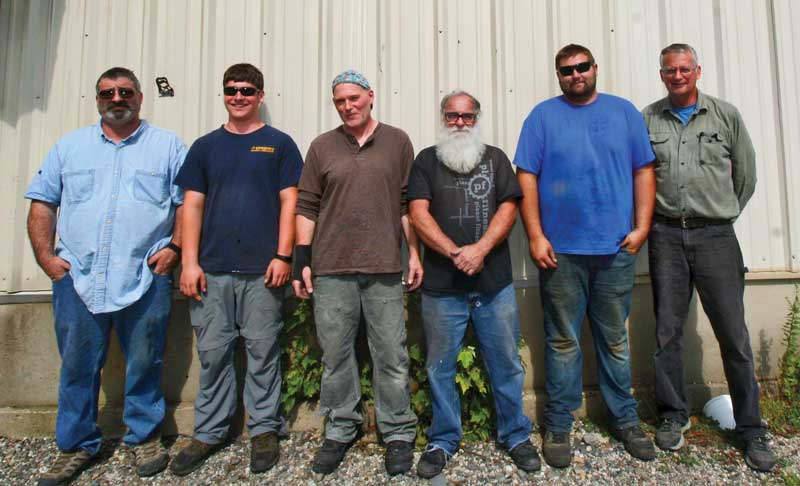 The crew at Esposito's. Photo by Laurie Schreiber
The shop also works on automotive, home, and commercial projects. This includes steel truck frame repairs, and specialty items such as stairways, railings, and support beams. The crew at Esposito's has performed pontoon boat repairs and made truck rack bodies and gravel sifters. They've even been commissioned to craft sculptures such as a sailing ship and a moose. Services also include spray-on truck bed liners.
Corey Esposito got into the trade right out of high school, working for successive machining and fabrication shops through the 1990s.
In 2001, he decided to go out on this own, starting the business at his home. What started as a one-person operation grew quickly.
"About six to eight months into it, my wife, Vicky, came on board," he said. "She worked in the shop. Then it got so busy, I put her on delivery and hired another guy."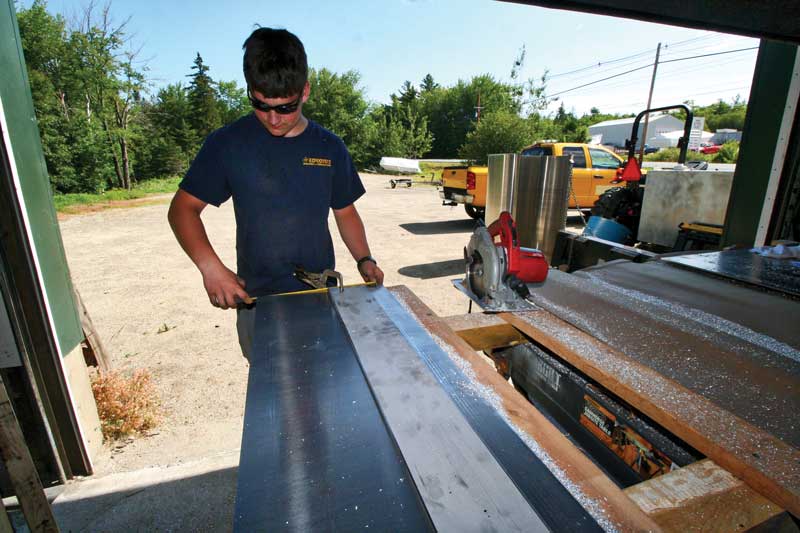 Corey Esposito's son Tony cuts pieces of aluminum for a rope cooker. Photo by Laurie Schreiber
Several years later, he opted for better visibility when he leased part of a building on Route 172, the main drag between Ellsworth and Blue Hill. In 2015, he bought the building in order to accommodate his growing business. Today, the business employs seven, including Esposito's father, Vincent, who joined in 2008 after operating a cupola-making shop for many years.
Esposito and his team of fabricators are constantly on the lookout for new devices and improvements that cater to the fishing industry. Over the past decade, he's established a niche with the development of the "trap blaster." A large, oval-shaped contraption big enough to hold a lobster trap but small enough to sit on deck, it's designed to clean lobster traps right on the boat by killing accumulated organic matter.
Esposito got the idea from a Lamoine fisherman named William Hass. He had taken a 275-gallon steel drum, turned it on its side, and modified it to "cook" his traps in water heated by twin propane torch burners.
"I said, 'Do you mind if I copy this? I'd like to do it out of aluminum,'" Esposito recalled.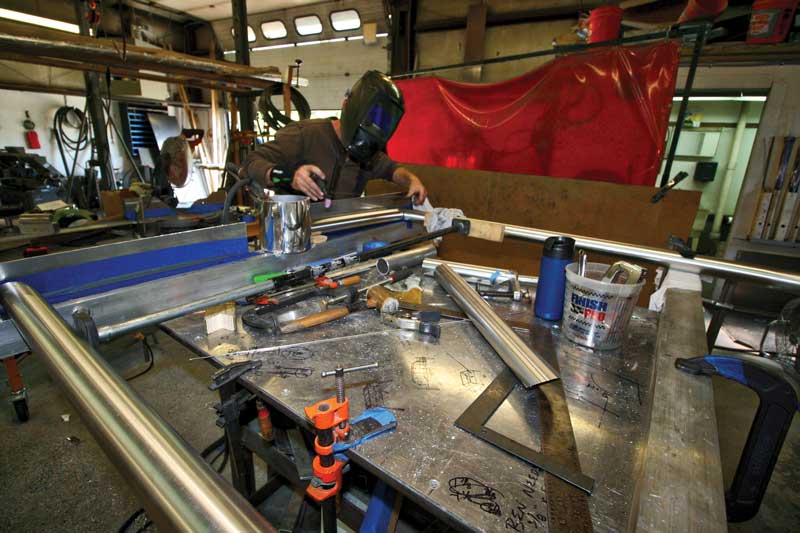 Colin Barclay polishes up components for an anodized aluminum tuna tower, which will be installed on a Wesmac 46. Photo by Laurie Schreiber
He tinkered with the design to include flaps that keep the boiling hot water inside the drum when the boat is moving.
Since introducing the propane-fired device in 2010, he's sold about 30.
A few years ago, another fisherman suggested that Esposito hook up the device to a diesel burner, rather than propane.
"I said, 'I don't think people would pay for that,'" he recalled, citing higher construction costs. "He said, 'Trust me, they will.'"
Esposito found the right 12-volt burner and designed it to run off the boat's battery.
"Once we got it running well for him, he took that same one and loaned it out to other fishermen to let them try it," Esposito said. "It took off like gangbusters. The first couple of years, we built a pile of them. The guys say that clean traps fish better."
The water is so hot that traps need to be dipped in for only 15 to 20 seconds.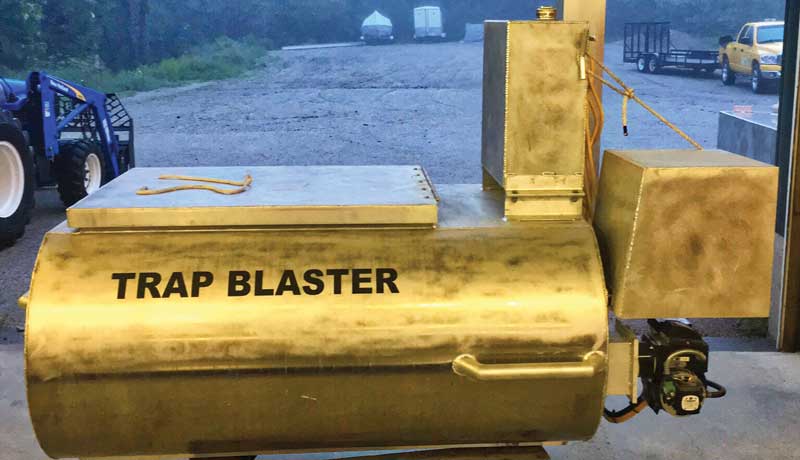 Esposito's has sold more than 40 of its Trap Blasters, offered as propane and diesel models. The blaster heats water to a temperature that kills organic matter from traps that are dipped in for 15 to 20 seconds. Photo courtesy Esposito's Welding & Fabrication
"They dip the trap, pull it out, rebait it, and throw it overboard," said Esposito. "With the tide running through it, that washes everything else off. When they pull it out, they say it looks like new."
The diesel version includes a thermostat; once the water hits 180 degrees, the furnace shuts off, and when the water drops to 170 degrees, it kicks back on. The diesel cooker is also safer and quieter than the propane.
"And it's cheaper to run, because instead of burning a 100-gallon bottle of propane, you're burning 10 gallons of diesel in a day," Esposito said.
Development of the rope cooker and the aerated lobster box also depended on input from fishermen. Rather than mass production, Esposito builds items individually, often customizing them to factors like the size of the fisherman's boat.
Esposito credits those fishermen with helping him grow his suite of products.
"Take the rope cooker. We found fishermen who wanted to be guinea pigs," he said. "This has all been stuff coming from the fishermen. They'll come to us either with a need or an idea and we bounce our ideas off them, or we'll take stuff to a trade show and they'll look at it. The fishermen have really helped us grow this business."
---
MBH&H Contributing Editor Laurie Schreiber is also a Mainebiz staff writer and has covered topics in Maine for more than 25 years.
Esposito's Welding & Fabrication
159 Blue Hill Road, Surry, ME
207-667-2442
email:  info@espositoswelding.com
Share this article:
2023 Maine Boat & Home Show

Join Us for the Maine Boat & Home Show!
Art, Artisans, Food, Fun & Boats, Boats, Boats
August 11 - 13, 2023 | On the waterfront, Rockland, Maine
Click here to pre-order your tickets.
Show is produced by Maine Boats, Homes & Harbors magazine.