Great, Orrs, and Bailey Islands
The timeless tranquility on Harpswell's island chain
By Mimi Bigelow Steadman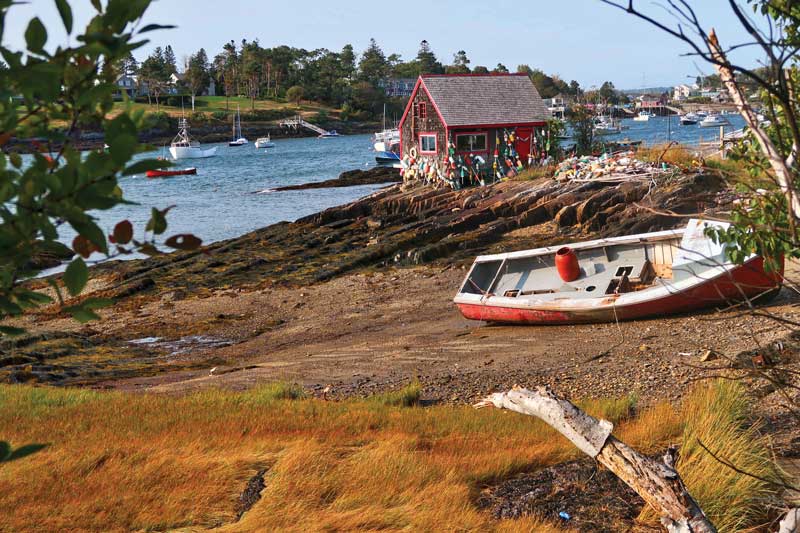 The lobstering harbor of Mackerel Cove lies near the tip of Bailey Island. Photo by Mimi B. Steadman
The commercial congestion faded in the rear-view mirror as we headed down Route 24, away from the big-box stores and fast-food restaurants at Cook's Corner, a multi-lane crossroads between Bath and Brunswick. We were headed for Great (or Sebascodegan), Orrs, and Bailey islands, a bridge-linked chain that forms the eastern half of the town of Harpswell.
At the tip of Great Island's eastern lobe, we came to the compact hamlet of Cundys Harbor. When I walked out onto the commercial fishermen's wharf to get a closer look at the working fleet, I was politely beeped out of the way by a pickup backing up to unload gear. It was as it should be: lobstering takes precedence here. Down the road at Holbrook's Store, I was tempted by fresh-baked treats and a refrigerator filled with pints of chowder. At the center of the room, a tall table and chairs awaited the next morning's coffee-powered meeting of regulars.
Returning to Route 24, we cruised southward to Safe Harbor Great Island (formerly Great Island Boat Yard). Tucked snugly up in Quahog Bay, its floating docks were filled with boats, including some in the 50- to 60-foot range. Recently purchased by Safe Harbor Marinas, which owns at least 100 facilities countrywide, it's still helmed by Steve and Stephanie Rowe, who bought the yard in 2005. "Boats come here from all over—Florida, even England—for our personalized service and technical expertise," Steve told me.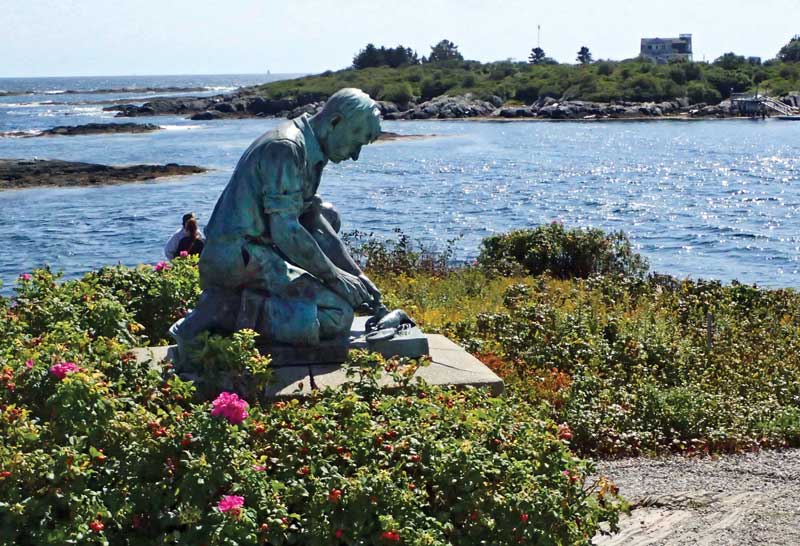 The Maine fisherman statue, at Land's End on Bailey Island, was designed for the 1939 World's Fair. Photo by Rick Steadman
The woods-framed road wiggles down Orrs Island past the Island Candy Company—the dark-chocolate pistachio bark is amazing—to a village clustered near the narrow Cribstone Bridge, which connects to Bailey Island. The century-old engineering feat rests on 10,000 tons of coffee-table-sized granite slabs stacked without mortar in an open grid, allowing the tides to flow freely beneath the 1,150-foot span over Will's Gut. The inlet is named for Bailey Island's first settler, William Black, a freed slave's son who arrived around 1728. A few years later, Deacon Timothy Bailey and his wife gained ownership of the island. Accounts vary, but they either purchased it from Will for a pound of tobacco and a gallon of rum, or paid the region's land proprietors the same to void Will's deed.
On skinny, two-mile-long Bailey Island, cottages, bungalows, and petite, white-steepled churches basked in the mid-September sun, just as they have for generations. Turning down a narrow lane, we came to the Giant's Stairs Trail, an easy path offering sweeping bay views en route to a large, staircase-like rift in the sedimentary rock formed when a seam, or intrusive dike, of softer basalt eroded away. Nearby, at Seaside Creations, an almost-hidden cottage filled with Maine-crafted gifts, proprietors Betty and Cindy Robbins told me how Bailey Island has always attracted notable summer visitors, including psychoanalyst Carl Jung.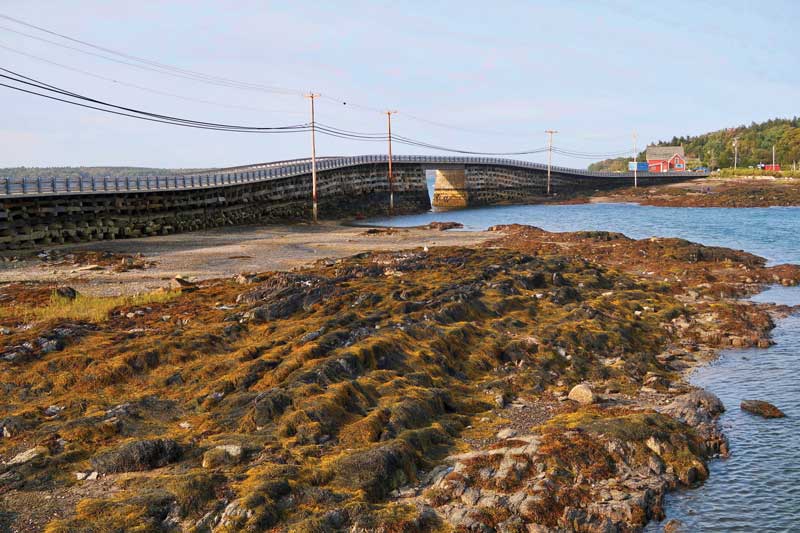 Linking Orrs and Bailey islands since 1928, the Cribstone Bridge has been named a Historic Civil Engineering Landmark. Photo by Mimi B. Steadman
At Land's End, the southernmost tip of the island, we were drawn to a seven-foot-tall bronze statue of the late Bailey Island lobsterman Elroy "Snoody" Johnson kneeling to peg a lobster's claw. Designed for the 1939 New York World's Fair and dedicated to all Maine fishermen, it's one of three castings. The others are in Portland and Washington, D.C., but here in Snoody's hometown is where he belongs.
Before heading back up island, we turned off to Mackerel Cove, a quiet, picture-perfect fishing harbor. It was difficult to believe that this was the scene of a horrifying fatal shark attack last July. As I looked out from a small beach, a strong southwesterly hurtled across the harbor. I wished it could somehow blow away the unwanted attention and sorrow, allowing this peaceful pocket of Maine to return, undisturbed, to its timeless tranquility.  
---
Contributing Editor Mimi Bigelow Steadman lives on the Damariscotta River in Edgecomb.
---
If You Go to Great, Orrs, and Bailey Islands
On the Water
Great, Orrs, and Bailey islands are part of the town of Harpswell, which boasts 216 miles of coastline scalloped with bays, sounds, harbors, and gunkholes. Places to drop the hook include Mackerel Cove, Merriconeag Sound, Quahog Bay, and Cundys Harbor. Public launching ramps are located just north of Cundys Harbor and in Mackerel Cove and Garrison Cove (across from the Cribstone Bridge). Safe Harbor Great Island offers 65 slips and 50 moorings for seasonal and transient customers (reserve ahead). Fuel, pump-out, a lounge, and a small café are among visitor amenities. Capabilities include haul-out of vessels up to 70 feet (using 60- and 35-ton hydraulic trailers), repairs (including mechanical, electrical, and rigging), and storage.
If you're boatless and hankering to be on the water, consider a day sail aboard the windjammer Alert. The 70-foot, Maine-built schooner departs from the dock next to Cook's Lobster & Ale House, on Bailey Island. Ark II Charters, based at the same location, offers sightseeing sails aboard a 30-foot Catalina sloop.
Hike and Paddle
The Harpswell Heritage Land Trust maintains a presence on all three islands. Its McIntosh Lot Preserve Trail connects to the popular and accessible Giant's Stairs Trail (managed by the town). Other spots include the Devil's Back Trail, which winds through the forest and along the shore, and the Johnson Field Preserve and beach, a scenic spot at the head of Mackerel Cove that's perfect for picnicking or launching kayaks and canoes. H20 Outfitters, on Orrs Island next to the Cribstone Bridge, offers kayak
and SUP rentals, guided tours, and full- and half-day excursions. They also arrange kayaking trips elsewhere in Maine and as far afield as Europe.
Dine
Order a lobster or crab roll at Holbrook Lobster Wharf & Grille, and enjoy it on the deck right beside the water in Cundys Harbor. For more fresh seafood served in casual surroundings, head to the Cribstone Bridge. Just before you cross from Orrs to Bailey, you'll find Salt Cod Café, known for its seafood chowder and baked goods. At the other end of the bridge is Morse's Cribstone Grill, owned by a family with a long fishing heritage. The menu offers salads, sandwiches, and entrées, many of them featuring lobster caught by the owners' son. The large and popular Cook's Lobster & Ale House perches on a sandy spit with great views of the bridge. It's been catering to locals and visitors since 1955. In addition to selling groceries and other necessities, Bailey Island General Store (BIGS to its fans) dishes up breakfast, pizza, subs, chowder, and lobster rolls.
Shop
Stop for a treat at Island Candy Company, where chocolates and other sweets are freshly made in the kitchen right behind the counter. There's ice cream, too. Be sure to visit the petite picket-fenced garden out front; it's a memorial to the owners' grandparents. In a cottage tucked down a driveway next to the Giant's Stairs Trail, Seaside Creations brims with the work of more than 85 Maine craftspeople. Land's End Gift Shop's two-story barn at the very tip of Bailey Island is well stocked with T-shirts, ornaments, shot glasses, fudge, and just about any other Maine souvenir you're seeking.
Share this article:
2023 Maine Boat & Home Show

Join Us for the Maine Boat & Home Show!
Art, Artisans, Food, Fun & Boats, Boats, Boats
August 11 - 13, 2023 | On the waterfront, Rockland, Maine
Click here to pre-order your tickets.
Show is produced by Maine Boats, Homes & Harbors magazine.