Equipoise
A 44-foot cold-molded sloop designed for racing and day sailing
By Art Paine
All images courtesy Jim Taylor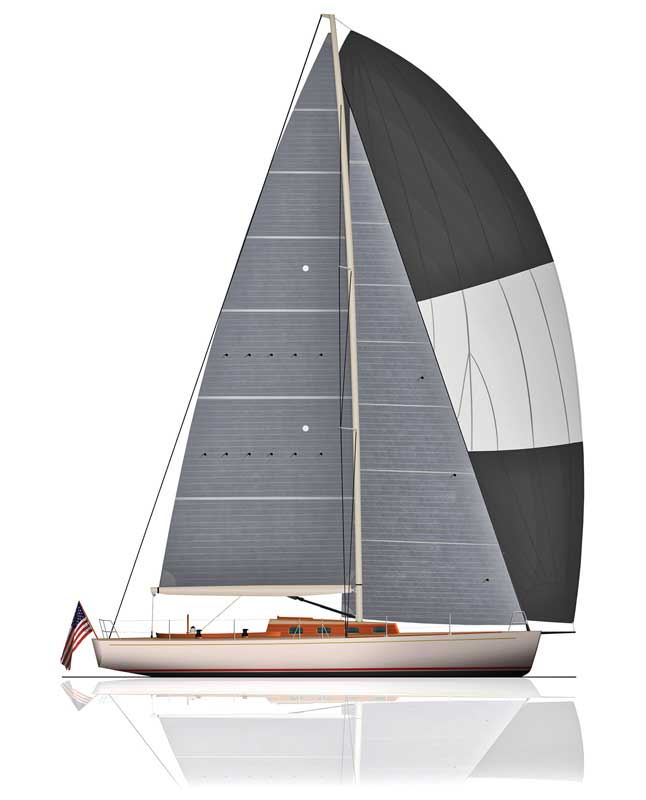 Equipoise was designed and built for speed, and should be able to surf at nine knots, but looks like what she is, a wooden boat from Maine.
SOME PEOPLE have an inkling what equipoise means, but most have to look it up. It means what it sounds like, a blending of factors of comparable high importance. But while the Taylor 44 sloop Equipoise, which was launched earlier this summer at Brooklin Boat Yard, is indeed a prime example of boat design as an "equipoise" between art and science, the name comes from a different source. Owner Joe Weber said he was inspired by a line from "Fugue for Tinhorns," the opening song in the Broadway musical Guys and Dolls. It's about the joys of betting on horseracing; you might know the lyrics, "I've got a horse right here, his name is Paul Revere...." One of the bettors favors a horse in part because "His great-grandfather was Equipoise." A guy like Weber wouldn't miss the subtle undertones of this. And so his fourth beautiful sailing yacht is named after a victorious horse from the thespian realm.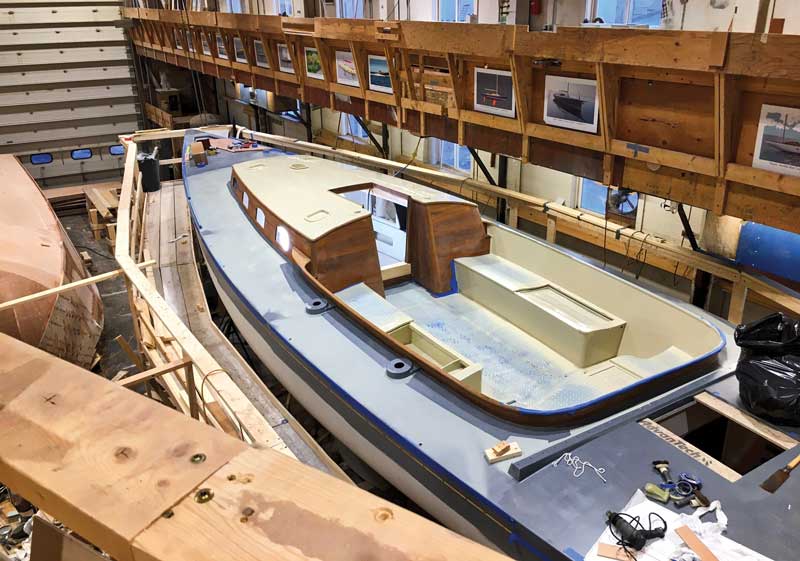 This photo of the boat under construction at BBY shows the extent of her broad beam aft (12 feet).
Designed for coastal racing and day sailing, Equipoise is Weber's fourth sailboat built by Brooklin Boat Yard. He plans to use the boat in Southern California where he has a home. A unique aspect of the boat is that it will feature electric propulsion instead of the usual diesel engine.
The chorus for "Fugue for Tinhorns" is, "Can Do – Can Do." That also fits for Weber, the boat's designer Jim Taylor, and the folks at Brooklin Boat Yard, including president Steve White. "Steve White and the crew at Brooklin Boat Yard are amazing, totally engaged in what they do," said Weber who has had a long and fruitful association with the yard.
Weber started out as a powerboat owner, and during that era he met Brooklin Boat Yard's Steve White. When he decided to switch to sail, he acquired a 39-foot cruising sloop built at Brooklin Boat Yard in 1999. The boat was named Va Pensiero, after a chorus from the Verdi opera Nabucco—as you may have guessed, music plays a big part in Weber's life. Although he loved the boat and won his first sailboat race or two with it, he eventually decided he wanted a boat with different accommodations and a more modern look.
The second boat, Va Pensiero II, designed by Bob Stephens and Paul Waring, and launched in 2004, was 47 feet 6 inches and rather heavy, with a relatively shallow keel and a skeg-hung rudder. Even though the latter was snugged behind the keel, the geometry was a lobster-pot magnet, and the boat was still too much of a compromise cruiser to win the silverware that gleamed in Weber's imagination.
White was privy to Weber's frustrations with lobster gear, upwind stability, and rating rules. He recommended having Taylor design another boat, that would be cold molded in a manner the yard had pioneered. Weber pursued the idea, and Taylor designed Dreadnought. Launched in 2014, the 49-foot Dreadnought received considerable notice in Maine as a gorgeous racer by a designer only beginning to make inroads here. Much to the owner's delight, it finished at the top in the Northeast Harbor Fleet's summer series. The boat was perfect as a daysailer, too. Weber often uses it in the evening, with a shorter jib, sailing singlehanded. It was while sailing singlehanded that he decided the ability to easily furl the mainsail was a big priority in his world. 
Dreadnought had long overhangs, a big comfy cockpit, and a teak-overlaid deck. The narrow hull was laminated from two different lightweight cedars. The interior featured raised glossy white paneling set off by highly varnished curly maple. Dreadnought's keel had small wing-root fairings fore and aft and a wedge-bulb at the bottom, a profile that has become a bit of a Taylor trademark. Its leading edge was swept back a few degrees from his usual—apparently in consideration of Weber's concern about catching lobster gear while racing.
Weber has a home in Maine, and also one in Southern California. He still owned Va Pensiero II, which represented one more boat than he needed in Maine. So he came up with the audacious concept of seeing if Jim Taylor's expertise in yacht appendages could revitalize the boat for use out west. Taylor has always been considered an expert on keels. Back when Bill Koch was going after the America's Cup, Taylor was part of the design team whose tasks included a deep dive into the hydrodynamics of keels through tank testing and computer analysis. For Va Pensiero II, Taylor proposed a radical appendage-ectomy to fit a deeper bulb keel and eliminate the skeg in favor of a balanced spade rudder located farther aft.
"Steve (White) couldn't wait to fire up his chainsaw!" said Weber, who reported that Taylor's alterations gave the boat a whole new life. The revitalized Va Pensiero II recently won the spring series of PHRF racing off her home port of Marina del Rey.
None of this California dreaming comes easy though. Va Pensiero II is now 18 years old, which brings us back to Equipoise. Weber asked if Taylor could design him a boat smaller than both Dreadnought and Va Pensiero, yet capable of going upwind at 8 ½ knots. While he would not promise such upwind speed, Taylor replied that he could design a smaller boat, one that could be more easily singlehanded and that could hit speeds of 8 ½ knots on other points of sail, especially when flying an asymmetrical chute. So, with Marina del Rey in mind, lots of opportunity for an asymmetrical, and additional bite from a more vertical fin keel, Equipoise entered the sweepstakes.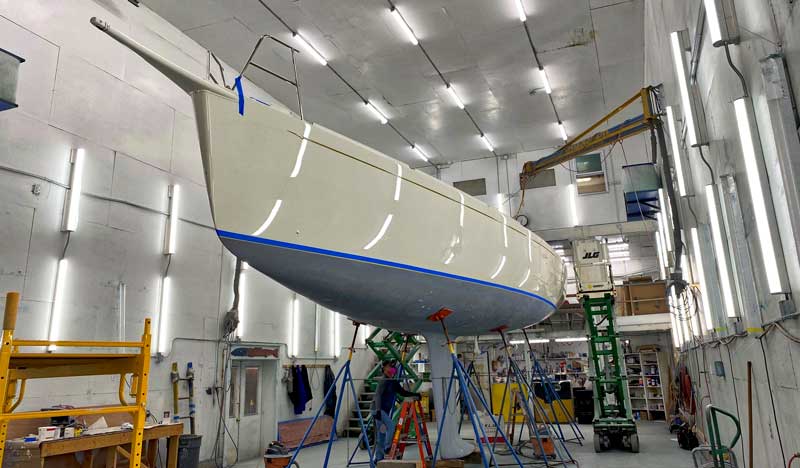 Equipoise has a cold-molded wood/epoxy hull featuring tongue-and-groove larch planking each side of diagonal Paulonia veneers, while the deck is built of okoume plywood each side of 5/8" CoreCell foam. Both hull and deck are overlaid with an e-glass finish layer. The stem, keelson, and ring frames are laminated Port Orford cedar. The keel loads are supported and distributed by a grid of laminated keel floors that are capped with unidirectional carbon fiber.
The hull shape is different from other Jim Taylor boats now sailing in Maine. The bow is as close to vertical as possible while hiding the Furlex electro-hydraulic jib roller furler, while the stern features a longer counter overhang. The boat is 36.2 feet long on the water and 44.4 feet overall. The after part of the hull also is wider (12 feet) than Taylor's previously designed boats for Maine, yielding more stability overall. Equipoise might not plane, Taylor said, but she will surf on those fast-moving California waves. The carbon-fiber rig, by Offshore Spars, is fairly conventional and maybe the more conspicuous in that it doesn't sport a square-topped main.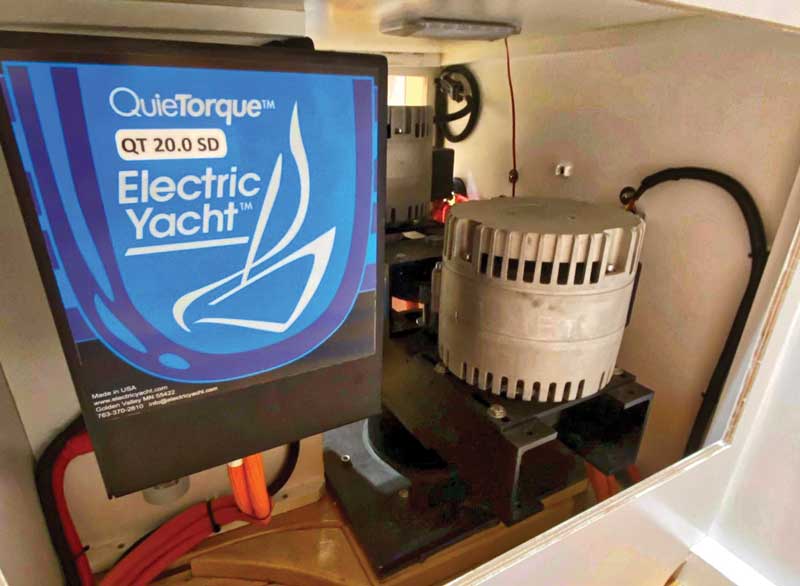 Instead of the conventional diesel power, this boat is equipped with an electric auxiliary motor powered from a bank of lithium-ion phosphate batteries, which can be charged by a solar panel array on deck, or from shore power.
This will be an extremely muscle-friendly boat to campaign. It relies almost exclusively on electric systems. Almost every winch is powered, as are the backstay, traveler controls, vang, and—very important to Joe Weber—electric in-boom furling. At one point Weber told me that if he'd discovered easy in-boom furling back at Va Pensiero, he might've missed out on two marvelous subsequent boats.
When all this electrification was being discussed, White proposed electric propulsion. Taylor agreed. That opened up whole new possibilities for the designer, because the actual motor is very light. What weight there is is in the batteries, which can be located wherever best suits the design. Instead of a diesel, the 44 will be equipped with an electric auxiliary motor powered by a bank of lithium-ion phosphate (LiFePO) batteries, which can be charged by a solar panel array integrated into the aft deck or from shore power. To meet the significant electrical demands of the propulsion motor, the boat will be fitted with a 48-volt DC system. Voltage will be stepped down to 12V for the standard onboard house loads such as lights, pumps, and electronics, all of which will be controlled with digital switching, forgoing the typical breaker panel and associated wiring.
With a full charge on a sunny day, with or without a little help from sails, Equipoise should be able to power the 26 miles to Catalina at around six knots.
The interior plans of Jim Taylor boats, in particular the wooden ones, remind us that boats are built like a box. The bulkheads are structural, and divisions between furnishings on Equipoise are placed for both strength and domestic function.
At one point, while inspecting the boat under construction, I had the opportunity to appreciate the mechanical structure of the gridwork of "floors" that support the keel. Taylor specified stronger hardwoods in that highly stressed area, and used epoxy saturated unidirectional carbon to make a wooden beam much stronger. "Are you ever disappointed to do a cold-molded wood boat as opposed to exotic carbon-epoxy over foam core?," I asked Taylor.
"You kidding?" he replied. "The wood boats sail as well, are far less penetrable, and are repairable. They dampen noise beautifully, and they don't sweat, smell, or accumulate mold. Plus, there is just something about wood that renders it much easier to make them look terrific both inside and out."
Equipoise originally was scheduled to be completed a year ago, but was delayed by the pandemic. The plus side is that instead of shipping immediately west, she will engage in a few tune-up races here in Maine. I am not aware if people actually wager on pursuit races on MDI, or on the Eggemoggin Reach Regatta, but this is no bum steer.
If I were you I wouldn't pick Paul Revere…
Just look at Epitaph!
    Shows class
And a guy I know says
    she'll win by a half.
And just a minute boys,
    I've got the feed box noise...
It says the great grandfather
    was Equipoise!
✮
---
Contributing Author Art Paine is a boat designer, fine artist, freelance writer, aesthete, and photographer who lives in Bernard, Maine.
Equipoise Specifications
LOA: 44.4'
LWL: 36.2'
Max Beam: 12'
Draft: 7.8'
Disp. (Meas Trim): 13,500 lbs.
Ballast: 5,920 lbs.
Sail Area: (RSAT) 963 sq. ft.
Engine: Electric Yacht 'Quiet Torque
20.0 SD' electric drive via Victron
LiFePO4 batteries
DESIGNER
JIM TAYLOR YACHT DESIGN
Marblehead, MA; tayloryachtdesigns.com
BUILDER
BROOKLIN BOAT YARD
Center Harbor Road, Brooklin, ME
207-359-2236; brooklinboatyard.com
Share this article:
2023 Maine Boat & Home Show

Join Us for the Maine Boat & Home Show!
Art, Artisans, Food, Fun & Boats, Boats, Boats
August 11 - 13, 2023 | On the waterfront, Rockland, Maine
Click here to pre-order your tickets.
Show is produced by Maine Boats, Homes & Harbors magazine.