Seaweed, lighthouses, housefloats, and one very intrepid sailor
By Polly Saltonstall
Seaweed belongs to landowners
In a case that has huge statewide implications for Maine's growing seaweed industry and for shorefront property owners, a state Superior Court judge has ruled in favor of a group of property owners who sued to prevent harvesters from taking seaweed on their properties.
In his March decision, Washington County Superior Court Judge Harold Stewart found that seaweed growing in the intertidal zone is private property owned exclusively by the property owner and is not part of the public trust, according to a Bangor Daily News story. Attorney Ben Leoni, who represents defendant Acadian Seaplants, said he planned to appeal the ruling. "Our position is that marine organisms living in the intertidal zone, or outside the intertidal zone, are public property just like clams and worms," he told the BDN. An appeal would allow harvesters to continue operating while they wait for the state supreme court to decide the matter.
The attorney for the group of Washington County landowners who filed the suit argued that taking of plants on private property in the intertidal zone should be treated the same as harvesting plants on private land. Fish and birds come and go and are rightly managed by the state as a public trust, attorney Gordon Smith said, but plants are attached to the ground where they are found, both physically and legally.
The decision has significant implications for Maine's burgeoning seaweed industry. The state's annual seaweed harvest has grown from under 1 million pounds in the 1990s to more than 11 million pounds worth close to $775,000 in more recent years, the BDN noted.
Brothers Kenneth and Carl Ross and the Roque Island Gardner Homestead Corp., filed the suit out of concern with the potential damage to the environment caused by harvesting seaweed.
---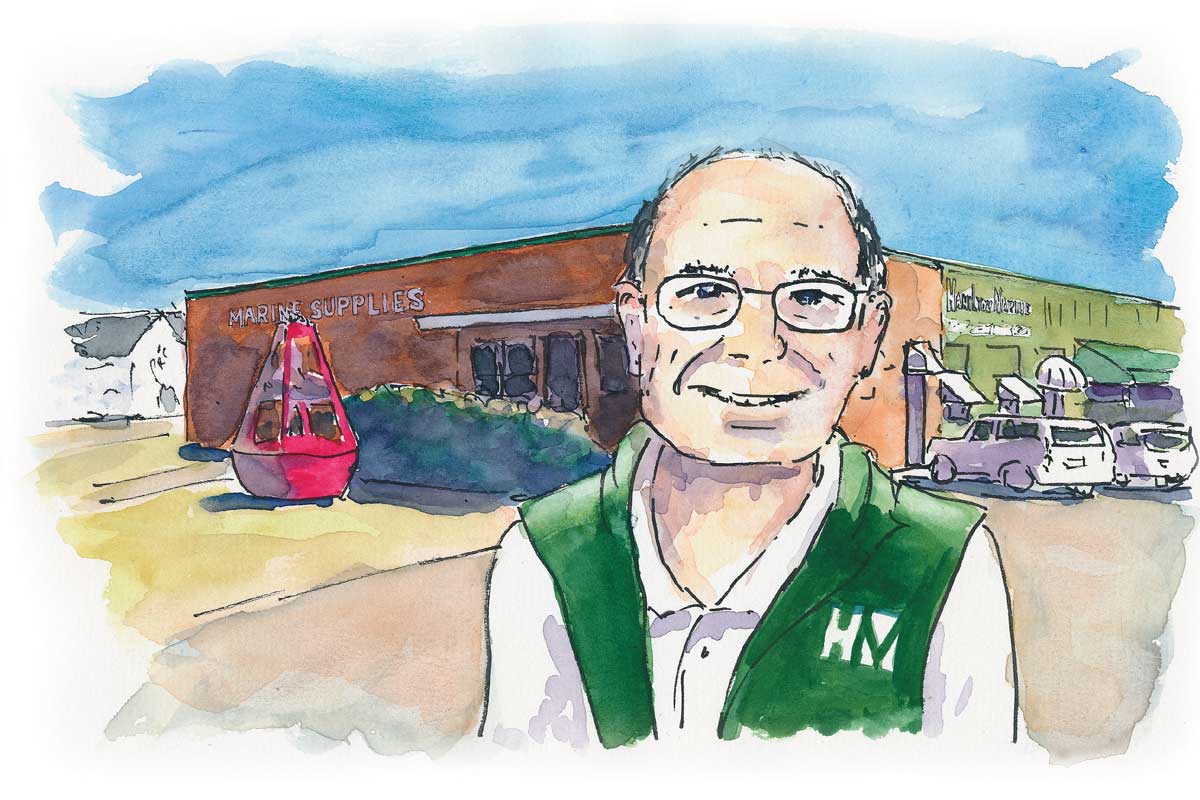 Illustration by Ted Walsh
Hamilton Marine hits the big 4-0
Forty years ago this April, Wayne and Loraine Hamilton set up shop in the garage of their Searsport home to sell marine supplies to fishermen and other local boaters. Their first open house was gray and wet. "I remember carrying stuff out to people's car and getting soaked," recalled Wayne Hamilton. His mother-in-law and mother co-signed a note to get the business up and running, he added. That was a good investment. The business grew, and grew, and grew. Today Hamilton Marine is one of the largest ship chandlery companies in New England.  
---
Amazing circumnavigation
Hats off to American skipper Rich Wilson, who crossed the finish line of the Vendée Globe solo, round-the-world race February 21 after 107 days 48 minutes, 18 seconds at sea. He placed 13th in the fleet of 29 boats that started the 27,440-mile, singlehanded race from Les Sables d'Olonne on Nov. 6. 
With his finish, Wilson became the fastest American to race solo non-stop around the world, beating Bruce Schwab's 2004-05 record of 109 days 19 hours.
This marks Wilson's second successful completion of this grueling solo circumnavigation. He beat his previous time from the 2008-9 race by 14 days. At 66 and the oldest skipper in the race, he was sailing a boat that had been refit at Portland's Maine Yacht Center. 
"It was a little bit harder, because I'm older," he conceded after finishing, noting that each day he did an average 12,000 turns on the winch. "My goal was to finish this race and to work for Sites Alive (his web site), which has 700,000 young people following." 
The hardest part, Wilson said, was the grey skies. "It was grey all the way. Across the south and then all the way up the Atlantic. Grey. Grey. It was so depressing. Four or five days ago, the sun came out for 20 minutes and I leapt out and stuck my face and hands under the sun. It was grey and just for so long. That was hard," he said. 
Equally disappointing: "I had a map of the stars with me but I couldn't use it."
Is it a boat or a house... or a float?
As the tiny home movement hits the waterfront in the form of floating homes and houseboats, towns are grappling with how to regulate them. The issue was a hot topic at a recent meeting of the state Harbormaster's Association in Castine. The debate includes whether floating homes should be regulated as boats or as something else, and even how to define when a boat is not a boat but a house. Edgecomb voters unanimously agreed in March to impose a temporary ban on floating homes while the town developed regulations.
The issue came up when a developer asked town officials about anchoring a dozen or more housefloats off a pier in the Sheepscot River and renting them out. The moratorium defines floating structures as residential, industrial, or commercial structures that are designed as a place of habitation or commercial activity. Housefloats, differ from houseboats because they do not have motors and are not easily moved. Houseboats, like other boats, fall under U.S. Coast Guard regulations; floating homes do not. 
The regulation of floating homes is a nationwide issue. A few houseboats are okay, but a lot can lead to trouble.
Some of the issues under debate include how or whether to tax floating structures and access for emergency responders as well as water and sewer system requirements for floating structures. 
In Freeport, Harbormaster Jay Pinkham said the town passed an ordinance limiting housefloats to marinas, where they can access sewerage and electricity, and banning them from mooring or anchoring in the town's harbor. Sullivan Harbormaster Mike Pinkham (no relation to Jay) said his town voted last summer simply to ban housefloats. 
"If somebody has a power cruiser that's moveable that's okay," he said. "But housefloats aren't moveable and that's where you run into trouble."
---
Make a big noise, please
Boaters who count on the sound of lighthouse foghorns to help find their way should not leave home without a working VHF radio. The Coast Guard has announced plans to install Mariner Radio Activated Sound Signals this spring at seven remote lighthouses in the Gulf of Maine, in addition to the 17 fog detectors replaced last year with so-called MRASS devices. These new devices enable mariners to activate lighthouse sound signals on-demand with a marine radio. The new radio-activated signals will come on line this year at Halfway Rock, Matinicus Rock, Mt. Desert Rock, Great Duck Island, Petit Manan Island, Libby Island, and at the Little River Lighthouse, according to a news release.
Instead of the fog horns sounding continuously in bad weather, the MRASS will allow mariners to activate the sound signal when needed by keying the microphone of a standard VHF-FM radio five times on channel 83A. Once activated, the current sound signal type will remain unchanged, and it will shut off after 60 minutes of operation.
---
A new fleet of Rhodes 18s
Boats have always been a big part of Linekin Bay Resort in Boothbay Harbor, going back to 1919 when the Branch family founded their famous " camp." So it's fitting that when new owners, Scott Larson and Steve Malcolm, took over, buying a new fleet of sailboats was among their first projects.
This spring, the resort will add four new Rhodes 18 sailboats to its fleet— classic Phil Rhodes designs with big cockpits, centerboards, and just the right amount of sail. Cape Cod Shipbuilding is building the boats, just as they have done since the 1940s. Rhodes may be best known for his America's Cup winning 12 Meter, Weatherly, but all of his boats share a blend of seakindliness and beauty. If you can't get to Maine on your own boat this summer, perhaps you should try out these new classics at Linekin Bay.
---
We are the champions…of Maine
Island-based school sports teams face hurdles to compete that folks on the mainland can only begin to imagine. They often have to travel ashore a day early and have to plan around ferry schedules. 
That makes the Vinalhaven High School girls basketball team's state championship all the more special. The team beat Eastport's Shead High School by a margin of 55-44 on March 4 to win the state Class D title last winter.
It was the first state athletic crown in the history of the school.
"It's just amazing," Viking Coach Sandy Nelson said, according to a report on the Village Soup web site. "It's an unbelievable feeling. I'm just so happy for those kids. They've worked so hard, not that every team doesn't, but they have just worked so hard. You've got to get off that ferry, drag all that stuff, play Friday night, sleep in a gym and be up ready to play at 8 or 8:30 in the morning. They don't complain, they never say 'This isn't fair.' This is our way of life."
Almost half of the island's 1,200 wintertime residents, along with mainland supporters, trekked to Bangor to cheer on the islanders.
---
A ray from Maine shines in Alaska
This winter a fisherman in Ketchikan, Alaska, contacted the Maine Seacoast Mission in Bar Harbor via Facebook with a photo of one of the mission's former Sunbeams—since its founding in the early 1900s, the mission has had seven different vessels for spiritual, education, and medical outreach along the Maine coast and its islands, five of them named Sunbeam. 
"I thought you would be interested in seeing a more recent photo of Sunbeam IV (now Northern Sage)," wrote Captain Bruce Painter. The folks at the mission perked right up.
The 65-foot long Sunbeam IV was designed by Luther Blount and built by Blount Marine Corp. (hull No. 67) in 1964 in Warren, Rhode Island. The boat was replaced in 1995 with the current Sunbeam V—75 feet long, built by Washburn & Doughty in East Boothbay, and now captained by Mike Johnson.
In the meantime, the mission has begun to talk about the future of the Sunbeam V, whether to continue upgrading the current boat or to replace it. The Sunbeam V was hauled recently for maintenance at Billings Diesel and Marine in Stonington, where a powerful new bow thruster was installed. Other work included painting and mechanical systems repairs and upgrades.
In the spring of 2016, a group of builders from seven Maine boatbuilding companies (John Williams Boat Co., Hodgdon Yachts, Washburn & Doughty, Billings, Front Street Shipyard, Wesmac Custom Boats, and the Hinckley Co.) toured the 22-year-old vessel to help the mission assess its condition and make decisions about its future. At this time, the mission has not yet decided its plans for the boat.
---
New owner for Kenway
Kenway Corp., an advanced manufacturing company that makes products for a wide range of industries from composite materials, has been acquired by a Pennsylvania company, according to a story in the Kennebec Journal. 
The company and its 70 employees are expected to remain in Augusta as a division of Creative Pultrusions Inc. (CPI), which itself is a subsidiary of the United Kingdom-based Hill & Smith Holdings PLC. All employees are being retained, Kenway Corp. President Ian Kopp said in March. Majority owners Kenneth Priest and Michael Priest have retired, but Kopp said he would remain president of Kenway. 
Kenway Corp. got its start seven decades ago in central Maine building boats. Eventually the company shifted its work to producing a variety of corrosion-resistant and custom-fabricated components for industrial clients. Kenway bought the New Hampshire-based Maritime Skiff in 2007 (since sold) and North Carolina-based Southport Boatworks in 2011. Kopp said that Southport Boats LLC would continue to be owned by him and Kenneth Priest and Michael Priest. 
---
Sharks for hearts
Researchers at Mount Desert Island Biological Laboratory in Bar Harbor may have discovered how a drug derived from a molecule found in dogfish sharks could someday help people recover from heart attacks and heart disease, according to a Portland Press Herald story.
The MDI lab won a patent from the U.S. Patent Office in November. The next step is to obtain funding to see if the research that has been done in zebra fish and mice can be replicated in pigs. If all goes well, human clinical trials for the drug could begin in about five years. 
The breakthrough research began when an intern at the lab noticed that MSI-1436, a drug made from a molecule found in the dogfish shark, was causing zebra fish to regenerate much faster than normal, said Dr. Viravuth Yin, the lead researcher from MDI.
The drug could prove beneficial to people who have had heart attacks or heart disease. When a person has a heart attack, for instance, scar tissue can build up in the damaged heart, causing it to become less efficient at distributing blood to the rest of the body. That can cause a host of other health problems, Yin said. If the drug works, the scar tissue could be regenerated back into healthy tissue, improving outcomes for the lives of millions. 
---
Lobster landings top $533 million
Maine's commercially harvested marine resources topped $700 million in overall value in 2016, according to the Maine Department of Marine Resources. The total reflects an increase of nearly $100 million in value over 2015.  
For the second straight year, the largest single increase in value was in Maine's lobster fishery, increasing by $30 million for a total value of $533 million for a record-breaking 130.8 million pounds, making lobster by far the state's most valuable fishery.
At $19 million, Atlantic herring, the primary bait source for Maine's lobster industry, saw an increase in value over 2015 of more than $5 million. The dollar amount ranked it as Maine's second most valuable fishery, despite a nearly 11 percent decline in landings. 
Maine's softshell clam industry dropped from second place in 2015 to third in 2016 with an overall value of $15.6 million. The decline in overall value reflected a 13.4 percent drop in per pound value as well as a 20 percent decline in pounds landed. "One significant factor that contributed to the decline in softshell clam landings was a closure of harvest areas between the Canadian border and Mt. Desert Island associated with Amnesic Shellfish Poisoning late in the season," said Kohl Kanwit, Director of the DMR Bureau of Public Health. Many areas were closed for 2 to 4 weeks to ensure public health and safety.
Maine's elver fishery was again by far the most lucrative of Maine's commercial fisheries on a per pound basis at $1,430.51 a pound. Maine harvesters netted 9,400 pounds for an overall value of $13.4 million. 
---
Tall ships headed to Nova Scotia
Nova Scotians from Sydney to Shelburne will have a chance to enjoy the majesty of tall ships in a port near their home next summer. Between late June and mid-August, tall ships will visit 11 ports around the province, including Lunenburg, Pictou, Sydney, St. Peter's, Louisbourg, Pugwash, Port Hawkesbury, Halifax, Shelburne, Digby, and then end with an evening sailpast in Annapolis Basin, a first for Nova Scotia. It's also the 50th anniversary of the Fisheries Museum in Lunenburg. FMI: Launch.Lunenburgns.com
The tall ships are visiting Canada to help celebrate the 150th anniversary of the Canadian Confederation. 
---
New name, same fisheries leadership
After 14 years of leadership in the sustainable fisheries arena, Penobscot East Resource Center has changed its name to Maine Center for Coastal Fisheries. Executive Director Robin Alden, who co-founded the nonprofit in 2003, announced that the Stonington-based nonprofit will continue to serve fishermen and fishing communities with the same forward-looking mission and vision, but with a new name and image. The new name accompanies news of Alden's planned retirement at the end of 2017 and the organization's search for a new executive director.
---
Ready, set, let's get racing
The dates for the 2017 Camden Classics Cup have been set for July 27-29. Organizers at Lyman-Morse promise a Parade of Sail and a great post-race dock and dance before rolling into feeder races for the Eggemogin Reach Regatta. The event benefits LifeFlight of Maine. FMI or to register: www.camdenclassicscup.com.
Meanwhile, the 2017 Castine Classic Yacht Race to Camden will take place Aug. 3, kicking off three days of racing on Penobscot Bay. FMI or to register go to: www.CastineClassic.com.
Event organizers plan to honor Aage Nielsen, a genius of 20th-century yacht design, with an Aug. 2 symposium at Maine Maritime Academy, chaired by Doug Adkins. Maynard Bray and Tom Jackson, authors of Worthy of the Sea, the definitive Nielsen treatise, will help orchestrate the presentation. 
Meanwhile, the Penobscot River between Old Town and Eddington, which has come alive with canoes for the past two years during the Whitewater Nationals Regatta, will be the site of the event for one final time this summer. 
This year's event, hosted as in the past by the Penobscot Nation, will take place June 28-July 2 on the river between Old Town and Eddington. The 9.5-mile section of river, which was returned to its free-flowing state following removal of the Great Works and Veazie Dams, includes three Class II-III rapids, numerous rips, and quick water. Register at paddleguru.com. 
---
Intrepid cruisers
Cabot and Heidi Lyman, founders and owners of Lyman-Morse Boatbuilding in Thomaston, owners of Wayfarer Marine in Camden, and of the 250 Main Hotel in Rockland, were honored by the Cruising Club of America with its Far Horizons Award for 2016. The award recognizes a CCA member for "a particularly meritorious cruise or series of cruises that exemplify the objects of the Club." 
In 1987 Cabot and Heidi, with their three young boys (Drew, Zach and Alex) slipped out of Thomaston, Maine, in their Seguin 49, Chewink, built by Cabot at his boatyard, and shaped a course down the coast to Annapolis. Thus commenced their three-year, 30,000 nautical mile circumnavigation. Chewink finally returned to Maine in 2006.
---
One island in Maine
A Maine island made famous in the iconic children's book One Morning in Maine will be protected as a place of inspiration and wonder. The family of writer and illustrator Robert McCloskey donated 6.2-acre Outer Scott Island in Penobscot Bay, off Deer Isle, to the Nature Conservancy last winter. The McCloskey family gave a conservation easement on the land to TNC  in 1974.
Daytime visitors are welcome, and the island is only accessible by boat. There are no services or hiking trails on the island.    
Share this article:
2023 Maine Boat & Home Show

Join Us for the Maine Boat & Home Show!
Art, Artisans, Food, Fun & Boats, Boats, Boats
August 11 - 13, 2023 | On the waterfront, Rockland, Maine
Click here to pre-order your tickets.
Show is produced by Maine Boats, Homes & Harbors magazine.