Boat launches, sharks, and working waterfronts
By Polly Saltonstall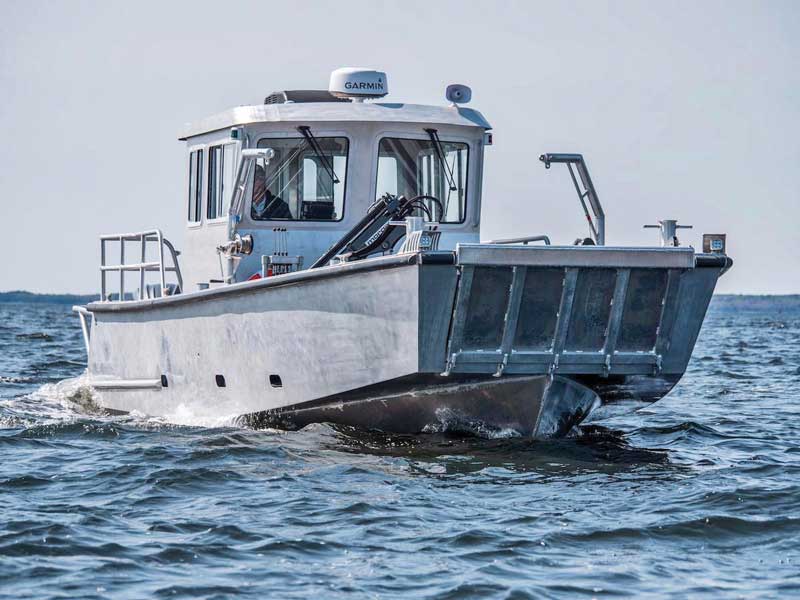 Lyman-Morse Fabrication recently launched this sturdy aluminum workboat. Image courtesy Lyman-Morse
LMF 33 Landing Craft
Lyman-Morse Fabrication's latest launch is a utilitarian workboat called the LMF 33 Landing Craft. The sturdy metal boat fills the niche for a high-quality and durable work vessel built to withstand the rigors of extreme marine environments, according to a company release. The aluminum hull allows operators to land the boat on rocky beaches without damaging the hull, while the wide-open bow functions as a stable and uncluttered work, cargo, or passenger space. Hull no. 1 of this series was commissioned by the University of New Hampshire's School of Marine Science and Ocean Engineering for work in their aquaculture research programs. UNH's model features a deck-mounted 3,300-pound crane for easy hauling of nets and traps.
The LMF 33 Landing Craft was designed by Response Marine.
---
Bigelow getting bigger
Bigelow Laboratory for Ocean Sciences is expanding. The lab announced a $30 million initiative to build an addition to its East Boothbay laboratory. It is being funded in part by an $8 million gift from the Harold Alfond Foundation.
Slated to be completed in spring 2025, the 25,000-square-foot addition will provide room to expand the institute's education, collaboration, and workforce development programs. Teaching labs will enable scientists to provide hands-on education to high school, undergraduate, and graduate students. They also will be used for professional courses teaching advanced scientific techniques. A two-story forum will provide a flexible gathering space for education programs and public events—such as Bigelow Laboratory's popular Café Sci talks. Collaborative spaces for solutions-focused science will be another significant part of the new center, which is being designed by Harriman Associates of Auburn, Maine.
In addition to the Alfond Foundation gift, the project is being supported by $12 million in federal funding and more than $9 million from individual and institutional donors. Fundraising will continue through June 2024.
---
Educating new home buyers
Stinky fishing gear and noisy boats that power up before sunrise—these are some of the aspects of a working waterfront that might come as a shock to new homeowners on the coast.
Hoping to educate new home buyers on what to expect when moving to Harspwell and Jonesport-Beals in particular, a group of organizations has come up with Scuttlebutt: A Guide to Living & Working in a Waterfront Community.
The idea began with a brochure produced a few years ago by Maine Sea Grant. Now, according to the Island Institute's Working Waterfront newsletter, Maine Coast Fishermen's Association, Harpswell Heritage Land Trust, the Holbrook Community Foundation, the Harpswell Anchor newspaper and website, and Cundy's Harbor Library have taken the concept up a notch or two. The publication welcomes folks to Harpswell, which in addition to having the longest coastline of any Maine town, also has 79 commercially zoned wharves. The brochure defines terms like access, commercial fishing, working waterfront, rights of way agreements, and working waterfront covenants. "Wharves are beautiful and full of activity, but they can be slippery, rickety, and potentially hazardous," one page notes. "Forklifts beep when backing up, bait trucks are noisy and smelly, boats have bright lights so they can see and be seen, and things are often moving quickly."
One of the ideas is that Scuttlebutt can be replicated in other communities, Monique Coombs, director of community programs at Maine Coast Fishermen's Association told the newspaper. "We think helping educate new and summer residents about living and working in a waterfront community allows us to celebrate commercial fishing and mitigate potential future conflict."
Scuttlebutt also offers advice on how to be a good neighbor by minimizing or eliminating the use of lawn fertilizers and insecticides, cleaning up after dogs, and using rain barrels to conserve well water.
---
Shark watch
There are more of these maritime apex predators in Maine than biologists had expected. That's the news in a recent report from the Maine Department of Marine Resources, which noted that 23 percent of white sharks tagged in Massachusetts—60 sharks out of 260 tagged—have been detected by receivers in Maine since research on the species began here in 2020, according to a story in the Portland Press Herald.
"When you think of how small an area our receivers cover, that's a lot. That's a pretty high return," Maine State Shark Biologist Matt Davis told the newspaper. "This data supports the idea that there is quite a bit of (white) shark activity in Maine."
This summer, biologists planned to focus their research on the coastline between Cape Elizabeth and Saco. Two receivers—one off the coast of Crescent Beach State Park in Cape Elizabeth and another near the mouth of the Saco River—instantly alert biologists and town officials of a passing great white shark. John Mohan, a shark biologist at the University of New England, also hoped to conduct drone surveys of islands in Saco Bay known to be gathering spots for seals, a chief food source for great white sharks.
Biologists already know a few Maine hot spots for white sharks: Hermit Island and Ragged Island near the Phippsburg peninsula. Archival receivers detected more than 10 individual sharks there in each of the past two years.
The Maine DMR stepped up monitoring efforts in 2020 following the state's first fatal shark attack off Harspwell, placing buoy receivers, in addition to monitoring seals wounded or eaten by sharks, and confirmed white shark sightings. The department is working with biologists at UNE as well as those at nonprofits in Maine and Massachusetts.
---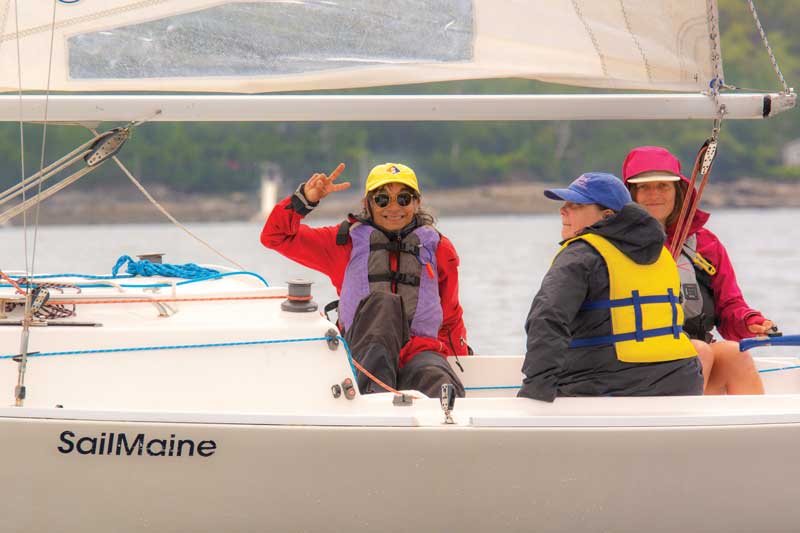 SailMaine hosted more than a dozen women at the annual Maiden Maine Regatta. Photo by Anne Blanchard
Women on the water
Thirteen women provided more than 30 women of all ages the opportunity to learn to sail at the 2nd Annual Maiden Maine Regatta for all Women in June at SailMaine's Waterfront Campus in Portland.
Attendees sailed around Portland Harbor, including Halfway Rock, Fort Gorges, and back to SailMaine. The event included a catered lunch with keynote speakers who spoke on how they learned to sail in a male-dominated sport by stepping out of their comfort zones to acquire new sailing skills and about owning their own sailboats, giving them a sense of accomplishment and personal growth.
---
New owner at Sea Tow franchise
Steve Arnold has added Sea Tow Portland/Midcoast, Maine, to his portfolio of marine businesses. Arnold owns Marina Holdings LLC, a family of businesses including Yarmouth Boat Yard, Moose Landing Marina, Freedom Boat Club of Maine, Maine Boating Academy, and now Sea Tow Portland/Midcoast.
Sea Tow Portland/Midcoast's Captain Bruce White will stay on as an ambassador. Captain Chris Davis will assume the role of general manager and will continue to oversee Sea Tow's on-water operations, according to a press release. Several other former employees will also stay on with Sea Tow, maintaining their current roles. Capt. Bill Tracy will continue to run Sea Taxi by Sea Tow, an on-water taxi service in Portland Harbor and throughout the islands of Casco Bay, under the new ownership.
Sea Tow Portland/Midcoast previously served Cape Porpoise to Pemaquid Point and the inland rivers. Under this new ownership, the company is expanding to include Sebago Lake, Brandy Pond, and Long Lake.
---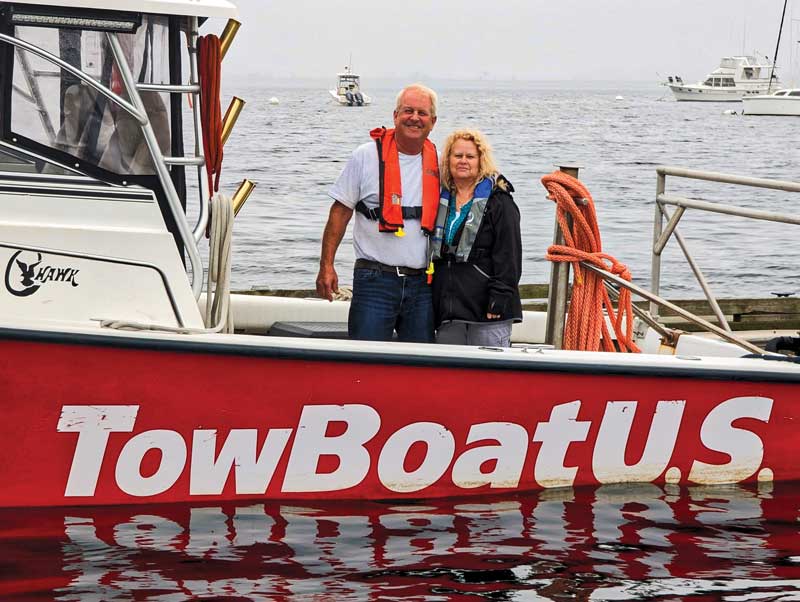 Capt. Darren Shute and his wife Penni.
TowBoatUS Castine franchise also changes hands
On-the-water boat towing and assistance service TowBoatUS Castine also has a new owner. Capt. Darren Shute, a Stockton Springs native and 25-year lobsterman, purchased the business from the estate of the former owner Bill Stevenson, who died in a car accident in October 2022.
"I want to thank Bill's daughters, Hanna and Olivia, and their mother Jody, for their graciousness and confidence in me to provide the same trusted service for boaters that Bill did," said Shute. Stevenson's daughters are continuing to run Pen Bay Marine with the hopes of finding a suitable buyer soon.
Shute, who had a 35-year career as an electrician / supervisor at the paper mill in Bucksport, is joined in the new business venture by his wife, Penni, who oversees business operations. Capt. Dick Horan, a familiar face on Penobscot Bay patrolling in TowBoatUS Castine's 26-foot red TowBoatUS response vessel, remains with the company as port captain.
Most recently, Shute had partnered with his son, Justin, at Stockton Springs Marine, a full-service boatyard offering storage, maintenance, repair and outboard sales business. Justin is now the sole owner of Stockton Springs Marine. Shute's TowBoatUS response vessel is stationed at Stockton Springs Harbor and provides towing, ungrounding, prop disentanglement, battery jumps, and fuel drop-off services up to 25 miles offshore.
---
Buck's Harbor Marina closes
Boaters looking for a shower, food, and fuel in Buck's Harbor this summer were out of luck after Jonathan Buck, owner of Buck's Harbor Marina, decided not to open the business and put it up for sale, instead, according to a report in the weekly Ellsworth American. The marina was listed with LandVest with an asking price of $1,825,000.
Buck and the town of Bucks Harbor have been at odds for more than two years over rental mooring violations issued by the harbormaster. Buck argued he was being singled out, and that the town and harbormaster had reduced the size of the marina's usable moorings to the point that the business was no longer feasible. Town officials said they were just enforcing existing rules. The harbormaster told the newspaper that the harbor remained open to visiting watercraft that can set anchor. "If the marina is not open, then less boats will come in. But there's still lots of room for boats," she said.
The dispute stemmed from a 2022 ordinance requiring transient moorings to meet certain standards. All other owners of transient moorings complied, according to the Harbor Committee, except for Buck's Harbor Marina.
---
Boat School working to re-open
The Friends of The Boat School Marine Trades Development Corp. has won a major grant to clean up hazardous materials from its Eastport Campus, moving steps closer to re-opening the school. The $675,000 Brownfield cleanup grant from the U.S. Environmental Protection Agency will allow the removal of potential threats to human health and the environment, including 1,2-dichloroethane, PCBs, mercury, solvents, petroleum products, and inorganic materials in and around the three industrial-style buildings of the 8.4-acre Maine Marine Technology Center campus. The site on Deep Cove Road includes The Boat School, Harborhood Community Center, and Deep Cove Marine Science Station, known as the BioLab.
"The award of the Brownfield Grant is the foundation of our mission to restore the Maine Marine Technology Center campus, home of The Boat School, to its historic role as a key economic driver and community resource," said Meg McGarvey, board chair of Friends of The Boat School.
The goal is to initiate extensive infrastructure renewal in 2024 and 2025, to renovate and outfit the three buildings for a project reopening in 2026, according to the friends.
All buildings have been unoccupied and unused since 2012.
Share this article:
2023 Maine Boat & Home Show

Join Us for the Maine Boat & Home Show!
Art, Artisans, Food, Fun & Boats, Boats, Boats
August 11 - 13, 2023 | On the waterfront, Rockland, Maine
Click here to pre-order your tickets.
Show is produced by Maine Boats, Homes & Harbors magazine.