Letters to the Editor - Issue 148
By The Editors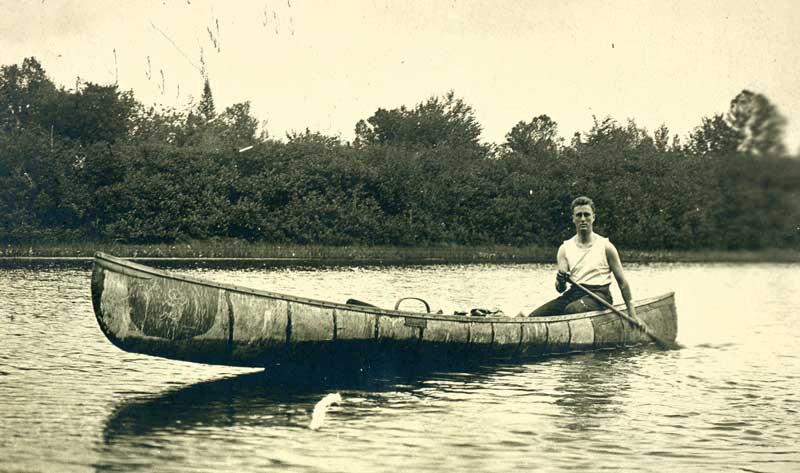 Which way does it go?
I have subscribed to your magazine for many years, and have not thrown away a single issue. Recently I have been looking over some of my collection. In the 2015 Winter Issue, I came across the photo of FDR in his birchbark canoe (at right).
Did the Passamaquoddy Indians usually paddle their canoes backwards?
James Eldredge
Centerville, MA
---
The nine-knot yawl of life
In your May/June issue, a letter writer asked about poet Robert Lowell's reference to a nine-knot yawl. Auctioning off a nine-knot yawl to lobstermen is a metaphor for Death itself, and especially the kind of dreary and incongruous readjustments that often follow.  
Even rigged for speed and achieving our personal nine knots, we can simply never hold that through the arc of our own personal summer. But while we do, life is very, very rich. As Robert Frost said in a similar vein, "Happiness makes up in height what it lacks in length."  
The ever-optimistic L.L. Bean catalog is filled with gear for summers ahead. But those things eventually rip or wear and disappear, just like Lowell's "summer millionaire." The iron-clad L.L. Bean guarantee ends here. 
With or without a nine-knot yawl, we can all feel like "summer millionaires." How generous of Robert Lowell to imply admiration for this man's rich life. How brilliant of Lowell to imply that so little actual wealth was involved that an auction was needed at the end; and lobstermen stepped in to help. Nothing like ending on a positive All-American note.
Paul R. Bilgen
Hanover, NH
---
In love with the Bridges Point 24
I've been a very happy reader of your magazine ever since it started. One of your early magazines contained an article on my wonderful house on Deer Isle. It was designed by the Blue Hill architect Bob Knight, and built by Peter Robbins and Jim Dinnan.
Your latest issue's article on Joel White reminded me that I've had a question that I've been planning to ask you: Did MBH&H ever carry an article on Joel's lovely Bridges Point 24? I know I read about the boat somewhere, and whatever article I saw stimulated me to buy hull #38 of Wade Dow's output. The boat is so great that it has been the greatest source of my enjoyment for the many years since the purchase date.
Your magazine is just as excellent as ever. It makes the high point of every month for me when it appears in my mailbox. Thank you for that.
Brad Perry
Needham, MA 
The story about Wade Dow ran in our June/July 2009 issue.  —The Editors
---
I before E 
I'm prompted to share a memory sparked by reading "Rowboat Returns" in Issue 147, with all due respect to Peter Spectre and the ever-more-complicated print editing process.
As a shirttail relative of the late and beloved Maine writer Lew Dietz, I can't help but hear the echo of his brother Bill's voice spelling out loud…. patiently, over and over again…"It's D-I-E-T-Z, Deets, not D-E-I-T-Z, Dites…."   I'm sure that Lew said the same more than once. Thanks for a lovely issue.
Anne Witty, Chief Curator
Maine Maritime Museum, Bath, ME
---
Boatbuilding and parenting
I was so touched by C. Daniel Smith's lovely, lovely memoir in your July/ August issue. Although I wouldn't know a dory from a dinghy, following this family's journey to the completion of their boat was inspiring. His final paragraphs moved me to tears, as he compared that project to the act of parenting. We all work hard to "build" our children, cherish the results, and trust the results of our efforts as we launch them away into life on their own.
Mary Ellen MacKin
Rockport, ME
---
Majestic moose indeed
Ron Joseph's moose feature reminded me of an encounter I had almost 20 years ago, while bird-hunting up in the King & Bartlett country. Late in the afternoon, I stepped out into one of those sweet little pocket meadows that interrupt the forest here and there—a mere acre or so of open space. The lush, knee-high grass was shining green and the surrounding hardwoods still had some of their brilliant fall foliage. I stopped and took off my hat and turned to face the setting sun...  and realized I had walked in on seven bull moose that seemed to be doing pretty much what I was: unwinding at the end of the day. Seven huge heads swung around to check me out. Their coats were getting long and had turned to a rich black, and even their antlers gleamed. The rut had gone by and these mature males were pals again. Peaceably, they decided I was no threat. Today I would have dug out my phone and taken photos; back then, I just stood with them and took it all in. Finally I stepped backward into the trees and left them to their social hour. 
"Charismatic megafauna" indeed. It will be tragic when they are gone from Maine, especially if it was our fault that this happened.      
    Silvio Calabi
    Camden, ME     
Share this article:
2023 Maine Boat & Home Show

Join Us for the Maine Boat & Home Show!
Art, Artisans, Food, Fun & Boats, Boats, Boats
August 11 - 13, 2023 | On the waterfront, Rockland, Maine
Click here to pre-order your tickets.
Show is produced by Maine Boats, Homes & Harbors magazine.