A Home Project
Have you ever wondered what your contractor's house looks like?
By Regina Cole
PHOTOGRAPHS BY DARWIN DAVIDSON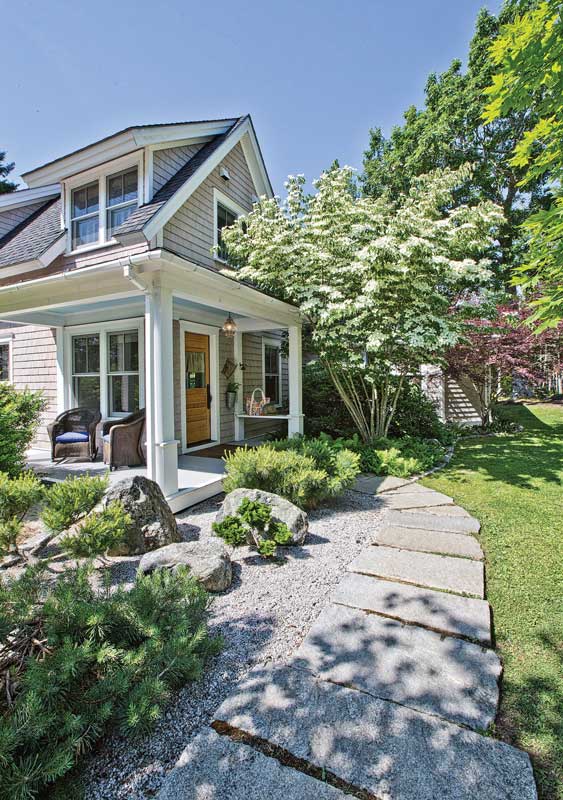 This Deer Isle house was carefully designed to fit the exacting requirements of homeowners who'd had time to think about it and, as contractors, had the benefit of seeing many other houses. When it comes to selecting the myriad design elements of a custom house, many homeowners become overwhelmed. There are so many choices, each loaded with long-term consequences. How to know what will work best, look best, suit the house, the lifestyle, the constant vagaries of aesthetics and trends? What if tastes change and that chic kitchen island looks hopelessly dated in five years?
Jeremy Stewart had no such problem. The Deer Isle builder has constructed 80 houses on the island over the past 45 years. When it came time to build a downsized home for himself and his wife, Robin, he knew exactly what he wanted. During all those years of building houses for other people, he had taken careful note of what he liked, what was especially functional, what he would do differently, and what would suit the wooded 6.5-acre site at the water's edge. He had also developed some strong opinions about what he did not want.
"I knew that I did not want everything to be new, or standard," Jeremy Stewart said. "I did not want a modern kitchen."
"When most people build a new kitchen, they get the latest, most stylish appliances," added Robin. "I wanted function." 
She has deep roots on Deer Isle, where her family operated Bartlett's Market in Stonington.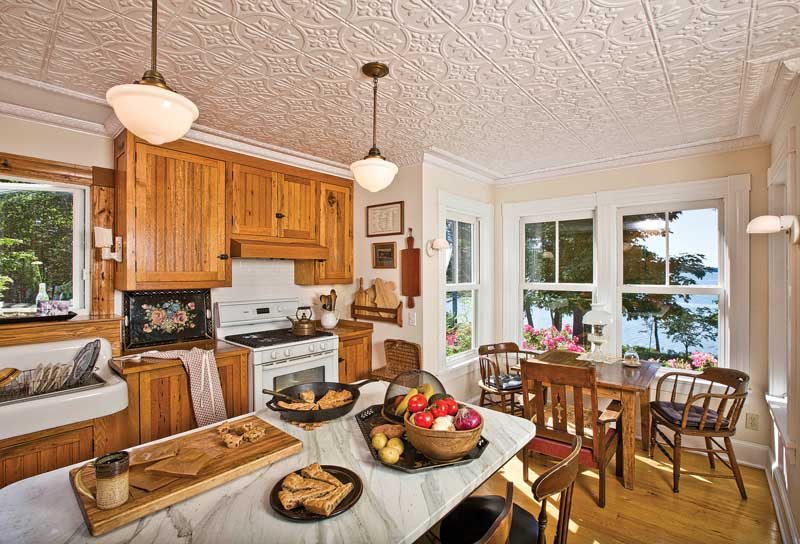 Oak kitchen counters, a stamped metal ceiling and reclaimed oak cabinetry proclaim this to be the kitchen of people who love old houses. The central island is an old tailor's table with a marble top; at one end is a pull-out shelf.
Jeremy first came to the area in the early 1970s, when he worked at the Blue Hill Hospital as an operating room technician. When a woman who had been stepped on by a horse came in for treatment, he asked her about getting horse manure for his garden. During the course of that conversation he learned that her husband was a builder on Deer Isle, and his father before that. One thing led to another. 
"He was in his late 60s and had a heart attack a few years later, so I helped them to finish the house they were working on," said Stewart.
Just like that, he had a new career. He and Robin lived on North Deer Isle, where they raised their five sons in a house Jeremy Stewart built. When the boys grew up and moved away, he began to design a new house for a lovely piece of waterfront land that he had purchased 25 years earlier.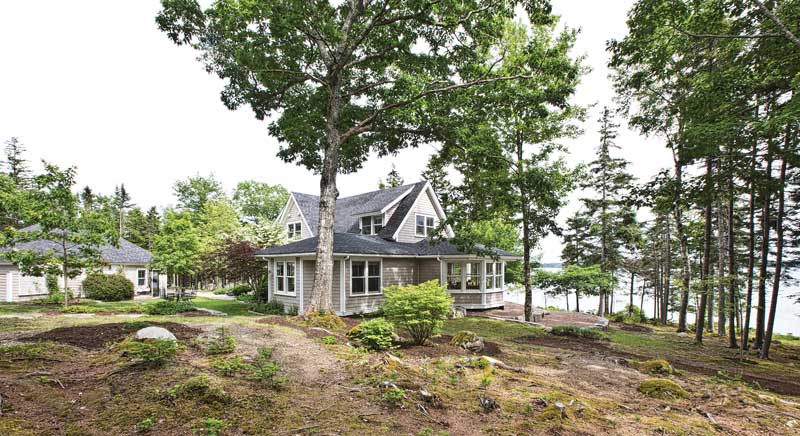 The house's design was oriented toward the view of the water, but windows also take in views of surrounding woods. Just beyond the house is Jeremy Stewart's workshop, which also serves as his music studio.
"We wanted a two-story house with a guest bedroom, a lot of storage, to have our own bedroom on the second floor, and to have as many rooms as possible with windows and views on three sides," said Jeremy. "We knew we wanted radiant heat on the first floor and a lot of glass so that it was all about the view."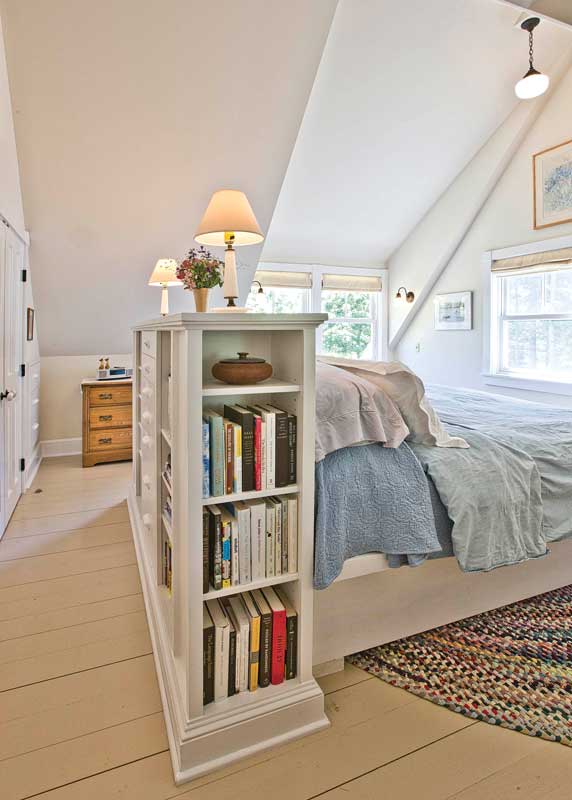 To make the most of every square inch, the bed's headboard is built into the room, providing storage on all sides and providing sleepers with a view immediately upon waking. The result is a house that focuses squarely on views of the water and woods, that personifies Jeremy and Robin's love for beautiful old building elements, and showcases things he has salvaged from construction jobs.
The doors leading into the kitchen, for example, are 19th century exterior doors distinguished by arched lights. The kitchen itself has a stamped metal ceiling, cabinetry built from reclaimed oak, hickory flooring, an old farmhouse sink, and an island composed of an antique tailor's table, complete with a wide pull-out shelf and topped with a slab of marble. The oak counters, which were built to two different heights, are finished with Tung oil and the windows feature traditional round corner blocks. A windowed alcove overlooking the water is the perfect spot for the breakfast table. Functional and well equipped, this kitchen looks as though it has been a center for family life for a long time, even though the house is only 10 years old.
The hexagonal living room, too, has handsome old exterior doors with arched lights. These are divided in the manner of a Dutch door. 
Initially the couple thought they only needed 1,300 square feet of living space. "But then we realized that we did need more space, so we added the sunroom," Jeremy Stewart said.
The room boasts 18-inch-wide old pumpkin pine floorboards and a beaded board ceiling. 
An old fir handrail on the stairs terminates at an antique newel post, both of which Stewart salvaged. Upstairs, the master bedroom ceiling soars to the peak of the roof, bringing drama to what might otherwise be a room on the small side. For optimum use of space, the bed is built-in, its head end formed by a case with bookshelves, drawers, and other storage. 
Stewart utilized the ceiling's slant to build storage into the wall above the bathroom vanity; the vanity itself is an old chest of drawers. 
The guest bedroom sees constant use by Robin and Jeremy's grandchildren, who have a playroom in the basement, which also includes a wine cellar and storeroom.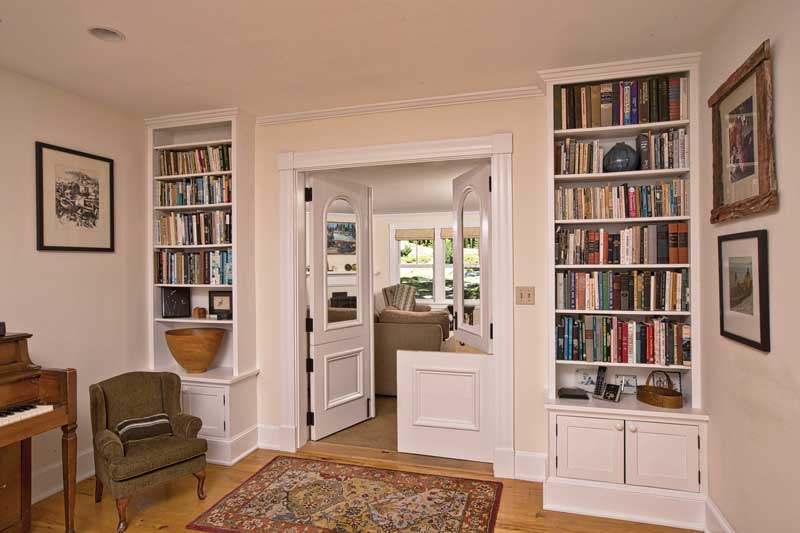 Jeremy Stewart used this 19th century exterior door on the interior, leading into the sun-filled living room.
When she is not entertaining her grandchildren, Robin can be found in her studio, a one-room building with a peaked ceiling and lots of windows, where she sews children's clothes and hand bags. Jeremy has his own workspace, a woodworking shop that doubles as a music studio.
The couple constantly finds new projects. A small Japanese garden is a case in point; it was inspired by a trip to Japan Jeremy took with a client. Hanoki cypress and Scotch pine twine over boulders set in pale gray gravel.
"We practically killed each other doing that," Robin said. "Placing the stones was important," her husband chimed in. "They had to go just so."
One of the great things about building on Deer Isle is the number of skilled craftspeople, said Jeremy. "There's a pool of guys who are really talented," he said.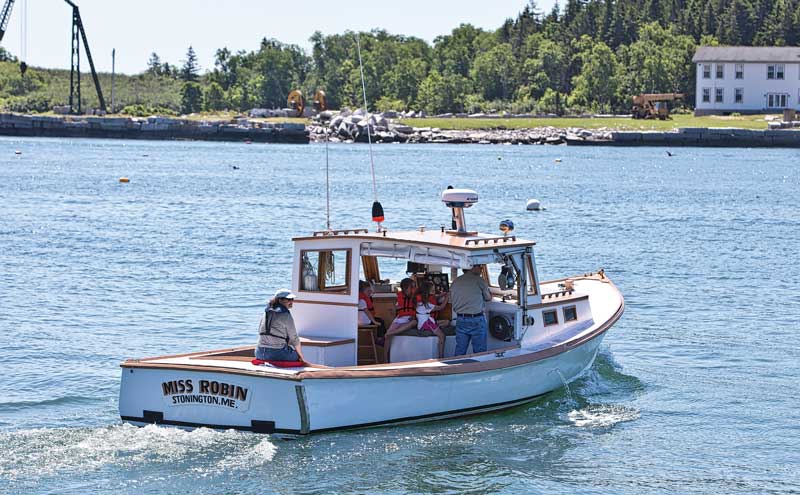 The Miss Robin, built by Harold Gower on Beals Island in 1966, is where the Stewarts spend time with their grandchildren.
During the summer months, the Stewarts like to take their grandchildren out on a boat they inherited from Robin's father. Named for Robin, it was built by Harold Gower on Beals Island in 1966. Like many of the parts of their new house, it is old, and built of wood. And, of course, the Stewarts think it is far better and more beautiful than its modern counterparts.
---
Regina Cole is a freelance writer who lives in Gloucester, Massachusetts. She writes about architecture, interior design, and the history of the American decorative arts for many national and regional magazines.
Share this article:
2023 Maine Boat & Home Show

Join Us for the Maine Boat & Home Show!
Art, Artisans, Food, Fun & Boats, Boats, Boats
August 11 - 13, 2023 | On the waterfront, Rockland, Maine
Click here to pre-order your tickets.
Show is produced by Maine Boats, Homes & Harbors magazine.