Chase, Leavitt & Co.
Serving mariners for five generations
By Clarke Canfield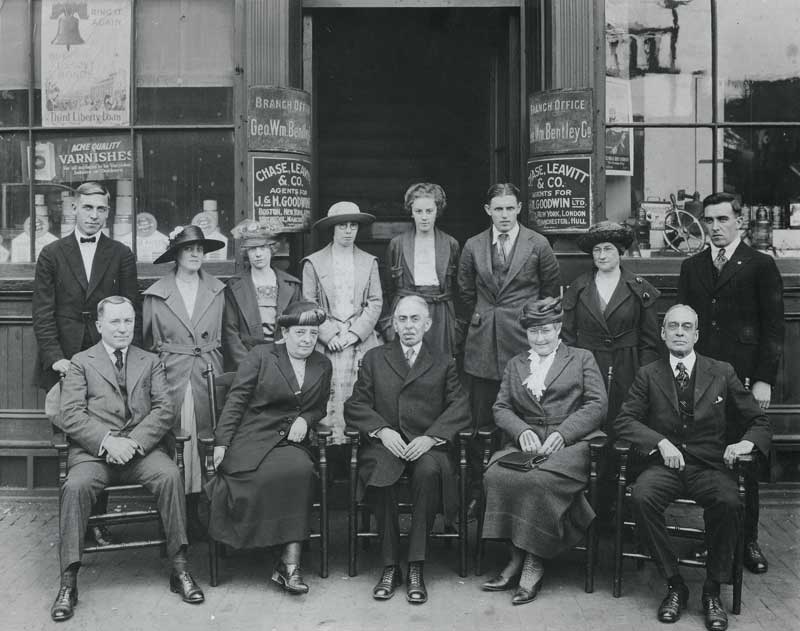 Chase, Leavitt & Co. employees and some of their spouses pose for a photo outside the company's Commercial Street store in 1920 prior to a seasonal company outing. That's William Leavitt, Jr. seated in the center and his son, Ralph, standing third from the right. Photo courtesy Chase, Leavitt & Co.
When Chase, Leavitt & Co. was founded as a ship agent in 1854, thousands of sailing vessels called on Portland each month as part of their global trading routes. Today, 169 years later, the company continues to serve as a shipping agent for cruise ships and cargo carriers, acting as a liaison between vessel owners and customs agents, local government officials, tugboat operators, dock owners, and others to make their port calls hassle-free.
While Chase, Leavitt & Co. continues its long tradition of working as a ship agent, the largest part of the family business is its marine safety and survival department. Every year, it tests more than 1,700 life rafts for commercial vessels and private yacht owners at its Portland and Ellsworth facilities. It also operates a retail division, known for its large selection of nautical charts in what is dubbed "The Chart Room," including paper charts, and chart books and kits.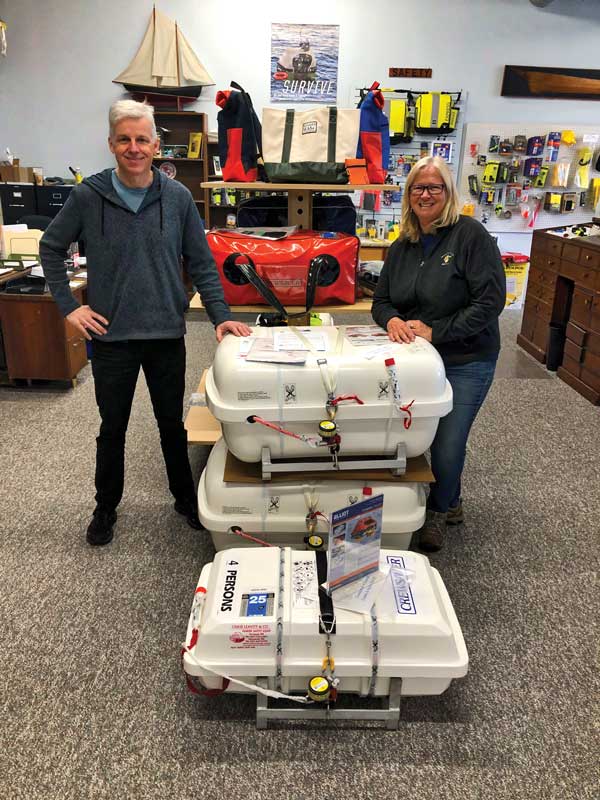 The Chase Leavitt store is now located in Portland's East Bayside neighborhood, where customers might be greeted by Chris Harrison or Robin Leavitt, who emphasize personalized customer service. Photo by Clarke Canfield
Jon Leavitt is now the president of Chase Leavitt, marking the fifth generation of the family to run the business. Capt. William Leavitt (1824-1911) was the first of Jon Leavitt's direct ancestors who ran the company, followed by his son, William Leavitt, Jr. Next up was Ralph Leavitt, whose son Bill Leavitt took over the firm in the 1960s. Jon Leavitt, the son of Bill Leavitt, came aboard in 1986 and became president in 2000.
With so much family history embedded into the firm, Jon Leavitt considers himself a steward of the company.
"I may not be doing the same thing as my great-great-grandfather, because we're doing different things," he said while giving a tour of the Chase Leavitt facility in Portland. "But I'm doing my best to keep things going and keep customers and employees happy. It's worked so far."
Chase, Leavitt & Co. has had several homes through the years in Portland—Commercial Street, Dana Street, Maine Wharf, Fore Street. Last year, it moved to a building on Cove Street in the East Bayside neighborhood where its neighbors include a yoga studio, a microbrewery, an art gallery, and a bicycle shop.
Pull into the parking lot and you'll face a one-story painted cinder-block building with a Chase, Leavitt & Co. sign on the side. Go through the front door and you'll enter the retail store, where you'll likely be greeted by Chris Harrison, who's worked there for 33 years. He'll be glad to show you everything from EPIRB distress beacons and first-aid kits to small Achilles inflatable boats, waterproof hand-held radios, and survival suits.
In the adjacent Chart Room, you'll find a huge selection of navigational charts that covers the East Coast from the Canadian Maritimes to the Caribbean, as well an assortment of navigational and other marine-related books.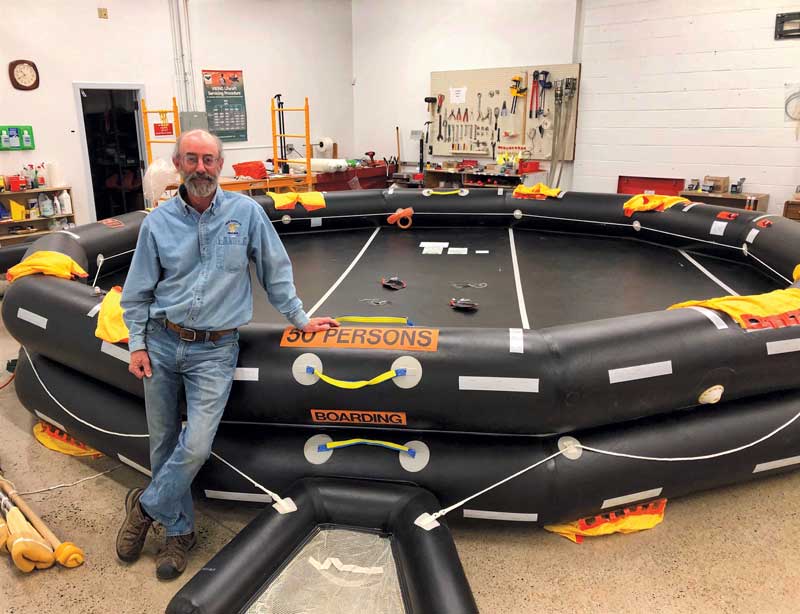 Testing life rafts for commercial vessels and private boat owners makes up the majority of the business for Chase Leavitt, which is now run by Jon Leavitt, the fifth generation of the Leavitt family at the helm. Photo by Clarke Canfield
But it's in a spacious back room where much of the action takes place. This is where Leavitt and other employees test an assortment of life rafts used by fishermen, ferries, tugboats, schooners in Maine's windjammer fleet, tour boats, and private yachts. The company has been testing life rafts since the 1970s, and on this day three rafts are being tested: a small four-person raft typically used by lobstermen, a 12-person raft that's suitable for mid-range boats, and a large 50-person raft owned by the Bar Harbor Whale Watch Co. Chase Leavitt also tests 100-person rafts and expects to add 150-person rafts to its itinerary.
The four-person rafts are the most common. Leavitt estimated that his customers include more than 1,000 fishermen and lobstermen.
Commercial vessels, by law, must have their rafts tested each year, although private vessels don't have the same requirement. Leavitt and his team do things like inflate the rafts to make sure there aren't any leaks, plug the relief valves to make sure they're in good condition, and check the seams to ensure they're not in need of repair. And when a raft needs to be replaced, Leavitt has new ones to sell.
"We don't make a lot of sales, but you know you'll be servicing them for years to come," Leavitt said.
In a typical year, Chase Leavitt tests about 1,200 rafts in Portland and another 500 at its Ellsworth plant. And Leavitt has seen the numbers grow through the years. "Things are picking up," he said. "There are so many more boats that have rafts than there used to be."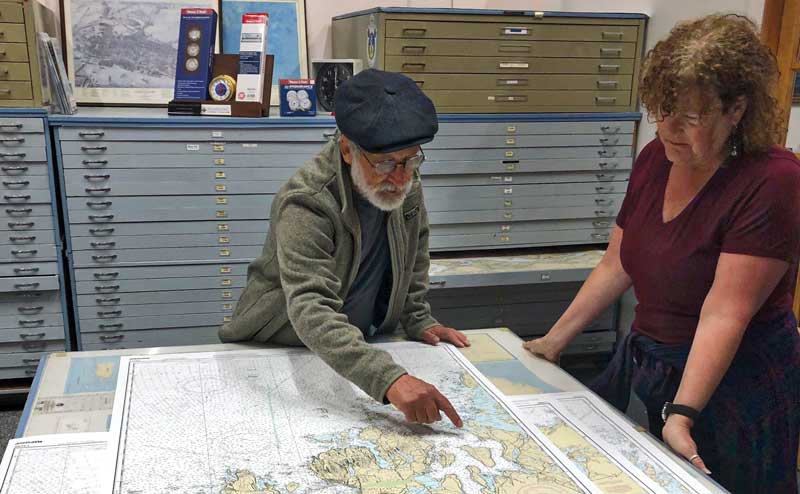 Customer John Pani of South Portland looks over a chart of Frenchman and Blue Hill bays, assisted by longtime employee Tracy Tingley. Photo by Clarke Canfield
Leavitt shares an office off the testing room with Shawn Moody, who is the company's shipping agent. He works with cruise lines such as Princess Cruises and Cunard Lines to make sure they have everything they need when they stop in Maine ports, acting as the go-between with harbor pilots to help them navigate into port, tugboats to help berth at the dock, and customs officials who help with the necessary paperwork. Moody also works with cargo carriers that come to Portland and Searsport carrying products ranging from salt and slurry to windmill blades for Maine's wind farms.
The company has 11 employees: eight in Portland and three in Ellsworth. The employees that test the life rafts must be certified by the raft manufacturers and the U.S. Coast Guard.
Harrison, who works the retail department, said the biggest challenge in the boating industry is to get more young people interested. Right now, he said, "the Baby Boomers are the industry." But he wouldn't want to work anywhere else.
"I like the customers and I like the industry," he said.
Jon Leavitt's wife, Robin Leavitt, handles marketing and runs the company website and social media. One thing Chase Leavitt doesn't offer is online sales. Instead, customers must place their orders by telephone or in person.
"We like to get people in here for personalized service," Robin Leavitt said.
The firm was first known as Littlejohn and Chase when it was founded in 1854 by retired sea captains Charles Chase and Charles Littlejohn. About the same time, a Capt. Edward Leavitt and a partner founded a similar business called Chase, Leavitt & Co. It's thought that Littlejohn and Chase (which had been renamed Charles H. Chase & Co.) may have taken over Edward Leavitt's business at some point after he died in 1863.
Jon Leavitt's great-great-grandfather, William Leavitt, didn't enter the scene until 1876, when he bought the company from Charles Chase. William Leavitt had been a sea captain, and one of his voyages ended in disaster after he sailed a shipload of lumber from Maine to San Francisco in 1850. A newspaper story from 1942 describes how the price of lumber had plummeted by the time Leavitt arrived in San Francisco on his ship, the Andrew Scott. In the end, Leavitt couldn't pay his crew and was forced to sell his vessel. He then hitched a ride on a ship to Panama, traversed to the Atlantic side, and hitched another ride north on a ship returning to Maine.
Today, Chase Leavitt is the largest life raft testing company in Maine, and one of only a handful in all of New England, Jon Leavitt said. Whether it'll be around for another 169 years remains to be seen.
"I don't know," Leavitt said. "But I'm not going to be here to see." 
---
Clarke Canfield is a longtime journalist and author who has written and edited for newspapers, magazines, and The Associated Press. He lives in South Portland with his wife.
Chase, Leavitt & Co.
84 Cove St., Portland, ME  207-772-6383
218 Bucksport Road, Ellsworth, ME 207-667-9390
Share this article:
2023 Maine Boat & Home Show

Join Us for the Maine Boat & Home Show!
Art, Artisans, Food, Fun & Boats, Boats, Boats
August 11 - 13, 2023 | On the waterfront, Rockland, Maine
Click here to pre-order your tickets.
Show is produced by Maine Boats, Homes & Harbors magazine.