Spring Trip to Brooklin
Touring one of Maine's boatiest coastal towns.
By John K. Hanson, Jr.
I headed east on a recent gloriously warm early April morning to visit some of the boat shops in Brooklin, Maine. I knew I wouldn't get to them all by any means, I had but one day, but I meant to try.


First stop was Brooklin Boat Yard, where I arrived conveniently at coffee-break time. I was able to hand Brian Larkin copies of the April/May issue of
Maine Boats, Homes & Harbors
magazine—the issue that shows his daughter, some would say scandalously, riding the bow of the yacht Bequia during last summer's Eggemoggin Reach Regatta. That photo, taken by Alison Langley, has raised concern among of a few of our more safety-conscious readers, as we knew it might. What a spotlight it casts, though, on the regatta, and on all that is thrilling about summertime sailing in Maine.


BBY's Bob Stephens then showed me the new W-37 sloop that Stephens, Waring & White Yacht Design had drawn for Donald Tofias and BBY is building. This boat is in what's known as the "spirit of tradition" class, with looks that hearken back 100 years but with the speed potential of a rocket ship. It will be launched this spring with a full racing schedule planned. Also on the main floor was
Stringray,
one of my favorite Ray Hunt-designed motorboats of all time, in the shop getting a little love.


Upstairs, Brian Larkin was building a replica of Scottie Too, a 25-foot John Hacker designed hydroplane from 1929. This boat will have its engine and mechanicals installed by Mark Mason of New England Boat & Motor in Laconia, New Hampshire. Then John Maxwell gave me a tour of some of the storage and service sheds. Spring is here.


 Down the street at Brion Reiff Boatbuilder, they had a cold-molded Herreshoff Alerion well along. This boat's construction and jigs will make sister ships an easy undertaking. Brion also had his first large boat in for restoration, a 1980's vintage IOR sailboat. This now qualifies as an antique, so classic yacht racers watch out.


 As I went down the road to Doug Hylan's shop, I passed Paul Brayton, who was finishing up work on his new push boat. It looks like an able workhorse.


At D.N. Hylan's shop, they had a small outboard-powered Whitehall-inspired tender just being finished and being readied for delivery. It will be teamed up with a new Trumpy motor yacht. Downstairs they were putting the final details on a new lobsterboat built to Doug's Diana plans. This beautiful boat is based on the traditional Beals Island design, and is headed to the Chesapeake.


 All planked up was Deliverence a 43-foot powerboat styled after the old oyster boats, which makes for a beautiful shape.


Brooklin has more in the way of boatiness than any other small town in Maine that I can think of. There is also a wonderful new store downtown called
The Cave
that sells fantastic chocolate, some of which I brought home to great applause.
Share this article:
Digital Edition Available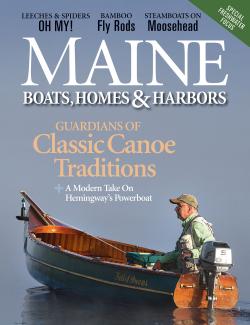 Can't get to the store to buy your magazine? We deliver the stories of Maine's coast right to your inbox. Sign up here for a digital edition.