John Williams Boat Company: Hawaiian Outrigger Canoe
Plans for Polynesian-style racing on Somes Sound
By Laurie Schreiber
Polynesian-style outrigger canoes are hugely popular in Hawaii and elsewhere around the Pacific Rim, where racing this ancient style of craft is commonplace. The sport has caught on elsewhere, too. The Liberty Challenge, for example, hosted in waters around Manhattan by New York Outrigger, is the largest outrigger regatta on the East Coast.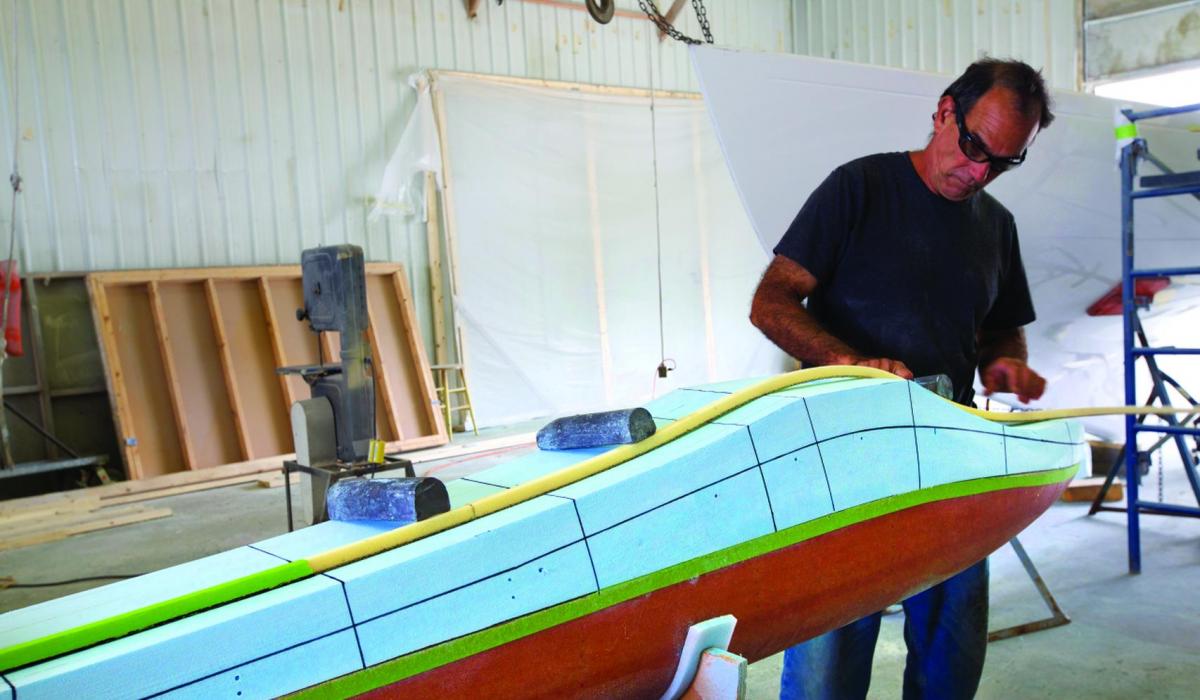 An expert maker of performance outrigger canoes, John Martin came from Hawaii to Maine to build a 45-foot canoe at John Williams Boat Company. He is shown here working on the boat. Photo by Alison Langley
Now John "Jock" Williams, owner of John Williams Boat Company in Hall Quarry, has brought the sport to Maine, with plans to build a fleet of four and form a racing club on Mount Desert Island's Somes Sound.
Williams became immersed in Hawaiian culture through his wife, Deborah, who is part Hawaiian. Her family roots trace back to King Kamehameha I, the 19th century unifier of the islands. The couple has traveled there every year since they married in 1963; these days, they stay through the winter, bringing their children and grandchildren out for visits.
In 2010, Jock began to help with the rehabilitation of Hokule'a, the Polynesian Voyaging Society's replica of an ancient double-hulled sailing canoe. For part of the project, he had his yard crew in Maine build nine 20-foot curved transverse beams, called "iakos," structural elements for Hokule'a. 
The process helped inspire him to invite his friend, John Martin, a prominent Hawaiian manufacturer of one- and two-person performance outrigger canoes, to Maine. 
Martin had an idea for a unique design for an open-class, six-person canoe. While the original wooden canoes and their fiberglass counterparts weigh around 400 pounds, the open class was established for innovators to create lighter designs.
"It's something he always wanted to do, and he wanted to do it with me," Williams said. "I said, 'Sure, you can come to the shop. It will be easier there.' So he came to Maine, stayed with us at the house, and we built the canoe."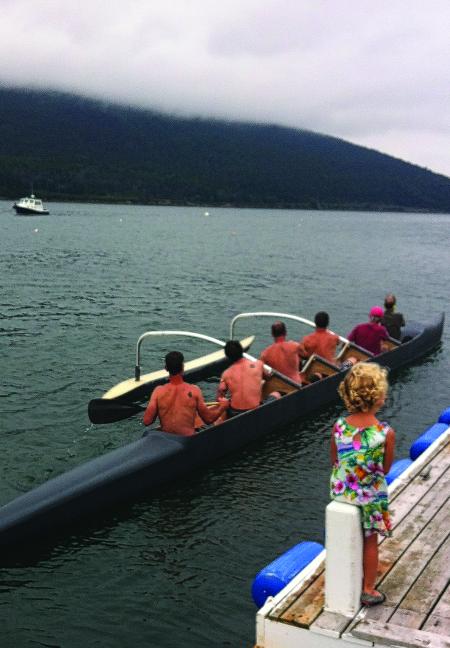 Six paddlers launch the craft at Somes Sound. Photo courtesy John Williams Boat Company Martin arrived in August 2014 and worked until Christmas to build the basic structure, then returned in June 2015. The boat was launched in August. The narrow, torpedo-like craft—45 feet long by 18 inches wide—was built in about 25 sections, each shaped progressively to fit into the next. Three-quarter-inch-thick foam core was applied in strip-plank fashion to conform to the curvature of the hull, followed on the exterior and interior by a lightweight fiberglass laminate and rolled-on resin. Produced by DIAB, a global supplier of high-tech sandwich-structured composites, the laminate consists of a layer of mat—glass strands randomly held together with a binder—stitched to a layer of woven biaxial glass. These hi-tech materials hold the boat's weight to about 220 lbs.
"This is a very distinct laminate," Williams said. "DIAB's lab worked it out for us. The laminate is very light. You have to get enough so that the canoe is strong enough, but no more than is actually needed. The seats and ribs enhance the strength, but we wanted to keep it as light as possible."
Unlike a traditional outrigger canoe, which has long overhangs fore and aft, reducing wetted surface, Martin's design is cylindrical, like a submarine.
"John wanted to see if he could build something that was unusually fast," Williams said. "So we sacrificed some of the design characteristics of the older canoes to provide us with a body that would go pretty damned fast. And I think it does."
The next step is to pull a mold from the first canoe, crank out three more, and talk up the sport among potential users—local boating centers and schools, for starters. Williams envisions a club using his yard as a base to launch the boats right into Somes Sound. He is considering bringing an instructor from Hawaii to teach paddling technique.
"There are a lot of paddling clubs, and hundreds and hundreds of canoes in Hawaii," he said. "It's fun and it's great exercise."      
Outrigger Canoe Specifications
LOA  45'
Beam  18"
Weight  approx. 220 lbs.
Designer:
John Martin
Hawaiian Designs
www.hawaiiandesigns.com
Builder:
John Williams Boat Company
Mount Desert, ME 
207-244-7854
www.jwboatco.com
---
Laurie Schreiber has written for newspapers and magazines on the coast of Maine for more than 20 years.
Share this article:
2023 Maine Boat & Home Show

Join Us for the Maine Boat & Home Show!
Art, Artisans, Food, Fun & Boats, Boats, Boats
August 11 - 13, 2023 | On the waterfront, Rockland, Maine
Click here to pre-order your tickets.
Show is produced by Maine Boats, Homes & Harbors magazine.