Big creatures, new boats, and twin sailors
By Polly Saltonstall
Maine-built boat sets new record
A boat built in Maine now holds the west-to-east transatlantic monohull sailing record. Comanche, the 100-foot super maxi yacht built at Hodgdon Yachts in East Boothbay, made the voyage from New York's Ambrose Light to Lizard Point in Cornwall, England, in 5 days, 14 hours, 21 minutes, and 25 seconds this summer. While still unofficial at press time, that time beat the current record by more than a day.
The previous monohull transatlantic west-to-east record was 6 days, 17 hours, 52 minutes, and 39 seconds, set in 2003 by Mari-Cha IV. The route is around 2,880 nautical miles.
Comanche is owned by Netscape co-founder Jim Clark and his Australian supermodel wife, Kristy Hinze-Clark. Built to be the world's fastest monohull, Comanche has been living up to that goal. In 2015, it broke the 24-hour monohull speed record, sailing 618 nautical miles at an average speed of 25.75 knots. 
But this is not the first Maine-built boat to set transatlantic sailing records. Way back in 1853, on her maiden voyage, Red Jacket, an extreme clipper ship built in Rockland, sailed from New York to Liverpool, England, in 13 days, one hour, and 25 minutes dock to dock. Her average speed on the trip was 14.5 knots. That record held until 1905 when Charlie Barr broke it by one day in the schooner yacht Atlantic. 
---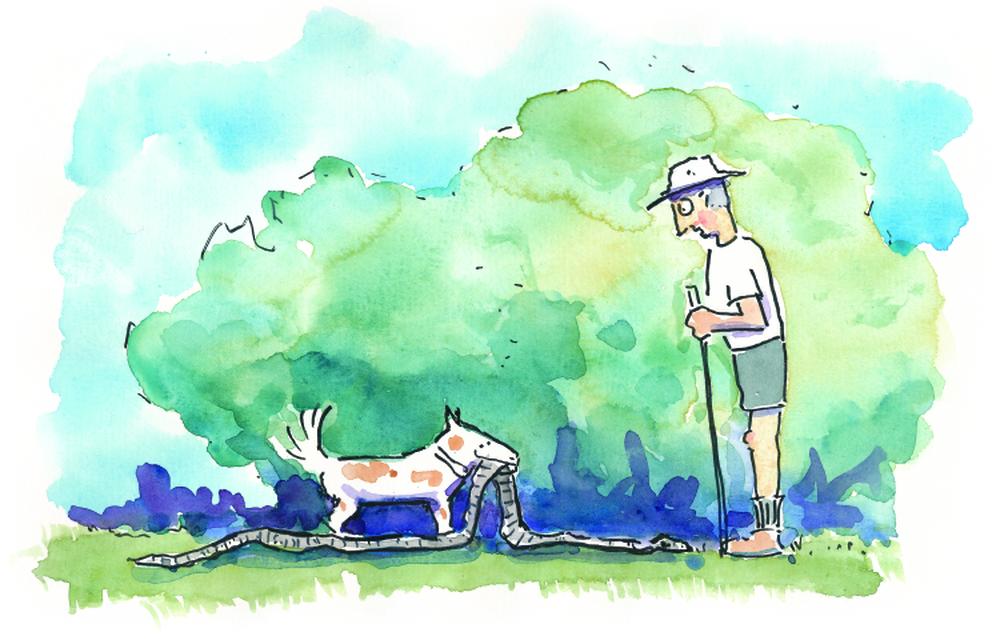 Illustration by Ted Walsh
Something snaky in the water
Residents of Westbrook, Maine, went on high alert in August after a huge snakeskin was found in a park along the Presumpscot River. DNA tests determined that the skin belonged to an 8- or 9-foot-long anaconda, a snake that most definitely is not native to Maine.
Westbrook police officers and a resident first saw the snake—which was dubbed "Wessie"—in June. Officers said they saw the snake eating what appeared to have been a beaver. Those sightings unleashed a flood of Wessie seekers and national attention. The snake acquired a Twitter handle that racked up more than 1,900 followers, describing itself as  "Hanging out in Westbrook, shedding my skin. Hungry. So very hungry. My head is not the size of a soccer ball. You'll never take me alive Westbrook PD!"
Westbrook Police Chief Janine Roberts said police do not know if the snakeskin was a hoax or left by a real anaconda. But the possibility of encountering a huge slithery reptile apparently scared off a number of competitors from a recent triathlon along the river.
Biologists say, and area residents hope like heck they are right, that an anaconda cannot survive the Maine winter.
Anacondas live in the jungles of South America and are part of the boa constrictor family. At press time, police were still looking for the snake.
---
Lost in transportation
Speaking of big creatures… A 15-pound lobster sold to a South Florida restaurant was spared from the lobster pot and sent to Maine, but it died before reaching its new home at the Maine State Aquarium. 
When word first spread about the big crustacean, a group of Florida activists managed to persuade the owner of the restaurant to save the lobster instead of serving it. The first attempt to ship it to the Maine State Aquarium in Boothbay was scuttled when FedEx sent him back. So the folks in Florida repackaged him, with some coaching from the Maine State Aquarium's staff, and sent him again, packed in a Styrofoam clamshell with seaweed and frozen gel packs intended to keep him cold. But he was dead when he arrived.
The lobster had been handled a lot, and spent a long time out of the water, a Maine Department of Marine Resources spokesman told reporters. "It definitely wasn't an ideal circumstance for sending this lobster alive and having it arrive alive."
It's not clear where the lobster was harvested. Maine law prohibits landing lobsters that are this large. 
---
Boats under construction
As the economy continues to improve, work has been picking up along the waterfront, and Maine boatbuilders have been busy with new projects. Front Street
Shipyard in Belfast has begun work on the first in a series of center-console power catamarans for Brevilla Boat Co., and Brooklin Boat Yard has begun construction of a custom 91' cold-molded sloop.
Hull no. 1 in the Brevilla line is a 48-foot composite catamaran with a 13'10" beam and 20" draft. This will be a fast, nimble sportfish boat with truly unique handling and performance capabilities. The Brevilla 48 will run at speeds in excess of 55 mph with twin 350-hp outboards, operating with a 30 to 40 percent increase in fuel efficiency over a comparably sized monohull, according to a news release from Front Street. 
Meanwhile, Brooklin Boat Yard began construction of a custom 91-foot cold-molded flush-deck sloop for a repeat customer, designed by Bruce Johnson and the yard's design office. Brooklin Boat Yard has asked Rockport Marine of Rockport, Maine, to construct the bare hull and install the ballast keel. The boat will then be towed on her own bottom to Brooklin, Maine, for completion. Plans call for the boat to be launched in the spring of 2018. The yacht is intended primarily for high-performance cruising. In addition to its flush deck, it has an aggressively raked bow and reverse transom. A twin-cockpit configuration keeps the center cockpit strictly for social interaction, with sail handling in an aft working cockpit. With a carbon fiber mast and boom, the double-headsail rig is operated by hydraulic furlers and the mainsail has hydraulic in-boom furling.
The interior includes a laundry room, a crew cabin with private head and stall shower, two guest staterooms (one with ensuite head and stall shower and the other with a day head, also with separate shower), and a full beam master stateroom with an ensuite head with stall shower. 
The yacht will be constructed of cold-molded laminated wood using West
System epoxy resin and vacuum bagging.
---
New president at Hinckley, promotion at Hodgdon
The Hinckley Company has announced the hiring of Pete O'Connell as its new president, and Hodgdon Yachts, fresh off the celebration of its 200th year in business, has announced the promotion of Audrey Hodgdon to director of sales and marketing. 
Peter O'Connell is Hinckley's new president and chief executive officer. He and his family live in Madison, Connecticut, but plan to relocate to Rhode Island, the company said in a release. "Peter is an experienced and avid boater and also the proud owner of a Hinckley Picnic Boat, Retriever," the release noted. "He embodies exactly what we sought for this important role. His experience as a Hinckley buyer and service customer provides useful insights and perspectives."
O'Connell's previous experience includes serving as CEO at Navtec and Lewmar. He most recently served as CEO of Datacom Systems, a privately held technology company.
In East Boothbay at Hodgdon Yachts, Audrey Hodgdon, who is the daughter of company CEO Tim Hodgdon, is the sixth generation of the family to work at the company. For the past two years she has been the marketing manager. Audrey will focus on accelerating Hodgdon's presence in the custom sail- and powerboat market, as well as increasing the Superyacht tenders division.
Audrey's career background includes working in New Zealand at High Modulus, a composites design and engineering firm in the marine industry. More recently she worked at Diversified Communications, an international media and event management company.
---
Seeking eternal youth
Sea urchins don't appear to age, and researchers from Maine and Bermuda want to know why, according to a story in the Portland Press Herald. The answer could have implications for slowing the aging process in humans.
Research by James Coffman, a scientist at the MDI Biological Laboratory in Bar Harbor, and Andrea Bodnar, a scientist from the Bermuda Institute of Ocean Studies, has found that sea urchin cells do not degrade, like the cells in humans or most other creatures.
So how do sea urchins die? "It's a mystery," said Coffman. He listed accidents, infections, and predation as key factors.
The sea urchins used in the study were collected from waters off Bermuda, San Diego, and British Columbia.
---
Mainers win 1,000-mile paddling race
Not only are Mainers good at building boats, they can handle them pretty well, too. Terry Wescott, 67, of Thorndike, Maine, and Brad Krog, 63, of Bowdoin, became the first team to win the Yukon 1,000, a wilderness canoe and kayak race on the Yukon River, held in July for the sixth time since 2009. They also became the oldest team to finish the 1,000-mile unsupported journey across Canada's Yukon Territory and Alaska, according to a report in the Portland Press Herald.
"We just paddled at a pace that we could sustain for 18 hours a day," said Wescott. "We passed two small towns and three Indian villages. That is all there is out there. There is not even a road into the Indian villages. They are accessed only by plane or boat."
On their best day they covered 156 miles; on their worst, in pounding rain and with strong winds, they paddled 60 miles in 12 hours. They carried their own food and tent, and sometimes slept only a few hours a night.
In the end, they beat six other teams, including one from the British Special Forces and another that had set the record for the fastest trans-Atlantic passage in a canoe.
Every team was required to have a first-aid kit, water purifier, food for two weeks, and pepper spray to ward off grizzly bears.
Krog said they paddled 950 of the 1,000 miles alone, and the second half of the race required reading the river without the aid of the GPS.
"What it brought to light was that I don't think any of us know our limits, unless we go and try," Krog said. "Our better years are probably behind us. But as it turned out, we were better than we thought."
---
Sailing twins show teamwork
Identical twin brothers Peter and Warren Galloway sailed to first place in the Club 420 Maine State championships in August. 
Representing the Camden Area Youth Seamanship Program, the Galloways attend the Watershed School in Camden. Their father Peter Galloway is the head of school for Watershed. 
Having raced for more than four years with the Rockland Community Sailing team, the brothers have developed into strong and consistent skippers and crew, Peter Galloway said. They teach sailing through the Camden Area Youth Seamanship Program at the Camden Yacht Club during the summer.
Entering their senior year at Watershed, the Galloways are looking forward to a strong season on the high school circuit in the fall and spring before taking their talents to the college level.
---
DeLorme Gazetteer to stay in print 
When the Yarmouth-based DeLorme company was sold last year to Garmin, many worried the new owners might ditch DeLorme's beloved print Atlas & Gazetteer, particularly the Maine edition. You can stop worrying. The new owners took a good look at the numbers and the results were positive.
"We have concluded that these venerated, highly respected products will not only remain as a part of Garmin's offering, but will continue to be enhanced in the coming months and years," Ted Gartner, Garmin's director of corporate communications, said in a release. The DeLorme gazetteers are unique in that they combine the latest digital technology with the input of human editors who verify travel information and map details, to ensure clarity and accuracy, he said.
---
New ferry for Isle au Haut celebrated
Just about everyone who lives in the rugged island community of Isle au Haut, located off Stonington, was on hand this past summer for the arrival of Otter, the newest ferry to serve the island, according to a report in the Ellsworth American.
The new ferry is a big deal for Isle au Haut. Unlike many year-round island communities that are served by the Maine State Ferry Service, the boats of the private Isle au Haut Co. provide the only regular transportation to and from the island. The delivery of groceries, mail, and propane fuel, and the transportation of high school students and construction workers had all been dependent on the company's aging mailboat The Mink, now joined by Otter.
Built by Wesmac Custom Boats in Surry, the $800,000-plus cost of the new ferry was funded almost entirely with private donations. According to company president George Cole, gifts came from the Friends of Acadia and the Maine Coast Heritage Trust, members of the Isle au Haut Co. board, and people with connections to the island.
---
Preserving land on shore, and at sea
After years of debate between supporters and opponents in Maine, President Obama took matters into his own hands, and turned a vast stretch of the northern Maine woods into a national monument, siding with conservationists who wanted the land protected, and disappointing the many residents and officials who opposed Washington's intrusion and restrictions on land usage.
The new Katahdin Woods and Waters Monument includes 87,500 acres of rugged terrain that was donated by Roxanne Quimby, a founder of the Burt's Bees product line. 
Then President Obama went on to create the Atlantic Ocean's first marine national monument. The new Northeast Canyons and Seamounts Marine National Monument consists of nearly 5,000 square miles of underwater canyons and mountains located about 130 miles off Cape Cod. The White House said the move will lead to a ban on commercial fishing, mining, and drilling, though a seven-year exception will occur for the lobster and red crab industries. Others, such as whiting and squid harvesters, have 60 days to transition out. Recreational fishing will be allowed within the monument.
Supporters say protecting large swaths of ocean from human stresses can sustain important species and reduce the toll of climate change. Fishermen worry it will become harder for them to earn a living.
---
Now a little pat on the back for us!
Maine Boats, Homes & Harbors magazine was honored with six awards, including being named a 2015 finalist for magazine of the year by the International Regional Magazine Association (IRMA). Members of IRMA include state, provincal, and regional publications from across the U.S. and Canada. MBH&H was one of three finalists in the under 30,000-circulation category.
"The wide range of stories was impressive in this magazine. I loved reading about minimalist living on a boat, restoring old boats, and the crafts and businesses that pop up around the community. Great reading!" wrote one judge. "Content covers a compelling array of subjects. Consistent to the overall message, but surprising and enjoyable," wrote another.
Other awards included a silver medal for a general feature in a category that included magazines of all circulation levels for a story about long-distance ocean swimming by Hodding Carter ("Beyond the Black Lines" #137). "Nice work. Great to see this quality in a smaller regional magazine," the judges wrote. MBH&H writer Paul Molyneaux won a bronze for essay writing for his story about building a skin-on-frame kayak with his son ("Roll or Die"#133). An award of merit went to "Baskets with Spirit" by Billy Ray Sims, which profiled Native American basketmaker Jeremy Frey. "Wow, this is how you cover an artist's story," the judges said. An award of merit for a travel feature went to Mimi Bigelow Steadman's essay about Eagle Island and Admiral Peary's home there on Casco Bay (Small Adventures #137). In the under 30,000-circulation category, James Craig's article about the Kittery-based eagle carver John Haley Bellamy earned an award of merit for historic feature ("American Eagle" #134). Read all of these stories by clicking on the links.     
Share this article:
2023 Maine Boat & Home Show

Join Us for the Maine Boat & Home Show!
Art, Artisans, Food, Fun & Boats, Boats, Boats
August 11 - 13, 2023 | On the waterfront, Rockland, Maine
Click here to pre-order your tickets.
Show is produced by Maine Boats, Homes & Harbors magazine.