New Energy and a New Owner Spark a Rebirth
Boatyard Profile
By Bill Mayher
Photographs by Polly Saltonstall
Boatyards seem like a threatened species these days. Escalating waterfront real estate prices, lack of skilled workers, environmental issues, and zoning pressures all have taken a toll.
So imagine the relief Brooklin, Maine, residents felt when they heard that Atlantic Boat Company, a yard on the shore of Herricks Bay, was undergoing a significant renaissance.
The operation, which was formed in 1995 when lobsterboat builder Duffy & Duffy merged with Flye Point Marine, had successfully built fiberglass lobsterboats for several decades before taking a hit in the Great Recession a decade ago. There it sat, semi-moribund, waiting for a knight in shining armor to inject energy and cash. The knight showed up in 2009, just two weeks before the bank was set to auction off the yard. Cy Hannon rode in from Silicon Valley in search of an active retirement project.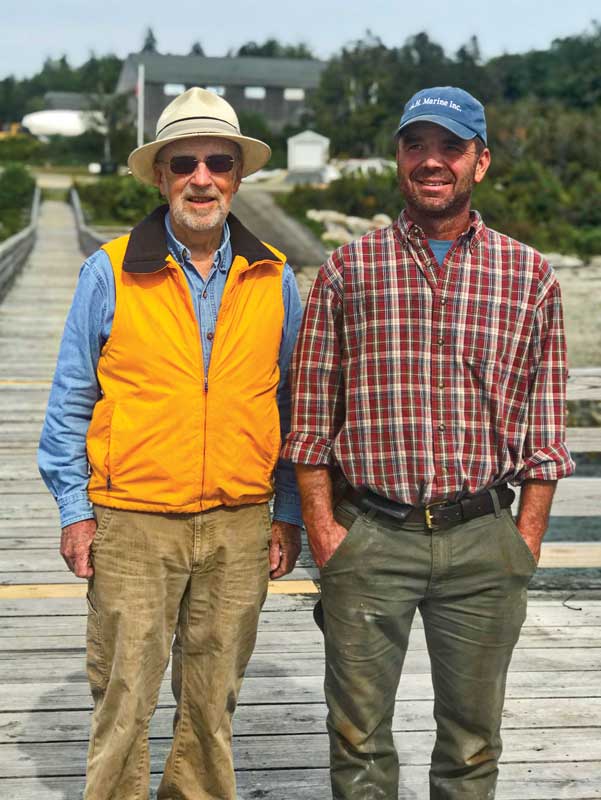 Cy Hannon, left, bought Atlantic Boat Company just days before the yard's assets were scheduled to be sold at an auction. With the help of General Manager Al Hutchins, right, Hannon has revitalized the Brooklin-based yard. Hannon defies easy characterization. He is a native of Fortune Harbor, Newfoundland, where from the age of 14 he worked summers for his father's construction crew, building and maintaining a railroad. His first job was as a "water nipper," which meant he pushed a water cart with a dipper along the line to quench the thirst of laborers hacking railroad bed out of the tangled, taiga wilderness.
Hannon learned a lot in those years. He grew comfortable with the rough-and-tumble crew, many of whom fished for cod on the Grand Banks in winter months. By 15, the book-minded kid was filling out time cards for the operation and, by the time he headed off to college, his natural facility with numbers led him to study engineering. 
Upon graduation, he ended up in California's Silicon Valley, where he became expert in the manufacture of semi-conductor wafers, a core element in the burgeoning digital revolution. After a successful career there, he was recruited to build a multi-billion-dollar semi-conductor facility in Malaysia—a project he pulled off in three years. Following this success, he was ready to move to Brooklin, Maine, ease up a little, and take on Atlantic Boat. 
Brooklin drew him in particular because his wife, Tania, comes from Maine and they recently had built a retirement house along the Eggemoggin Reach. With a considerable retirement nest egg in hand he could have become a philanthropist, serving on boards and doling out money to worthy causes with time left over for golf. Instead he opted to re-energize a local business, providing good jobs to people who could then afford to live in town and send their children to the local school.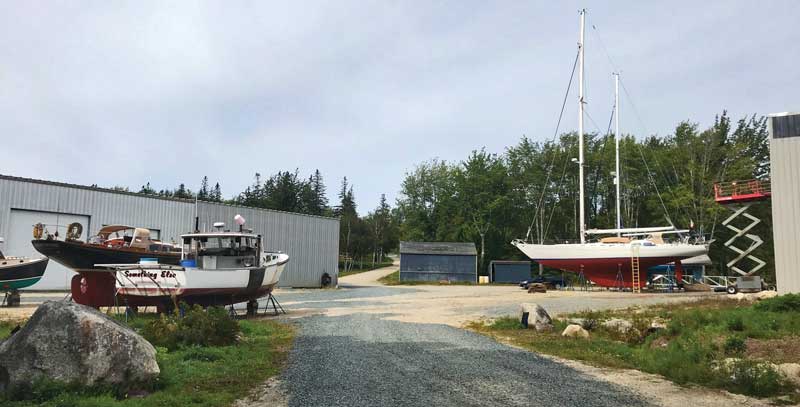 Key to the yard's success has been a dramatic increase in service and storage work, in addition to new builds, using the Duffy & Duffy molds as well as finishing off other hulls.
Hannon is a systems guy, a linear thinker. He identifies an organiz-ation's problem and creates a system to deal with it. Down on Flye Point at the far end of the sparsely populated Blue Hill peninsula, the problem at Atlantic Boat was finding sufficient skilled labor to do high-end work on expensive yachts for demanding customers.
Hannon's solution was to create work protocols that sliced up mechanical and finishing jobs into comprehensible chunks. This included checklists and spreadsheets to guide technicians step-by-step to a happy conclusion in which, come spring, a recently launched boat would sail down the bay with her engine humming, bills paid, and a satisfied customer at the helm. 
The system he set up works, for sure. But he couldn't have managed the Atlantic Boat renaissance without bringing in Al Hutchins as a partner.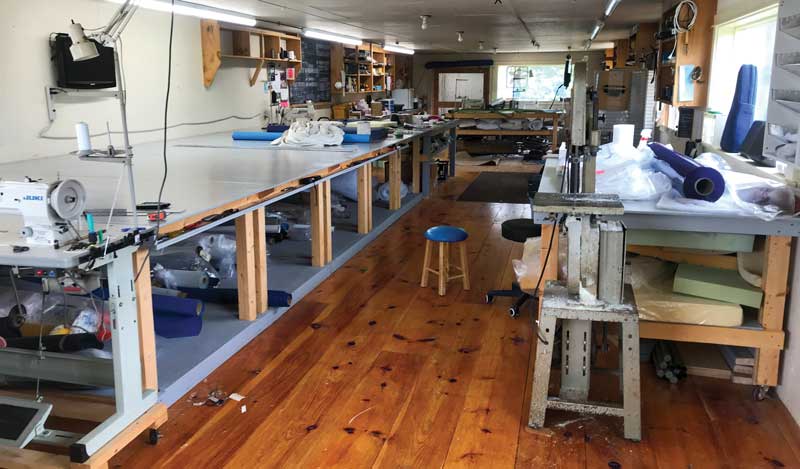 Hannon has brought in ancillary businesses to the yard, such as this upholstery shop, Vinyl Destinations.
Hutchins is a local guy who has been building things and fixing stuff since he was a kid—welding, mechanical work, lobstering, carpentry, hydraulics, electronics, dock building, running a barge with a crane, that sort of thing. Hutchins is not afraid to jump into a
situation and then figure it out as he goes. Bright, resilient, and honest in a way that comes naturally to people who have grown up in the face-to-face world of small-town Maine, he shows up and gets it done.
The most remarkable thing about Al Hutchins, though, is his emotional intelligence. With an easy smile and knowing chuckle, he approaches the world as if he is sure most situations will work out. In addition to managing the day-to-day operations at Atlantic Boat, Hutchins runs A.H. Marine out of the site, maintaining moorings and floats.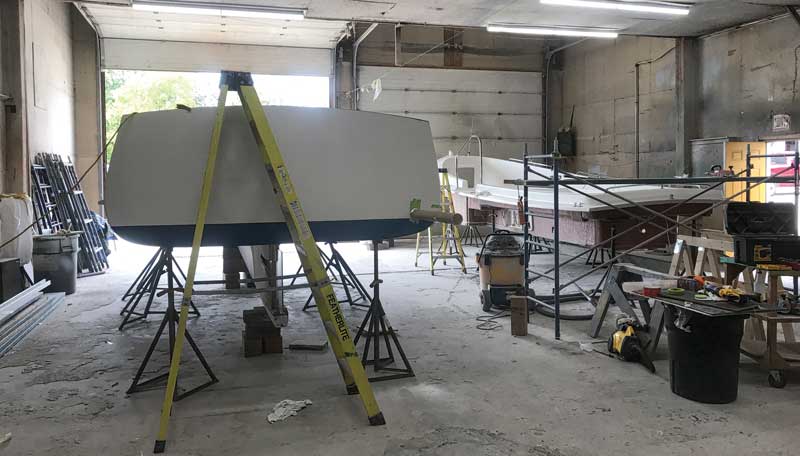 Built on one of the yard's several Duffy & Duffy molds, this 26-foot boat is the seventh that the yard has built as a yacht club or mooring support launch. It is Coast Guard certified to carry up to 24 passengers. On a recent fall day, in another one of the yard's workshops, a crew was working on another Duffy hull that they had built without a keel as part of an experiment to see how the hull might handle power by an outboard instead of an inboard engine.
The yard sits on 37 acres with 70,000 square feet of covered space for new construction and storage. Because of its topography, instead of using a Travelift (the norm these days), the yard hauls boats using a hydraulic 25-ton trailer on a paved ramp—plans call for adding a 45-ton trailer next spring. The system turns out to be surprisingly efficient. In most cases, just two men can get a boat (up to 65 feet long and 9 feet deep) out of the water, power-wash its bottom, and move it onto jack stands and into a storage building in something like an hour. The yard stores as many as 100 boats in outside storage, inside storage in unheated sheds, and inside storage in heated buildings—an interesting range of choices all at different prices. 
With these kinds of resources smoothly functioning at Atlantic Boat, a renaissance is under way. The crew of 20 employees is building a couple of fiberglass pleasure and work boats and several launches for yacht clubs, and they are finishing off one lobsterboat and totally rebuilding another. Upholsterer Davis Bradshaw rents space on site for his shop, Vinyl Destinations; and David Dillon roasts his Bucklyn Coffee beans in a small space on the waterfront—he sells the beans wholesale and also runs a café in Blue Hill. Teams of professional riggers come in to inspect rigging and step masts, and imported specialists come in for custom paint jobs.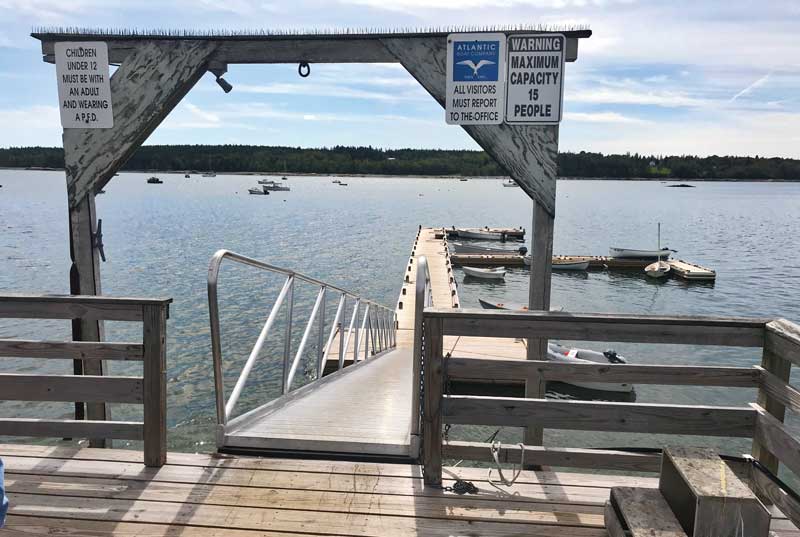 Although the water at the dock is shallow, just a few feet at low tide, the yard has 25 moorings, for transient boaters and regular customers.
In addition to providing space for Dillon, a former waterfront storage shed has been renovated to include a small three-bed efficiency apartment for customers and friends. About half of the yard's 25 moorings are available for transient boaters.
Besides these assets, there is the yard's prime location on Herrick Bay smack in the middle of some of the most appealing cruising grounds in the United States if not the world.
Stretching from Schoodic Point through Casco Passage and the Eggemoggin Reach or the Deer Isle Thorofare through East Penobscot Bay and into the Fox Island Thorofare and then across to the Mussel Ridge channel… well you get the idea. This is paradise for the sailor, pure and simple. And Atlantic Boat sits in the midst of it all, standing by, ready to help.  
---
Bill Mayher lives in Brooklin, Maine, and is one of the founders of the maritime web site offcenterharbor.com.
Atlantic Boat Company
355 Flye Point Road, Brooklin, ME
207-359-4658
Share this article:
2023 Maine Boat & Home Show

Join Us for the Maine Boat & Home Show!
Art, Artisans, Food, Fun & Boats, Boats, Boats
August 11 - 13, 2023 | On the waterfront, Rockland, Maine
Click here to pre-order your tickets.
Show is produced by Maine Boats, Homes & Harbors magazine.