Mainely Gourmet - The Lost Kitchen, Belfast, Maine
A Labor of Love
By Kim Ridley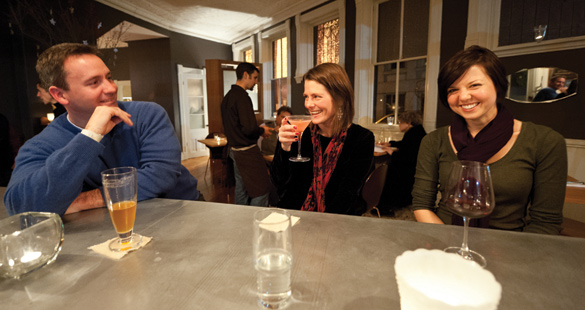 The restaurant's owners renovated the historic building, which dates to 1878, themselves.
Photos by Georges Nashan
When the fancy new convection oven blew up on The Lost Kitchen's fourth night of operation last November, owners Erin and Todd French did what any determined self-starters would do: they hauled down their four-burner electric range from their upstairs apartment and carried on. It had, after all, gotten them through the previous 10 months as Erin tested out her recipes in The Lost Kitchen's first incarnation: a "secret" supper club that served weekly dinners for 24 guests. Not knowing about the oven mishap, my husband Tom and I stopped in for dinner a few nights later, a Saturday, with our friends Cathy and Ric. The building was easy enough to find: an elegant, 19th-century flatiron on the corner of Main Street in downtown Belfast. The only sign we spotted at first, however, was a scrap of cardboard hand lettered with black magic marker. Propped next to a few artfully stacked pumpkins on the doorstep, it simply read, "Open at 5 p.m." The Lost Kitchen doesn't take reservations, so we arrived just after 5:30 to make sure we'd get a table. Well, that didn't happen; we were told it would be a 45-minute wait. Rather than be Mainers about it and go someplace else, we found seats at the sleek zinc bar.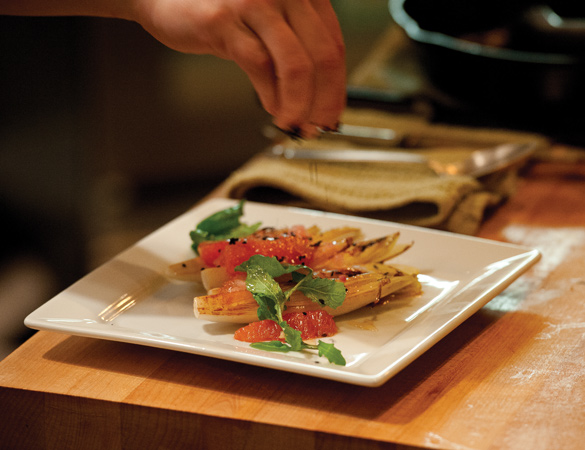 The overall effect is of pared-down elegance.
Alicia Richardson, Erin's sister and an aspiring nutritionist, warmly welcomed us and ran down the evening's drinks as we perused the small but well-rounded beer and wine list. Although the ginger-cilantro martini sounded like something my friends who are doing cleanses are swilling these days minus the vodka, I decided to give it a try. It was the most perfect cocktail I've had in a long time: refreshing, nicely balanced, and not too sweet. We ordered Belgian frites sprinkled with herbes-de-provence and crispy parsnip ribbons to nibble with our drinks. The latter were especially good, light and sweet. The bar proved to be the ideal perch from which to take in Hopperesque views of Main Street and the steady stream of patrons: a mix of well-heeled transplants and low-key locals, plus a couple of young farmers in hand-knit caps and a 20-something sporting a precision-spiked Mohawk. I stopped checking my watch after two hours. Moments after we were finally seated at a table with profuse apologies for the wait, our server, Brian, brought a treat from the kitchen: four small, succulent fried oysters served on the half-shell with a crunchy celeriac and apple slaw, and a dollop of horseradish aioli.
We ordered Belgian frites sprinkled with herbes-de-provence and crispy parsnip ribbons to nibble with our drink.
The menu featured mostly small plates that could be combined into a meal or not, and three entrées, all of which starred fresh, local ingredients simply prepared. Ten Maine-made cheeses served with various condiments rounded out the selections. It was news to me that people are raising water buffalo in Maine, so I had to try the local water buffalo burger, especially when Brian mentioned that buffalo is way leaner than beef. I wasn't disappointed. Earthy, moist, and fine-textured, the burger was topped with caramelized onions and Hahn's End Blue Velvet cheese and encased in a soft, house-made poppy seed bun. Still, I wanted a bit more flavor. Adding a dab of the horseradish aioli did the trick. Tom's pan-roasted halibut was nicely seared. It was served with fried shallots and a luscious celery-root purée. Lamb sliders, accompanied by mustard greens and coriander carrots, were "melt in your mouth," according to Ric, who is notoriously picky. Cathy, a vegetarian, chose the grilled radicchio, which was served with bourbon pear purée and more of that divine Blue Velvet cheese. She also sampled Hahn's End Ragged Island cheese, made in Phippsburg, which called to mind a mild romano. As with all cheeses on the menu, it was served with fruit preserves, toasts, and a nickel-sized bit of Sparky's honeycomb, which Cathy pronounced "fabulous." Both of the dessert choices at The Lost Kitchen were so outstanding that I broke my rule of stopping at a bite or two. The chocolate tart was silken and intense, with a delicate whole-wheat cracker crust and a small scoop of coriander ice cream. The sweet ricotta fritters were even more decadent—crispy on the outside and creamy on the inside, spiked with lemon and cinnamon, and served on a pool of blackberry jam. The finishing touch: crème anglais poured over all from a black teapot. We also loved the coffee from 44 North of Deer Isle, served in individual French presses. As we savored our coffee, we agreed that dinner was worth the wait and here's why: every dish we sampled was impeccably fresh, mostly local, creatively prepared, and beautifully presented. That's not so easy to pull off, especially when you're cooking on an old electric stove (sans oven light) and 76 people show up for dinner on your first Saturday night in a restaurant that seats 30. Over all, The Lost Kitchen radiates attention and care. The Frenches, with help from friends and family, renovated the 1878 building and designed the two-room restaurant from scratch, from designing the lighting fixtures to milling wood for the tables and restoring the pressed tin ceiling. The effect is of pared-down elegance, from the slate-colored walls to the simple still-life compositions of seasonal vegetable-and-flower compositions.
"The Lost Kitchen is a reflection of my style, where I've come from and where I'm going."
"The Lost Kitchen is a reflection of every ounce of me, my style, where I've come from and where I'm going," said Erin French, who grew up flipping burgers at her father's diner in nearby Knox and has worked at Trillium Caterers and Francine Bistro in Camden. Realizing that she wanted a place of her own when she turned 30, she considered everything from a food truck in an Airstream to a floating clam shack to enrolling in a fancy French cooking school. When she realized she couldn't swing Paris, she sought another means of culinary education. "The supper club was a test I set up for myself," Erin French said. "Was I capable of making the food I was dreaming up, and would there be a need?" A visit to The Lost Kitchen makes it clear that she has passed that test with flying colors. Her passion, vision, and abundant talent will put Belfast on the map as a mecca for foodies for years to come.

Kim Ridley is a freelance science writer and editor who also writes about food, art, and architecture.
www.kimridley.com
The Lost Kitchen
108 Main Street, Belfast, Maine 207-930-2055 Open Tues.-Sat. at 5:00 p.m. Prices: $3-$15 for snacks and small plates, $5-$18 for cheese plates, mid-$20s for entrées.
Share this article:
2023 Maine Boat & Home Show

Join Us for the Maine Boat & Home Show!
Art, Artisans, Food, Fun & Boats, Boats, Boats
August 11 - 13, 2023 | On the waterfront, Rockland, Maine
Click here to pre-order your tickets.
Show is produced by Maine Boats, Homes & Harbors magazine.