World Champion Boatyard Dog: TATTOO! – Issue 161
10-tons of 'tude in a 7-pound body
By The Editors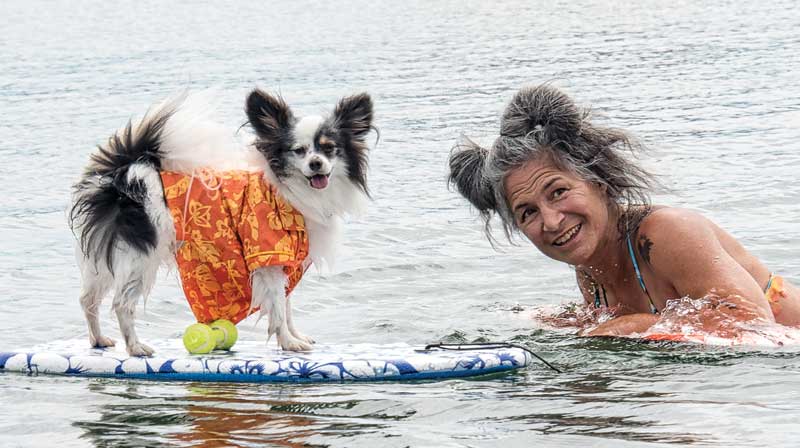 Photo by Debra Bell, Bell's Furry Friends Photography
Tattoo, a papillon from Waldoboro who works as "crew" on a lobsterboat, took top honors at the 17th Annual World Championship Boatyard Dog® Trials during the Maine Boat & Home Show last August.
Competitors included Labrador retrievers (of course), a  bouncy springer spaniel, and a poodle-Havanese mix. Balls were thrown and retrieved, commands were both obeyed and ignored, and dogs (and people) swam in the chilly waters of Rockland Harbor. But when the fur finally stopped flying, the smallest of the contestants took home the big award.
Tattoo and his handler Lisa Lane navigated under most of the obstructions in the obstacle course, used a
papillon-sized surfboard as a ramp for boarding and exiting a tippy dinghy, and then they poured it on for a freestyle surfing routine that had Tattoo hanging 20 (dog toes, that is) while his handler doggy-paddled alongside. Matching tropical shirts and poufy hairdos kicked this act over the top for demonstrating superior form and fashion.
As first mate on the lobsterboat Already There, The Great Tattoo considers himself the gold standard to which all lowly lobsters aspire. Forget the standard metal gauge, the sternman uses Tattoo as the measuring device to determine what is a "keeper." If the lobster doesn't match the papillon's size, back into the ocean it goes. Or at least that's how it works in the mind of the now justifiably self-confident Tattoo.
Thanks go to event sponsors The Loyal Biscuit, Bell's Furry Friends Photography, Water Bark Wellness, Casco Totes, and 250 Main Hotel. 
Share this article:
2023 Maine Boat & Home Show

Join Us for the Maine Boat & Home Show!
Art, Artisans, Food, Fun & Boats, Boats, Boats
August 11 - 13, 2023 | On the waterfront, Rockland, Maine
Click here to pre-order your tickets.
Show is produced by Maine Boats, Homes & Harbors magazine.