Big, Bold, and Handsome
Maine's lobsterboats are getting bigger and bigger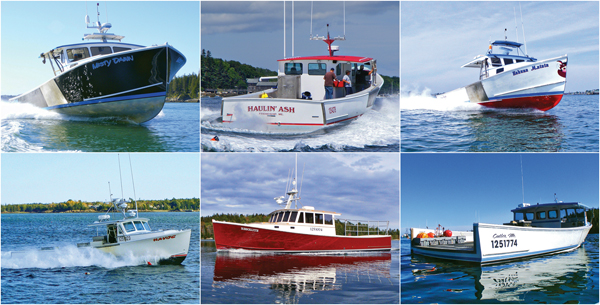 Top Left-Right:
Misty Dawn
, a Calvin Beal 44.
Haulin' Ash
, a "Super 46" Wesmac.
Hakuna Matata
, a Libby 41.
Havoc
, a 46' Duffy.
Resolute
, a wooden 46-footer built by John's Bay Boat Co.
Logan Faye
, an Osmond 42 stretched to 47'.
Story & Photographs by Brian Robbins Most Maine boatbuilders who cater to commercial fishermen will tell you the same thing: 2014 was the year of the big boat. The majority of those big boats were built for lobstering—no surprise if you're aware of the growth in lobster landings over the last several years along the coast. "I can't believe some of the numbers I'm hearing," said Steve Wessel of Wesmac Custom Boats in Surry. "Back when I was lobstering, you'd go offshore for a week and do well to get the poundage that some of these boats are getting in a single day now." Those kind of numbers translate into a demand for bigger boats for the inshore fleet. In Wesmac's case, the builder has responded by adding the new "Super 46" to its stable—46' in length by 17'1" wide at the beam. "Our 42- and 46-footers have been popular right along," said Wessel, "but we'd get customer after customer who was looking for something wider." Lash Brothers Boat Yard in Friendship launched the first "Super 46" earlier this year. Since then, Wesmac has taken orders for a string of them, to be finished both in-house and by other shops. Stewart Workman of SW Boatworks in Lamoine concurred with Wessel's assessment: "The big boats have exploded. We have a slug of Calvin Beal 44s to build—hulls and tops to send out along with complete boats that we're finishing ourselves." With a collection of molds that includes the Calvin Beal-designed model line and the well-known Young Brothers hulls (designed by Ernest Libby, Jr.), Workman said that the 44'x17'6" Calvin was SW's biggest seller for 2014."If I'd had 20 Calvin Beal 44s in my yard ready to go, I could've sold every one of them this year," he said. "It was nuts." In November, SW had a modified Young Brothers 42' hull ready to ship. The boat had been split parallel to the keel on either side and widened from 15'8" to 16'6" to accommodate a customer's request. Pointing to the smooth lines of the reconfigured bottom, Workman said he was pleased with the way the project came out, noting that it was still a one-off hull. "I'd like to have a mold for every new model, but you just can't do it," he said. "It's too expensive." H&H Marine no doubt agrees with Workman. However, their philosophy seems to be "Make the most out of the molds you have." The Steuben shop offers many of its Osmond Beal hulls with beams that increase the original design widths by two feet or better. Plus, H&H's Bruce Grindal reported enough interest in a longer version of the widened Osmond 42 (42'x17'6") to warrant molding an extension to take the design up to 46' LOA.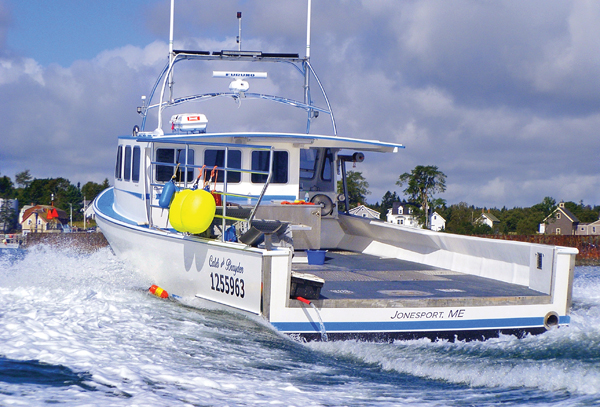 Caleb & Brayden
's open stern shows off the Wayne Beal 46's large working deck.
Eric Moores, who co-owns H&H with Grindal, is usually the man with the Skilsaw and good eye, applying his talents to a standard hull that ends up being split, spread, and re-fiberglassed. "Sure, it's a lot of work," he said. "But often your choice is to either do that or not get the order at all." Albert Hutchinson, who builds Mussel Ridge hulls in his Cushing shop, has seen the same thing. First came the interest in his 15' wide Mussel Ridge 42; then (of course) came the requests for something bigger. When Hutchinson landed a job to turn a 42 into a 46-footer this past year, he used the modified section as a plug for a mold extension. His upcoming orders include another 46'x15' hull, a 44' version and a widened 46. The same trend applies to the world of wood: Peter Kass at John's Bay Boat Company launched a 46'x15'3" lobsterboat this past summer. The next project that slides down the ways at the South Bristol shop will be even bigger. So why does a lobsterman need a boat with an extra, say, two feet of length, or ten inches of beam, you might ask? It's a matter of how big their traps are, for one thing. An extra few inches (or feet) of cockpit could mean another row of stacked wire traps, rather than wasted space that can't be used efficiently.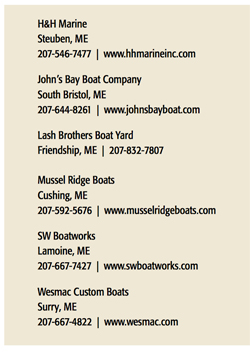 Hand-in-hand with the record-breaking lobster landings comes the need to be able to store the lobsters on board during the workday. It wasn't that long ago that the average lobsterboat was equipped with a 55-gallon storage drum on deck fed with cold seawater by a pump driven off the engine. Today's behemoths are often rigged with large below-deck circulating tanks capable of holding thousands of pounds safely. There's also the need for speed no matter how big the hulls are getting: 750-horsepower diesels are considered modest; 1,000-plus horses? They make 'em every day. And, of course, you have to feed the beasts, as well … meaning room for (on the average) 400-500 gallons of fuel under the deck. The most interesting statistic of all, however, is the age of the average customer. Stewart Workman reported that many of those interested in bigger lobsterboats are young fishermen rather than seasoned veterans, ranging from their early 20s to late 30s. "I understand why they're doing it," he said. "They're getting amazing fishing and they're making hay while the sun shines. I just hope the landings hang in there for these guys." Brian Robbins writes about boats for a variety of publications, including Commercial Fisheries News and National Fisherman, when he's not writing about music or riffing on his guitar in the Horseshoe Crabs.