The Small Reach Regatta
Maine's own version of messing around in boats
By Ben Fuller
Photographs by Rosemary Wyman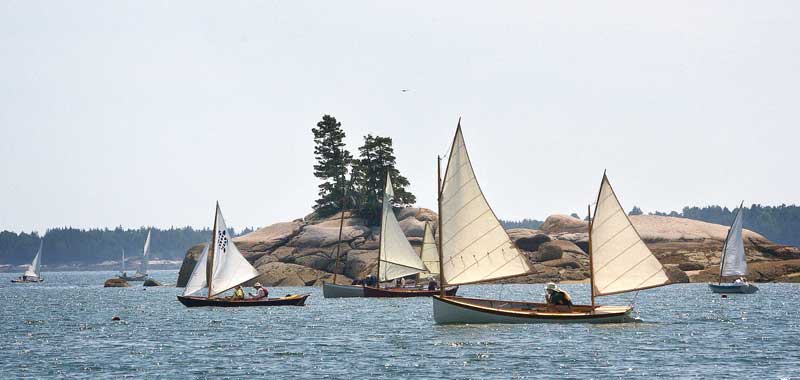 Usually about 60 boats of all types participate in the annual Small Reach Regatta. In this photo, the fleet, including a dory on the left and a NGH Coquina on the right, leaves Babson Island after a luncheon picnic.
Regatta may not be the right word for the Small Reach Regatta. Regatta means contest and this event is not competitive. It's more of a festival in motion, a watery ramble—a way for a group of Mainers to share their coastline with friends and entice more sailors from away to visit. Most of all, it's an excuse to mess about in small boats.
The theme is sail- and oar-powered trailerable boats. These include some intriguing variations—you never know exactly what will turn up. Most of the entrants are primarily sail-powered, although small enough to be rowed efficiently in morning calms or fluky afternoon breezes. Some are only oar-powered.
Now in its thirteenth year, the regatta was inspired by the European raids. In a raid, participants race distances in different sail and oar boats, and stay in a different place each night. Maine's Small Reach Regatta is different: it is based in one location. Each day involves sailing 5 to 15 miles out and back, then returning to a communal supper.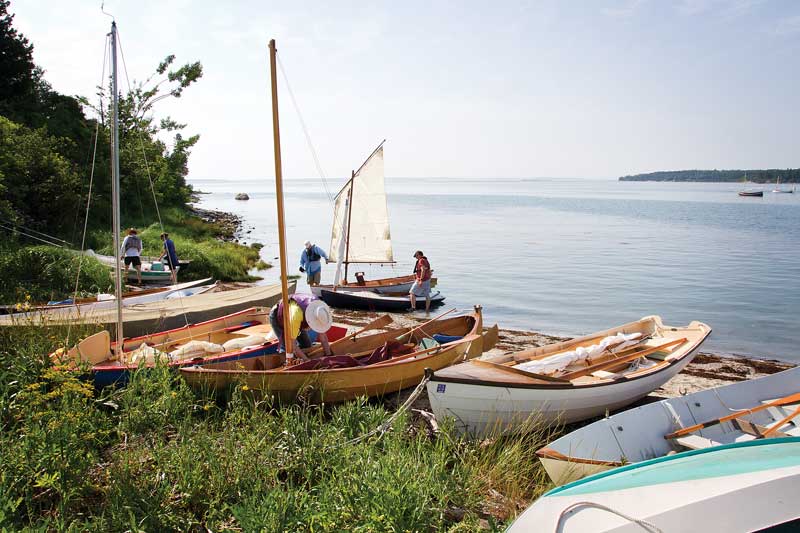 Boats are hauled up above the tide line during a lunch break at the Small Reach Regatta.
In the fleet of 60 or so there might be a few commercially built boats. Most, however, are owner- or small-shop-built. They might range from a glueless ax- and knife-shaped Norwegian four-oared faering, to a mechanically fastened dory or peapod, or to the latest in traditionally based plywood and epoxy designs with parts cut by computer. Rigs can be simple traditional sprits and lugs, or full-batten carbon-fiber masted creations.
These are not spectator events. But the participants do plenty of spectating of each other's boats. 
As you sail to windward, you may be passed by a synchronized pair pulling a self-designed and -built rowing boat, reminding you that 4 knots dead to windward is faster than 4.5 knots at 45 degrees to the wind. You'll see who reefs first either out of prudence or because the boat tells them to. You might be reminded that when it goes calm, your rowing experience is enhanced if you lower your masts. And sometimes both boat owner and the rest of the fleet learn the dos and don'ts if you capsize.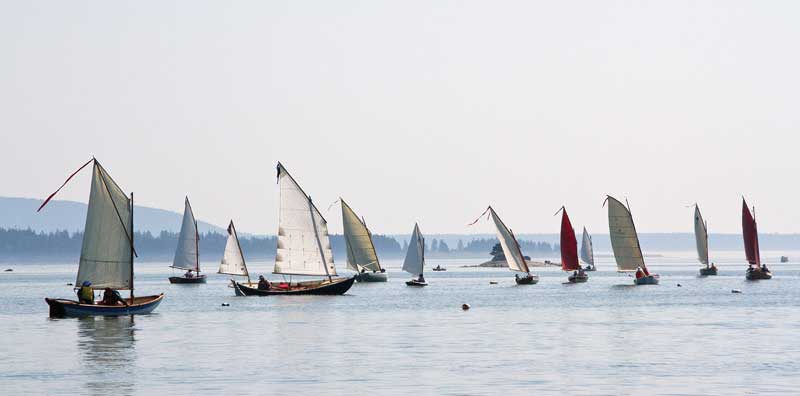 The diverse Small Reach Regatta fleet typically includes all sorts of rigs, including sprits, lugs, and gaff.
In studying and talking with other owners, you find out what works for them and learn things that you might apply to your own boat. Or there may be a design in which you are interested as a next project, and you ask to try out the boat. Even the parking lot is interesting, as the trailer industry, focused on motorboats and production sailboats, has forced owners to create their own custom solutions for trailering their traditionally based oar- and sail-powered boats. 
There is plenty to learn while happily messing about at a summer regatta.   
---
Ben Fuller was and is the curator of several maritime museums, writes about small boats, and owns enough high- and low-tech boats to hold his own Small Reach Regatta.
The Small Reach Regatta is a project of the Downeast Chapter of the Traditional Small Craft Association. This year's event is scheduled for July 25-29, 2018 in Brooklin. FMI: http://downeasttsca.org/SRR.html
Share this article:
2023 Maine Boat & Home Show

Join Us for the Maine Boat & Home Show!
Art, Artisans, Food, Fun & Boats, Boats, Boats
August 11 - 13, 2023 | On the waterfront, Rockland, Maine
Click here to pre-order your tickets.
Show is produced by Maine Boats, Homes & Harbors magazine.