This Ocean-Focused Work Space Promotes Collaboration and Innovation
By Jack Hanson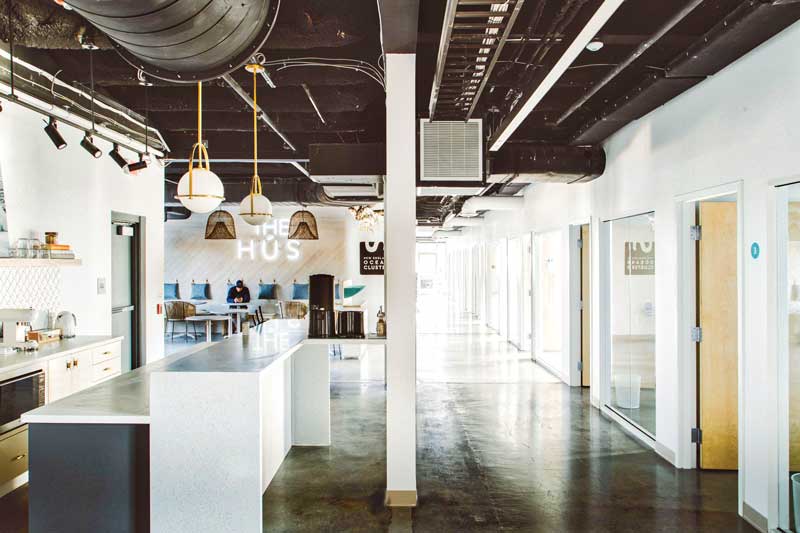 Janeen Arnold, who designed the interior of the New England Ocean Cluster's Hús, said the intent was "to cultivate a Scandinavian aesthetic while simultaneously embracing all that we love about the Coast of Maine. We continued the conversations of sustainability and collaboration through our design choices: steering toward selections of reclaimed, or FSC certified woods and sourcing from companies who have a commitment to sustainability." Photo by Ben Rodgers
When you walk into the Portland, Maine, home base of the New England Ocean Cluster, one of the first things you see is a wall-sized mural diagraming the cluster's total-use goal for the fishing industry. Selling more parts of the catch results in less overfishing and more opportunities to increase margins, explained the Ocean Cluster's founder and CEO Patrick Arnold, who refers to the mural affectionately as the "100 percent fish value machine."
This visual representation of the bountiful opportunities hidden in fish waste is one example of the Ocean Cluster's goal to promote and fully utilize ocean resources in a number of areas, including boatbuilding. Arnold describes the Ocean Cluster's role as a cross pollinator between cutting-edge tech and Maine coastal resources, "pairing aggressive entrepreneurs with pragmatic mentors and great research." The goal is to promote the so-called "blue economy" by supporting companies that fit three criteria: sustainability, profitability, and local inclusion.
Founded in 2015, the private-sector, membership-based entity provides consulting, sponsorship, and tenancy for its members. The concept is modeled on an ocean cluster in Reykjayík, Iceland, founded to find uses for fishing byproducts and to help ocean-related businesses become more profitable. The founder of Iceland's organization partnered with Maine-based Soli DG Inc., which is the initial investor and managing partner of the New England Ocean Cluster.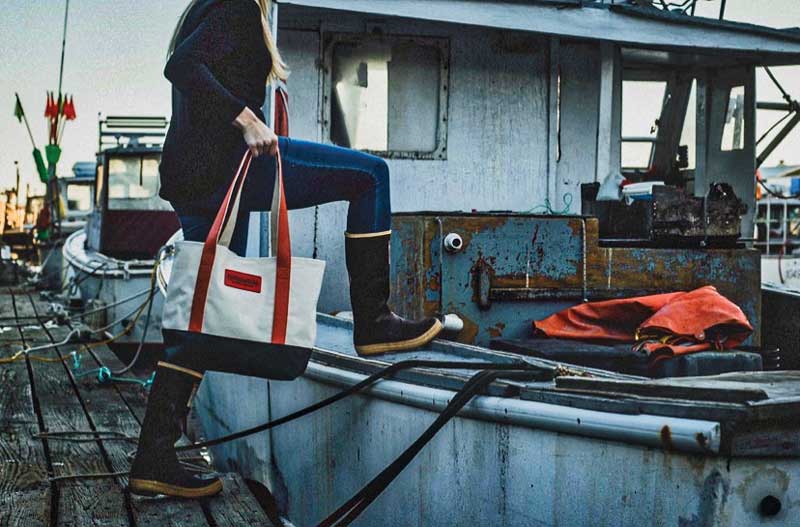 Ocean Cluster participants include businesses like Rugged Seas, a new Maine company that recycles used fishing bibs into gear like this tote. Photo by Ben Rodgers
Adding value by utilizing waste isn't a new concept. Ocean Cluster advisory board member Daniel Bookham is director of business development at the Allen Agency, which was a founding investor in the cluster. When explaining the organization's role, he references an often-repeated line from former Maine Gov. Angus King in the 1990s that "no tree should leave Maine with its bark on." For Bookham, the cluster is set apart by its capacity to "apply the best elements of private sector and start-up culture by inviting entrepreneurs and thinkers to not just build out their own ideas, but to collaborate with others."
Finding marketable uses for fishing byproduct has become especially important as climate changes shift fishing patterns and disrupt the fishing economy, Arnold explained. The Food and Agriculture organization of the United Nations estimates that 35 percent of the total fish landings in the United States are discarded. Historically, some of this waste has been recycled into low value products such as meal, animal feed, and oil. However recent technological advances, especially in the pharmaceutical industry, have created a higher-value market for materials in fish scraps, such as collagens, gelatin, and chitosan.
The key is The Hús, which gets its name from the Icelandic word for home. It is an office space and thinktank available to members of the coalition who pay a yearly rate starting at $750. Vice president and co-founder Janeen Arnold (she is married to Patrick Arnold) describes The Hús as "a kitchen to cook in" for its inhabitants. Providing a cooperative working space where business owners can foster innovation, design new products, and brainstorm ideas and strategies allows entities to investigate new ventures without sacrificing the resources needed to maintain daily operations.
The Hús is intentionally populated by companies at varied stages of development. Many of these are fledging operations trying to get off the ground such as nonprofits, start-ups, entrepreneurs, and even students. The Hús also houses established businesses that don't necessarily need space to get off the ground, but want to keep in touch with the future of the blue economy. Additionally, the Hús offers rotating office spaces to underrepresented members of the work force such as people of color, women, and indigenous people. These seats are available on a lottery basis as part of the inclusion aspect of the blue economy mission and are funded by sponsors, including Bristol Seafood. On this Arnold says, "don't ever assume you know where innovation is going to come from," and points to a need for more workforce diversity in Maine.
Among the projects to emerge from these desks is Rugged Seas, a start-up that turns used fishing bibs and foul-weather gear into fashionable and durable backpacks, totes, and other accessories.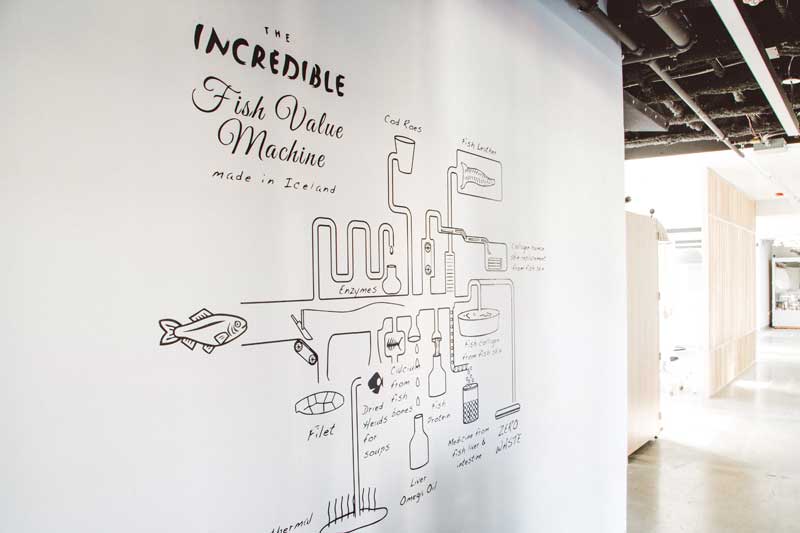 The concept of the Incredible Fish Value Machine, depicted here, began at the New England Ocean Cluster's sister ocean cluster in Iceland, which found uses for every part of the cod catch. The image is a graphic representation of what success looks like, said Janeen Arnold. Photo by Ben Rodgers
Rugged Seas co-founders Taylor and Nikki Strout credit the inclusion desk project for helping take their fledgling start-up to the next level. Key was the ability to brainstorm with other businesspeople in the workspace, said Nikki Strout. "We are starting a new campaign working with fishing co-ops up and down the coast to find ways to collect more old bibs," she said. "The cluster helped connect us with coops and is even helping us connect with fishermen in Iceland."
Other projects incubated at the Hús include jerky made out of fish (Fishger), and dressing for wounds made from lobster shells.
During the development of a new product, the organization's consultants can help with anything from brainstorming to logistics. In other words, they are there to fill in the blanks and provide any support a partner may need.
Organizations like the Ocean Cluster are well positioned to guide Maine through a period where change seems to be a main constant of coastal life. Creating an environment geared toward facilitating introductions and engendering cross-disciplinary discourse can help combat the isolation caused by the pandemic. The message is clear: If Maine is to thrive through the coming period of environmental and social upheaval, businesses must collaborate. The New England Ocean Cluster's role in this is to make the connections. 
✮
Jack Hanson is a student at George Washington University. He lives in Camden, Maine.
Share this article:
2023 Maine Boat & Home Show

Join Us for the Maine Boat & Home Show!
Art, Artisans, Food, Fun & Boats, Boats, Boats
August 11 - 13, 2023 | On the waterfront, Rockland, Maine
Click here to pre-order your tickets.
Show is produced by Maine Boats, Homes & Harbors magazine.