Boatyard Dog - Rosh and Ian - Issue 104
Rosh & Ian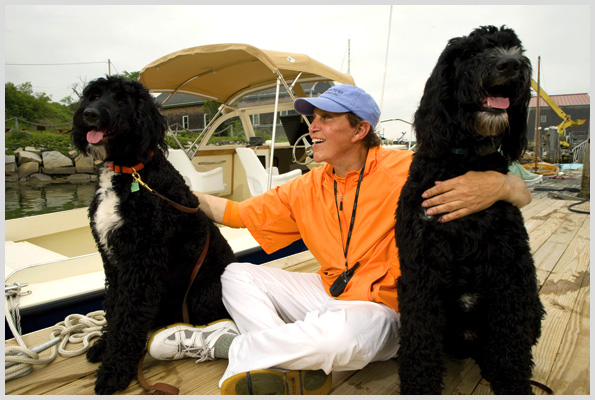 Ken Sawyer and his dogs, Rosh & Ian. Photo by Jeff Scher
Rosh and Ian, a pair of Labradoodles—brothers in fact—are among those rare boatyard dogs who hate any water they can't slurp out of a dish and those equally rare water dogs who refuse to fetch anything, be it a downed duck or an old sock stuffed with bird seed. As a result, their pals, Ken Sawyer (above) and Dr. Nancy Paetzold, who divide their time between New York and Cushing, have indulged them with their own boat Labradoodle, which reputedly suits their commuter lifestyle. Both dogs are often sighted at the Lyman-Morse boatshop in Thomaston, where they oversee Mac Ferris and the woodworking gang and conduct audits on their keepers' projects. Both dogs are entranced by music, especially that played on a Yamaha piano. Why specifically a Yamaha? Their pal Ken is a Yamaha aficionado, and these dogs aren't stupid. They well know that the hand that plays the piano also passes out the meat and potatoes, and so if it means focusing for hours on "Autumn Leaves" and "Melancholy Baby," then they'll do it and look for all the world as if they love it.

We'd like to see your Boatyard Dog too. Send a clear photo and pertinent details to: BYD, P.O. Box 758, Camden, ME 04843 or contact us via email:
editor@maineboats.com
.