Gunkholing with Gizmo: Rockland Harbor
Gunkholing with Gizmo: Rockland Harbor, End to End
By Ben Ellison

Inside Rockland's iconic breakwater entrance lies a busy commercial and recreational waterfront.
Photo by Jamie Bloomquist
There's no predicting the mélange of watercraft you may encounter when you enter the grand sweep of Rockland Harbor, and I'm not the only boat obsessive who considers that one of the port's major pleasures. "We've got 'em all," said Harbor Master Ed Glaser, as he commenced to tick off the long list of native boat types. No floating visit to Rockland is complete without an end-to-end cruise along its complicated waterfront, and that's how I found myself creating the most dense chartlet yet for this column. Larger vessels, equipped with a good chart, can start the tour at either end, but trailerable boats favor the south end's Snow Marine Park (1) with its dual ramps and ample parking. Right alongside is Sharp's Point South (2), which has marina plans but is now most notable for its children's and marine museums—including its floating flagship
Rekord
—and its playful "Lobstah Shack" eatery. Next up is Rockland Marine (3), which does serious work on serious workboats, such as the tugs and barges next door at Dragon Cement's transfer facility (4). The facility is closely followed by Sandy Beach Park (5) and the tony Trident Yacht Basin (6), a marina complex with tasty restaurants and big expansion plans. Next, take a gander at more yachts and the day-trip fleet along Rockland's sprawling Public Landing-Harbor Park-Buoy Park complex (7), home to the Maine Boats, Homes & Harbors Show the second weekend of August. There are yet more vessels to ogle at the Landings Marina (8). Some of Maine's largest fishing boats are tied up at the Municipal Pier (9), plus there's an eclectic nautical mix at Journey's End marina and yard facilities on both sides of Tillson's Wharf (10), which terminates with Coast Guard Station Rockland's docks (11). Don't miss the little pirate-themed Beggar's Wharf marina (12), though you may get distracted by the toasted seaweed odors—sweet to my nose—that waft from the large FMC plant nearby (13).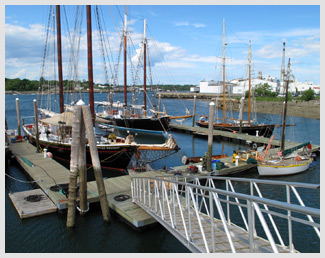 Windjammer Wharf.
Photo by Ben Ellison.
Appropriately tucked up in Lermond Cove, site of the original village of Rockland, is the new Windjammer Wharf (14) and its historic fleet. Then there's the Maine State Ferry Terminal (15), Knight Marine Service (16), and the Apprenticeshop (17). The latter's small-boat float system is much used for their various sailing programs. The last stretch of major wharfs promises a crescendo of diverse marine activity with the schooner-loving North End Shipyard (18), the seagull-loving O'Hara Bait Co. (19), and the crane-loving Prock Marine (20) all cheek by jowl. Finally, the modest, full-service Ocean Pursuits yard (21) marks the harbor's almost startlingly quiet northern section. Skirting the shallows here will get you to an anchorage and dinghy float (22) with access to the breakwater, Marie Reed Park, and the Samoset Resort beyond. There's also a small-boat float at the Lightkeeper's House (23), recently renovated and open most weekends. Inside you can learn how amazingly busy, though different, amazing Rockland Harbor was a century ago.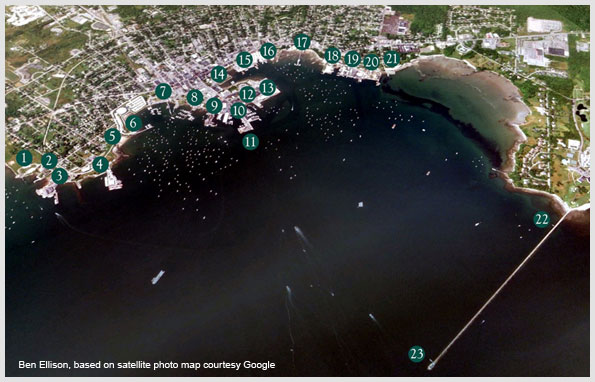 Charlet Key: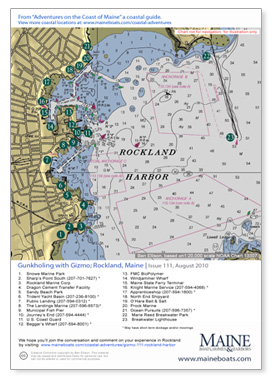 Click on the image above to download
the Rockland Harbor chartlet.
1. Snowe Marine Park 2.
Sharp's Point South
(207-701-7627) * 3. Rockland Marine Corp. 4. Dragon Cement Transfer Facility 5. Sandy Beach Park 6.
Trident Yacht Basin
(207-236-8100) * 7.
Public Landing
(207-594-0312) * 8. The Landings Marina (207-596-6573)* 9. Municipal Fish Pier 10.
Journey's End
(207-594-4444) * 11.
U.S. Coast Guard) 12.
Beggar's Wharf
(207-594-8001) * 13.
FMC BioPolymer
14.
Windjammer Wharf
15.
Maine State Ferry Terminal
16.
Knight Marine Service
(207-594-4068) * 17.
Apprenticeshop
(207-594-1800) * 18.
North End Shipyard
19.
O'Hara Bait & Salt
20.
Prock Marine
21.
Ocean Pursuits
(207-596-7357) * 22. Marie Reed Breakwater Park 23.
Breakwater Lighthouse
* May have short term dockage and/or moorings
Other Resources:
Rockland Harbor Page on maineboats.com
Chart: Ben Ellison, based on the satellite photo map courtesy Google.


Click here to download a PDF Chartlet

Share this article:
2023 Maine Boat & Home Show

Join Us for the Maine Boat & Home Show!
Art, Artisans, Food, Fun & Boats, Boats, Boats
August 11 - 13, 2023 | On the waterfront, Rockland, Maine
Click here to pre-order your tickets.
Show is produced by Maine Boats, Homes & Harbors magazine.