Whimsical Art Inspired by True Stories
By Jenny Bennett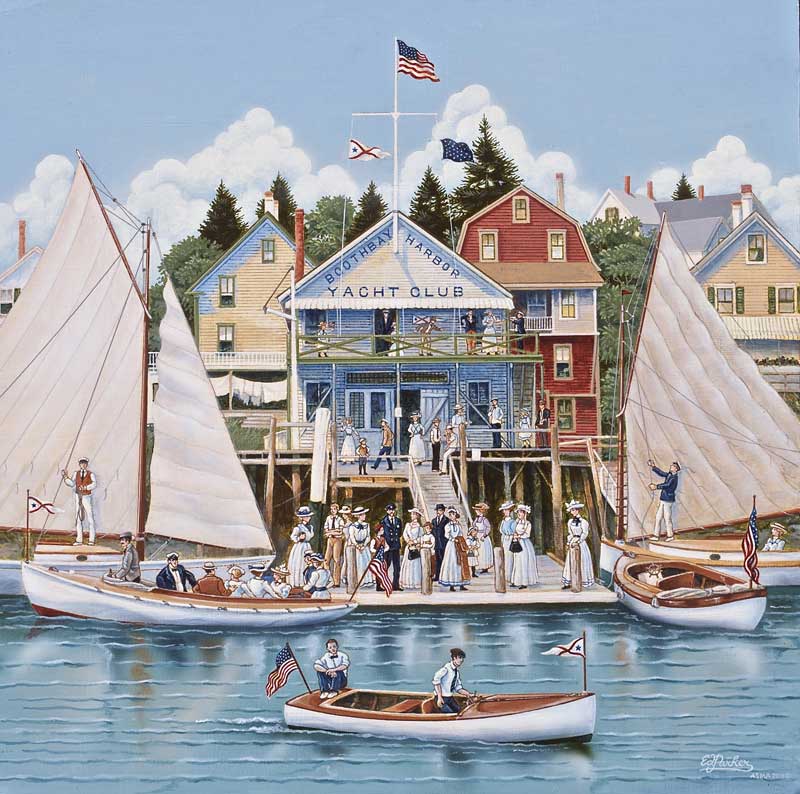 Fascinated by history, the coast of Maine, and all things maritime, Ed Parker has combined all three elements in Boothbay Harbor Yacht Club, 1910; mixed media 18"x18".
Artist Ed Parker in person is like his paintings: within the careful, measured man, lurks a sense of humor, and delight in the fantastic. He paints whimsical maritime scenes that at first glance appear to be simple works of carefree fantasy, but on closer examination reveal the results of painstaking research and attention to detail.
Born and raised in Massachusetts in the late 1940s, Parker summered for decades on Southport Island, Maine, where he now has a home and studio. He is tied to coastal Maine through both his own experiences and family lore—"some true, some not, but all running through my veins." A lifelong love of history brings him, repeatedly, to bygone eras and, in particular, to a 19th-century New England maritime aesthetic.
"The Victorians did such extraordinary things," he said. "Sometimes the real stories are as outlandish as those I make up. And, because I bring integrity to both the real and the fictional, I hope that people look at my paintings and wonder… Did that really happen?"
In school, Parker was drawn to art early on, and when it came time for college, he attended the Massachusetts College of Art & Design. He planned to major in illustration, but switched to graphic design. After graduating, he worked in graphic design for a bit before returning to his first love: illustration.
Hired as the first art director for Boston Magazine he put his skills to good use. "We had a very low budget—I'd spend it on the best photographer or illustrator for the front cover or an inside spread, and then do all the other illustrations myself. I was comfortable working in myriad styles—from realism to cartoons—so it worked well."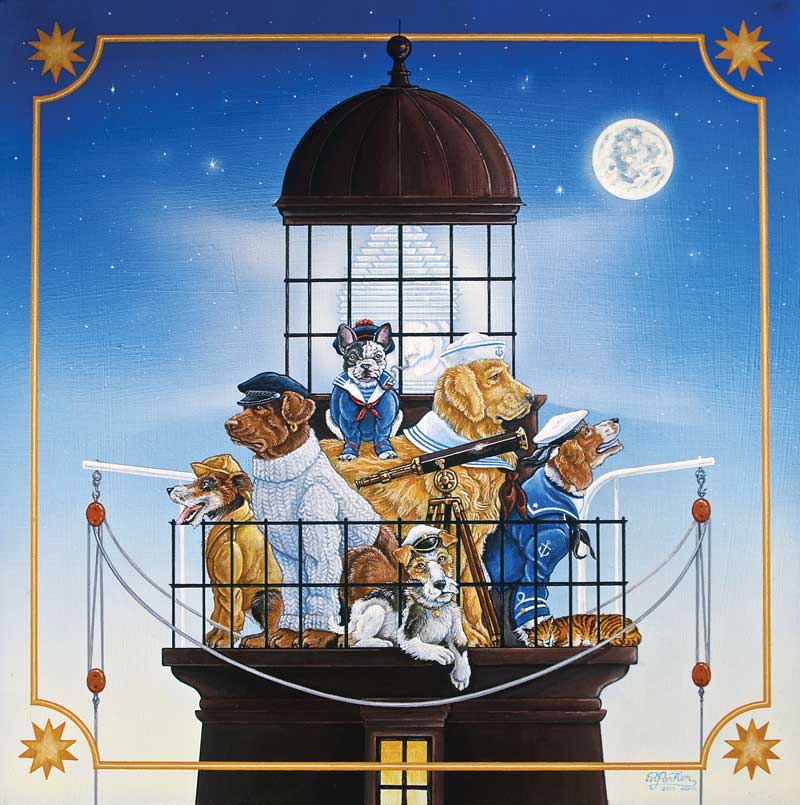 Parker has long been interested in the origins of nautical terminology and often plays with the meaning of phrases: Dog Watch; mixed media 18"x18". Photo by Susannah Parker
Eighteen months later he went freelance, working for ad agencies in and around the Boston area, and illustrating children's books. But the world was changing. As local markets shrank,
Parker branched out. "I carved a niche and evolved my style. Essentially it was the style I continue to work in today—a combination of graphics and folk art and 19th-century illustration." Clients included magazines, banks, NPR, weekend editions of the Washington Post, the cover of Newsweek, and the NFL.
But then production methods changed and computer art increasingly took the place of original pieces. "I didn't think they'd be able to come up with a program that could paint like I could paint and, in truth, they haven't, but it doesn't matter because sensibilities have changed," he said. "Today, it's incredibly rare to see an illustration done in the traditional way."
These days he focuses on painting. While influenced by American folk art, Parker does not consider himself a primitive artist, or a purveyor of Americana. "My intent is to provide humor but always based in historical fact. Thus, I'll take something that was real—like a market boat delivering to the islands—and embellish it. Or I'll create a fantasy, like a sea monster attacking a lighthouse, and ground it in solid historical research."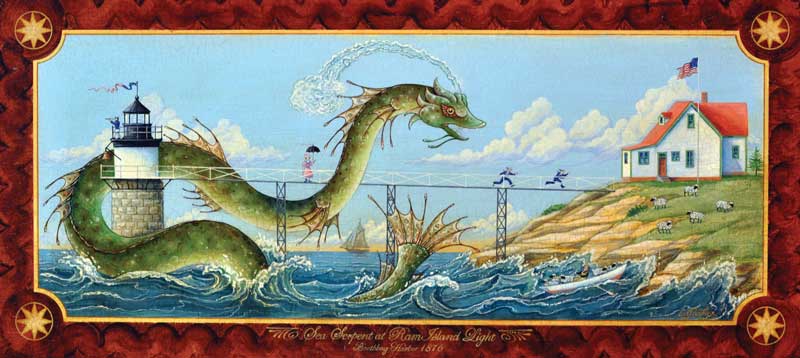 The place is real, the event imagined: Sea Serpent at Ram Island Light; mixed media 14"x24". Photo by Susannah Parker
He paints almost exclusively in acrylics with, depending on the final look he's going for, different varnishes and oil-based glazes. His pictures are rarely bigger than 24" x 36" and he works on gessoed panels. From time to time he finds an old walnut mirror frame and salvages both it and its thin wooden back, sanding the backing wood before attaching it to a board and painting on to it. "I enjoy painting on the wood, seeing the grain come through," he said.
He has a scrapbook filled with ideas, sketches, old photographs, postcards, newspaper cuttings, 19th-century engravings. His inspiration comes from things he reads, songs he hears, whimsical notions of his own creation, but all his works involve painstaking attention to detail and hours of research.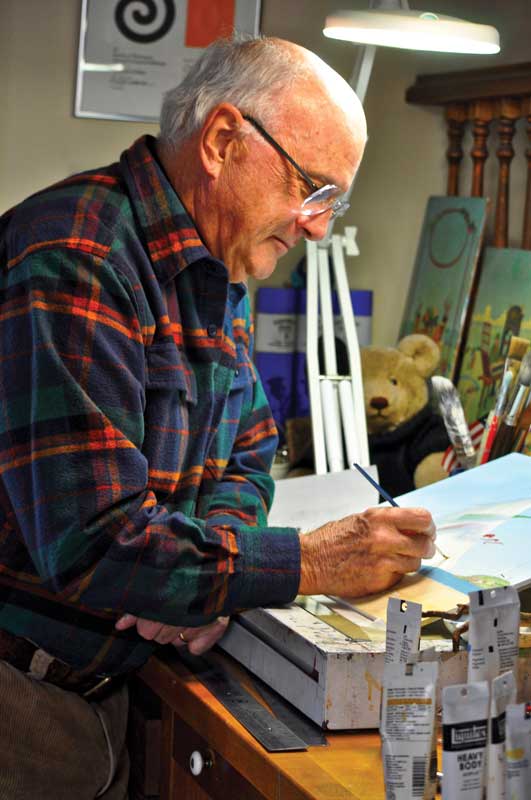 The artist Ed Parker at work. From old photographs to much-loved teddy bears, Parker is never far from his sources of inspiration.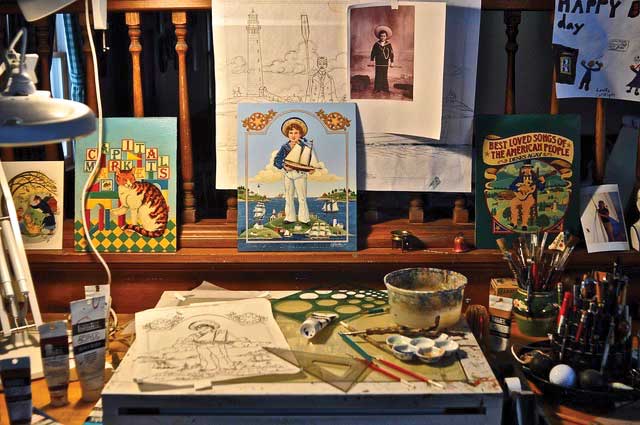 Most of his paintings are set on the Maine coast of the late 19th century. "I once did a painting called Moving the Lighthouse 1898," he said. "It featured a Lighthouse Service tugboat—a real boat called the Thistle. But I added a strange rig to the stern and with that the Thistle was towing the lighthouse—rocks and all—across a harbor. I received a letter from someone complaining not that such a thing was impossible but that the flag on the Thistle was in the wrong place. It wasn't and I sent him the pictures to prove it."
As for so many, 2020 was tricky for Parker. He prefers to do his research in person at maritime museums, historical societies, and libraries. Forced to stay home during the pandemic, he struggled to find inspiration. But there are ideas aplenty in his scrapbook. In time a fantasy surely will reach out and send Parker off on his next project.                       
✮
Jenny Bennett lives and works on Southport, Maine.
---
Ed Parker's work can be found at Gleason Fine Art in Boothbay Harbor, ME; the J. Russell Jinishian Gallery in Stonington, CT; Cavalier Galleries in Nantucket, MA, New York, NY, Greenwich, CT, and Palm Beach, FL; and at edparkerillustration.com.
Share this article:
2023 Maine Boat & Home Show

Join Us for the Maine Boat & Home Show!
Art, Artisans, Food, Fun & Boats, Boats, Boats
August 11 - 13, 2023 | On the waterfront, Rockland, Maine
Click here to pre-order your tickets.
Show is produced by Maine Boats, Homes & Harbors magazine.