Rhubarb Musings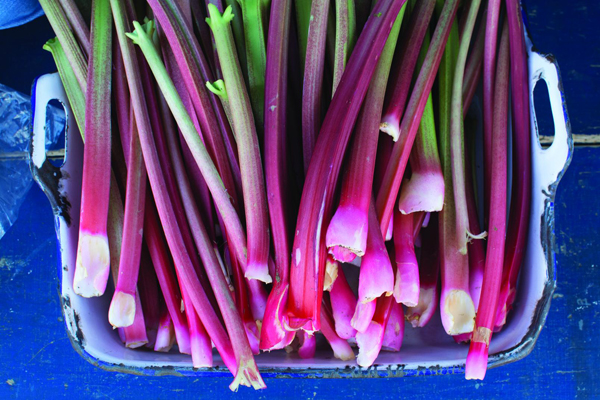 The Editors | Photo by Lynn Karlin
Rhubarb seems like it's always been a part of the New England landscape. But actually, rhubarb is native to Asia, and was once a staple of the China trade.
We asked Dan Finamore, the Russell W. Knight Curator of Maritime Art and History at the Peabody Essex Museum in Salem, Massachusetts, to help us track down some background on the plant. The Massachusetts Historical Society holds a notebook from William P. Elting, which contains details about the China trade from 1797 to 1803. In the back section of Elting's notebook notes on how to trade in Canton, include a description of how to identify the best rhubarb, Finamore found.
About 1840, the Chinese scholar Lin Zexu wrote to Britain's Queen Victoria "Not to speak of our tea and rhubarb, things which your foreign countries could not exist a single day without." For what it is worth, it appears the letter was not received.
In Maine, the Old York Historical Society has a rhubarb recipe that was written down about 1850 by Louisa Caroline Wilcox Putnam of York, according to Joe Lefever, executive director of Old York Museums. Louisa married Captain William Putnam in 1846, and she accompanied her husband on voyages to Asia and the west coast of the United States. Perhaps she got the recipe while on her travels abroad.
The recipe for "Rhubarb Marmelade" is in a book used aboard the ship William E. Roman, built in Portsmouth, New Hampshire, in 1849-50 and on the ship Empress of the Sea, built in the Boston area in 1852-53. The book with the recipe also has financial accounting notes, from 1853 in San Francisco. That means Louisa used this recipe book on board the Empress of the Sea, according to Lefever. There also are Chinese word pronunciations in the back. So this book also probably went to China when she and her captain husband were there.
On the Roman, the Wilcoxes sailed from New York to Shanghai, Macao, Ankier, and then to Scilly Lights, England in 1850-51, and on the Empress from New York to San Francisco in 1853.
Here is the recipe:
Rhubarb Marmalade
Pare five oranges, taking away the white
rind and seeds - put the pulp in
 a sauce pan - with the peel cut 
very small; add five pounds of
 Rhubarb and cut very small - and 
four pounds of loaf sugar. Boil the whole two hours and the fruit 
half an hour before adding the sugar.
 3 Lemons instead of five oranges makes a nice change.
(Transcribed with the formatting as written.) Recipe and Account Book of Louisa Caroline Wilcox Putnam (York, Maine 1822-1894 York, Maine) and Captain William E. Putnam (Stamford, Connecticut 1811-1868 York, Maine). A2014.252.001, Old York Historical Society Collection, Gift of Dorothy Hungerford.